Welcome to the District 14 Web Site
Becoming a US Coast Guard Auxiliarist in District 14 presents a wonderful opportunity to serve your community and country, as well as develop valuable skills and qualities. As an Auxiliarist, you will work closely with Coast Guard personnel to assist in the protection of our nation's waterways. This experience will allow you to acquire important skills such as navigation, search and rescue techniques, and boating safety. However, the experience also provides an opportunity to cultivate virtues such as discipline, responsibility, and teamwork. Through collaboration with other Auxiliarists and Coast Guard partners, you will learn to depend on your team mates, forging relationships based on trust and camaraderie that can last a lifetime. Whether you are a seasoned boater or a beginner, joining the District 14 US Coast Guard Auxiliarist is a fulfilling way to serve your community, build essential skills, and develop qualities that can enhance all aspects of your life.
WHO ARE WE?
The U.S. Coast Guard Auxiliary is the uniformed volunteer branch of the United States Coast Guard, supporting the Coast Guard in its non-military and non-law enforcement missions. Established by an Act of Congress in 1939, the Auxiliary has grown to include more than 21,000 members.
Auxiliary members actively contribute to various Coast Guard activities. They conduct safety patrols on local waterways, participate in search and rescue operations, educate the public through boating safety classes, offer free vessel safety checks, distribute boating safety literature, and engage in other recreational boating safety initiatives.
Although District 14 has a relatively smaller number of Auxiliary members, it holds the largest responsibility in terms of patrol area. In this district, 345 Auxiliary members work alongside 1,150 Active Duty personnel, 150 Reserve members, and 80 Civilian members of the Coast Guard. Their collective efforts cover a vast area of 12.2 million square miles, which includes Hawaii, American Samoa, Saipan, and Guam. In the year 2022, District 14 Auxiliarists volunteered over 22,000 service hours.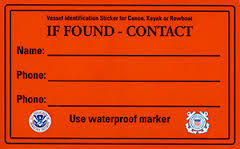 If you become separated from your board, canoe, or kayak, having this decal could be a life-saving asset. Obtain one for free from either a Coast Guard Station or a Coast Guard Auxiliary member.

Alerts / Critical Information
Training Bulletins