USCG Ombudsman Program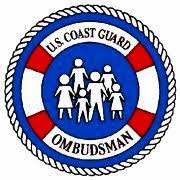 Coast Guard Ombudsman Program




The Coast Guard Ombudsman Program is intended to improve communication between the Coast Guard command and the Coast Guard family members. Coast Guard ombudsmen are communication links, provide information and referral resources, and act as advocates for family members.

It has been reported there are 767 United States Coast Guard commands, and that 269 of these units do not have a designated ombudsman. There are a variety of factors, not the least of which, is that many of these are very small units. It is perhaps the very nature of these smaller units that will ultimately provide the best opportunity for Auxiliary augmentation in ombudsman assignments.

An ombudsman is appointed by the commanding officer. Command ombudsmen are volunteers and spouses of services members within the command, and may be filled by a Coast Guard Auxiliarist. The Learning Management System (AUXLMS) contains the Ombudsman Course (00695). This is a training opportunity for interested members to learn more about the program. Once formally appointed; an ombudsman, with command support, will receive Coast Guard Ombudsman Training (CGOT).

You are encouraged to examine the Ombudsman tab to the left for further information, links, and resource materials.
Point of Contact:
If you are unable to contact the Ombudsman Program Coordinator at your Regional Work-Life Staff, or need additional assistance beyond the information provided here, please contact the Ombudsman Division Chief, Kathleen Sullivan.