Food Services Program
What is the Auxiliary Food Service Program?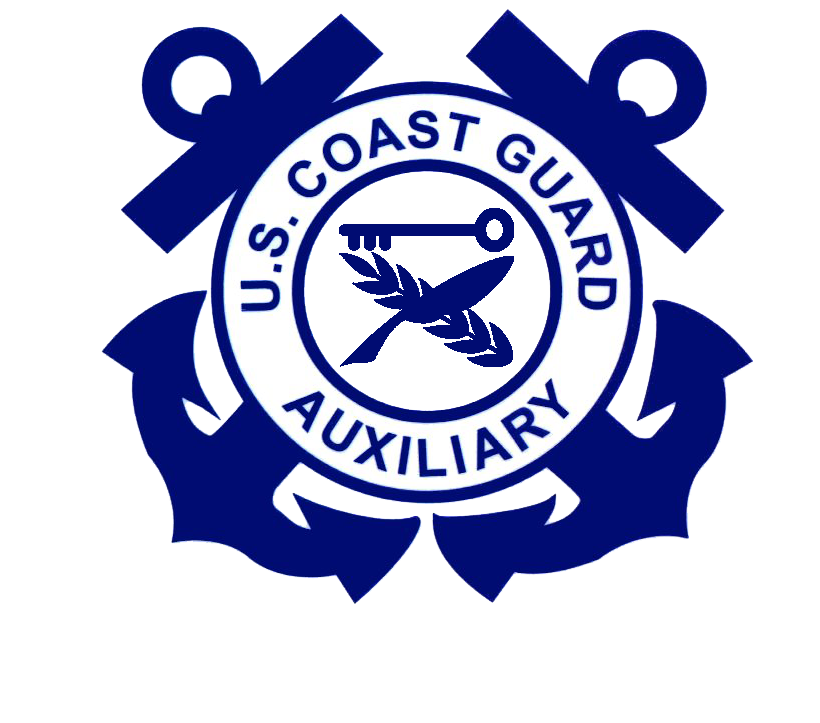 The Auxiliary Food Service (AUXFS) program enhances Coast Guard and Coast Guard Auxiliary mission readiness, effectiveness, and execution by providing food services support to Coast Guard and Coast Guard Auxiliary units by:
• Promoting and maintaining food service in floating and land based facilities.
• Supporting the Coast Guard National Strategic Plan.
• Staffing a skilled staff to support Coast Guard operations.
All AUXFS members have been trained using the Coast Guard Approved Auxiliary Food Services Guides and instructors. Training includes both classroom lectures and culinary skills work followed by a standardized performance qualification completion within 1 year of the initial class. Medical screenings and Hepatitis A vaccines along with a yearly sanitation and team coordination training are also required. Due to strict guidance from the Coast Guard, no waivers will be granted under any circumstances.
---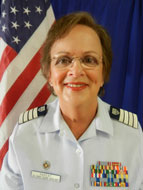 Division Chief of Auxiliary Food Services
The division consists of three Branch Chiefs (BC) who represent the first line of national staff leadership to each of the auxiliary districts throughout the nation. Each auxiliary district is represented by a District Staff Officer - Food Service (DSO-FS).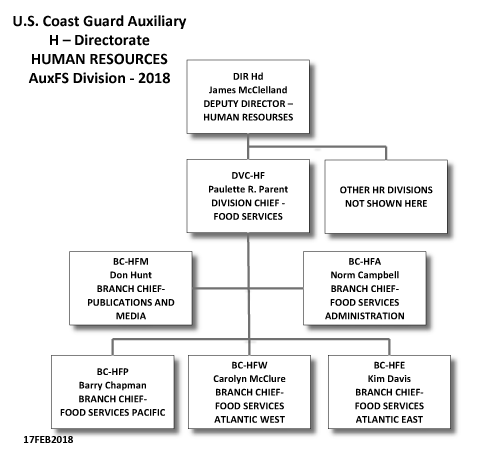 Contact Food Services Branch Chiefs:
Atlantic East - Kim Davis (BC-HFE)
Atlantic West - Carolyn McClure (BC-HFW)
Pacific - Barry Chapman (BC-HFP)
Administration - Norm Campbell (BC-HFA)
Publications and Media - Don Hunt (BC-HFM)



AUXFS SANITATION WORKSHOP ON-LINE CLASSROOM NOW AVAILABLE - 08SEPT2017
The Annual AUXFS Sanitation Workshop is now available on the Coast Guard Auxiliary Online Classroom. This means that you can take the class on-line at your convenience.
There is a one-question "test" at the end that confirms and records your completion of the class.
You will have the opportunity to print out a class completion certificate for your records and your participation will be recorded automatically. DSO-FSs and National AUXFS Staff will have access to the participant roster.
Remember: Annual AUXFS Sanitation Workshop is required in order to continue serving as an AUXFS. Participation in this class will serve as your annual requirement. You may be contacted directly to confirm your completion. There will be periodic updates to the information contained in the class as the Coast Guard updates some of their criteria.
In order to access the workshop, go to the following link:
http://classroom2.cgaux.org/moodle/course/view.php?id=96 or copy it into your browser.
A Tutorial is attached to guide you through the sign-on process, etc. You may use this to facilitate your participation.
https://drive.google.com/open?id=0B_HGNf7VOTblNlU4WjFxYnUyZFk
Thank you for being a part of Team AUXFS!