Student Materials
Students

should bring the required reading materials to class. Additional student materials will be provided

in class.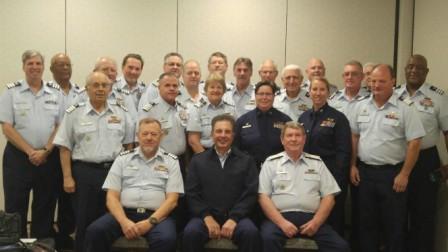 Pre residency Class Assignment One
Posted by: Dean Wimer
Assignment # one: View and react to the PowerPoint titled "Leadership Training Continumum." https://www.dropbox.com/s/awk57vp2mf3tnoj/Leadership%20Training%20Continumun.pptx?dl=0
Write up a summary explaining what you learned and how you can use the information as a DCAPT or National Director (Dir). Please send your summary to the POC for comment and return to your for your records.

Assignment # two: view the following film clips:

a. https://www.youtube.com/watch?v=gzt2GfvzM9g
b. https://www.youtube.com/watch?v=l7NiRzzj0-s
c. https://www.youtube.com/watch?v=_XxzlJ31xdk
d. https://www.youtube.com/watch?v=cahl6SLYIGk
Complete the following and e-mail it to dmww3@comcast.net
1. As an Upper Level Officer in the Auxiliary, explain how influencing skills will be useful to
you this coming year. Please cite some examples.

2 Express your thoughts concerning the statement made by the presenter
"The Camera is on you at all times."

3 As an Auxiliary Officer, you have no authority to command someone to accomplish
a particular task. How are you going to get the mission accomplished in your
organization?

4 List the four keys of visual impact presented and explained in the Video?

Part 2
5 Explain what is meant by "Leveraging your voice?"

6 Why are the four "Ps" important when doing conference calls or Webinars?

7 According to the presenter, the best way for you to improve your speaking is? Why"

8 What is meant by "positive choice of words"? Why are they important?

9 Thinking in terms of "headlines" when speaking results in:

Part 3
10 Explain how too much knowledge of a topic can make it difficult for you to
convey your message to others.

11 When stories are used to convey information, what happens to the retention rate?
Does it go up or down? Please explain.

12 What did the speaker mean by "the mind and heart strive for"?

Part 4
13 What does the presenter mean by "make it visual"?

14 Discuss the issue of too many or too few stories in a presentation.

Last Name First Name Member #
Return to Commodore Dean Wimer - dmww3@comcast.net

No later than 22 December 2017

AULOC AUX-05 (501064) ONLINE REFERENCES
Posted by: Dean Wimer
ONLINE REFERENCES:
1. The 5 Levels of Leadership – John Maxwell-September 10 2013 – 27 min https://www.youtube.com/watch?v=aPwXeg8ThWI

2. How Great Leaders Inspire Action
https://www.youtube.com/watch?v=qp0HIF3SfI4

3. What it Means to Lead TED filmed September 2009 (Simon Sinek):
https://www.youtube.com/watch?v=dGHWy60VdXw

4. Five Ways To Listen Better – Julian Treasure -July 29, 2011 – 7.5 min https://www.youtube.com/watch?v=cSohjlYQI2A

MAXWELL'S 5 LEVELS OF LEADERSHIP ONLINE pre-class ASSIGNMENT #3
Posted by: Dean Wimer
View John Maxwell's "The 5 Levels of Leadership:
https://www.youtube.com/watch?v=aPwXeg8ThWI
Answer the following questions and submit them to the POC for review.

1. Why is it important to understand Maxwell's 5 levels of leadership?

2. At the lowest leadership level, explain its structure and the up and down sides of the level. What is the levels key word?

3. Describe the title of level two and it's key word. Explain how this level is different from the first level.

4. Describe the characteristic of Maxwell's level three leader.

5. What does John Maxwell mean by the statement "Who you are as a leader is who you attract on your team."

6. Why "Momentum" is important?

7. Name Maxwell's 5th level of leadership and his key word.

8. Eighty percent of your success of equipping your people to be successful, is in the front door." Relate that to the Coast Guard Auxiliary leadership structure. How do we get a better Auxiliary?