Welcome to the Flotilla 3-26, District 14 Web Site
Commodore Burkhard Berger was recognized for his 34 years of active volunteerism. Commodore Berger chairs the "Coastie" tugboat program in D-14. Congratulations, shipmate.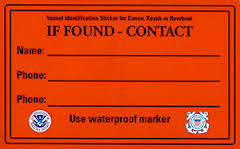 If you get separated from your board, canoe, or kayak, this decal could save your life. Get one free from Coast Guard Station Maui or any Coast Guard Auxilirist.