Welcome to the Division 2, District 13 Web Site
Division 2 Of District 13
Division 2 is the smallest Division geographically in District 13. We cover most of King County - the greater Seattle/Bellevue metropolitan area. The Division's 170 members provide the boating public with boating safety education, vessel safety checks, and partnerships with the boating community.

---
2015 Division Bridge Elected....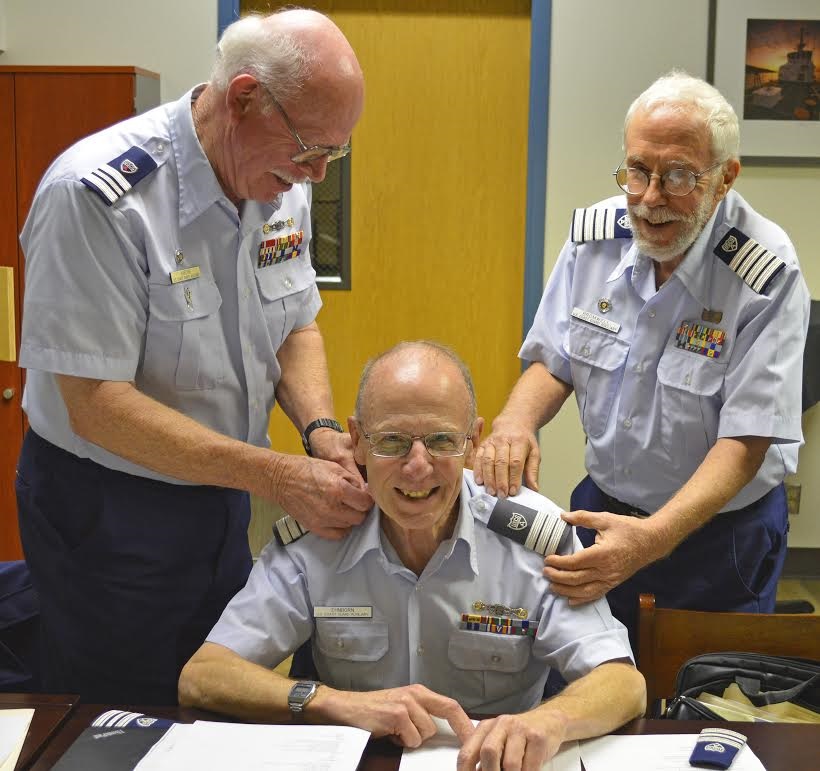 At the recent Division meeting the 2015 Bridge was elected. Jim Ehnborn of Flotilla 25 will be the Division Commander and Tammy King of Flotilla 24 the Vice Division Commander. Jim and Tammy have already begun working on the leadership change over even though the actual change date is December 31.

Right: Jim Ehnborn is "frocked" as the Division Commander by Keith Harding, Flotilla Commander 25 and the current Division Commander and District Captain - North (elect) Garrison Bromwell. Photo by Michael Sealfon
2015 Flotilla Elections:



Flotilla 22

Michael McDermott, Flotilla Commander
Steve Alexander, Flotilla Vice Commander

Flotilla 24

Karen McKeag, Flotilla Commander
Eferm Krisher, Flotilla Vice Commander (re-elected)
Congratulations to all!
---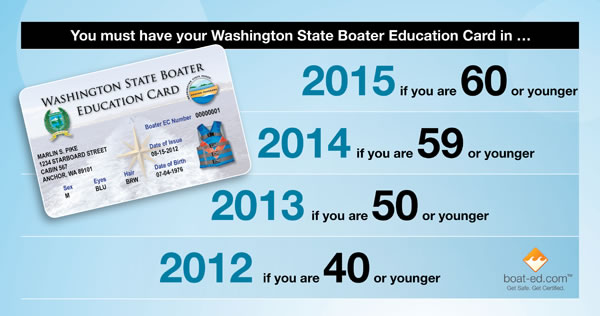 Boating Education Classes
Interested in taking a boating education class? Want to meet the requirements of the Washington Boater Education law (required by everyone 59 or younger in 2014), or find out more about boating safety or boating education in general?

Use our handy class finder!

Members--use the class finder if you are interested in helping teach, if you need a class to become Basically Qualified (BQ) or to meet the basic boating education requirements of the Boat Crew Program.
---
Vessel Safety Checks
Get a free Vessel Safety Check - a qualified Auxiliarst will check your boat for compliance with the applicable federal and state requirements in this free program. This isn't a law enforcement action - the examiner can't report any problems to law enforcement. Be safe, get a Vessel Safety Check and display the sticker proudly!
If you are in the Seattle area, fill out this form to request an appointment to have a local examiner contact you. If you are out of the Seattle area, use the national Vessel Examiner locator to find an examiner near you.
---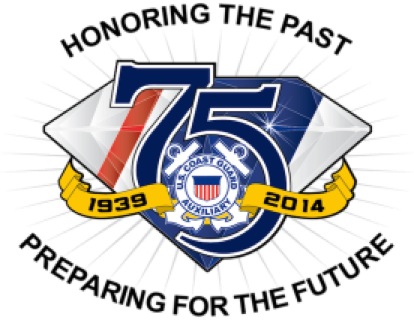 The U.S. Coast Guard Auxiliary celebrates its 75th anniversary of service to America on June 23, 2014.
As the uniformed, volunteer component of the Coast Guard, Auxiliary members dedicate countless hours each year toward supporting the Coast Guard in nearly all of the service's mission areas.
---
2013 and 2014 Division 2 Bridge
The advancement of boating safety is the primary goal and mission of the Coast Guard Auxiliary. You can find additional information

About Us
. You can also check out all of the activities throughout this and other Auxiliary web sites and Facebook pages.
Have fun, be safe, and think about joining us!