Welcome to the Division 2, District 13 Web Site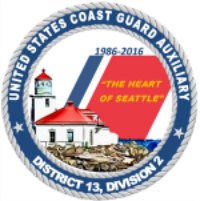 Division 2 is the smallest Division geographically in District 13. We cover most of King County - the greater Seattle/Bellevue metropolitan area. The Division's 170 members provide the boating public with boating safety education, vessel safety checks, and partnerships with the boating community.

*** BREAKING NEWS - HOT OFF OF THE PRESS ***
ELECTION SEASON IS UPON US. The following unit elections are scheduled:
17 Sep - District 13
District Commodore - Kathleen Goodwin

District Chief of Staff -

David Larkin

District Captain North -

Art West
5 Oct - Division 2 - (Wednesday) Note the changed date for this election meeting. Convenes at 1900.
11 Oct - Flotilla 21 (Tuesday) at 1900 at the RAM Pub in Northgate
19 Oct - Flotilla 22 at Meydenbauer Bay Yacht Club. Convenes at 1900.
22 Nov - Flotilla 24 at the Center for Wooden Boats. Convenes at 1900.
Please make every effort to attend the meeting(s) where you are one of the electors. A quorum per the unit standing rules must be present for an election to happen.
DIVISION 2 BOARD MEETING AND ELECTIONS - DATE CHANGE
The Division 2 Board Meeting and Elections will NOT be held on 11 Oct as previously scheduled but WILL BE on Wednesday 5 October at 1900 in the Coho Room of the Base. All Board Members MUST attend, all staff officer should attend and you, the general membership are encourage to attend.
CHECKING PERSONAL PROTECTIVE EQUIPMENT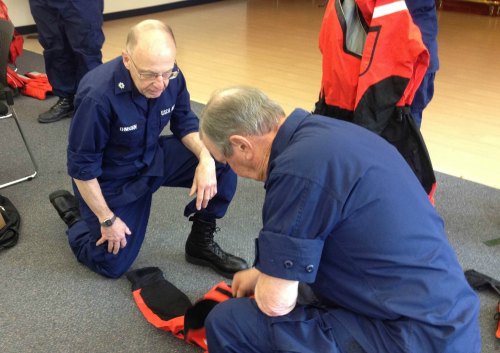 Division Commander Jim Ehnborn and Tom Liebert of Flotilla 24 check each other's Personal Protective Equipment (PPE). All operational members must do this, working with the Flotilla RSSO Officer (who is often the Flotilla Materials Officer). Defective equipment must be repaired or replaced and the whole process reported properly.
US Coast Guard Auxiliary Photo by SO-PA Matt Kirchner
PUBLIC AFFAIRS EVENTS
Division 2 consistently wins the District Public Affairs ribbon for Public Affairs. We have three mega-projects (The Boat Show, Alki Point Light House, and Christmas Stocking Stuffers) that allow us to "stuff the ballot box". But we also do a lot of other Public Affairs and there are many opportunities on the horizon to meet the public and get our Recreational Boating Safety message out there. To check them out and to sign up if you want to assist, please click on the Public Affairs sign up genius on this non-Auxiliary web site. (Also check the What's Happening Page of this web site for those events on the near horizon - less than three months out).
Updated 28 Sep 2016 by SO-CS 02
---
---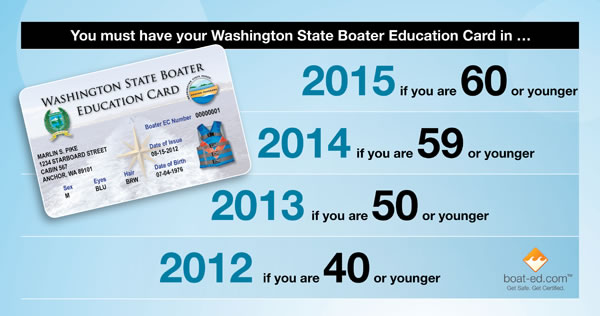 Boating Education Classes
Interested in taking a boating education class? Want to meet the requirements of the Washington Boater Education law (required by everyone 59 or younger in 2014), or find out more about boating safety or boating education in general?

Use our handy class finder!

Members--use the class finder if you are interested in helping teach, if you need a class to become Basically Qualified (BQ) or to meet the basic boating education requirements of the Boat Crew Program.
---
Vessel Safety Checks
Get a free Vessel Safety Check - a qualified Auxiliarst will check your boat for compliance with the applicable federal and state requirements in this free program. This isn't a law enforcement action - the examiner can't report any problems to law enforcement. Be safe, get a Vessel Safety Check and display the sticker proudly!
If you are in the Seattle area, fill out this form to request an appointment to have a local examiner contact you. If you are out of the Seattle area, use the national Vessel Examiner locator to find an examiner near you.
---
2016 Division Bridge
| | |
| --- | --- |
| Division Commander, Jim Ehnborn | Division Vice Commander, Karen McKeag |
| | |
---
The advancement of boating safety is the primary goal and mission of the Coast Guard Auxiliary. You can find additional information

About Us
. You can also check out all of the activities throughout this and other Auxiliary web sites and Facebook pages.
Have fun, be safe, and think about joining us!