Welcome to the Division 2, District 13 Web Site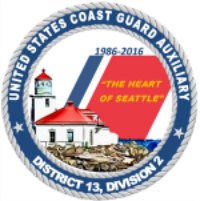 Division 2 is the smallest Division geographically in District 13. We cover most of King County - the greater Seattle/Bellevue metropolitan area. The Division's 170 members provide the boating public with boating safety education, vessel safety checks, and partnerships with the boating community.

BREAKING NEWS BREAKING NEWS BREAKING NEWS
What do members attending (and assisting with) the Boat Crew Academy do on a pleasant Sunday morning? Learn how to use a fire extinguisher in a training session courtesy of the Carnation Fire Department. VCDR Karen McKeag shows how its done in this photo by Kelly Garber.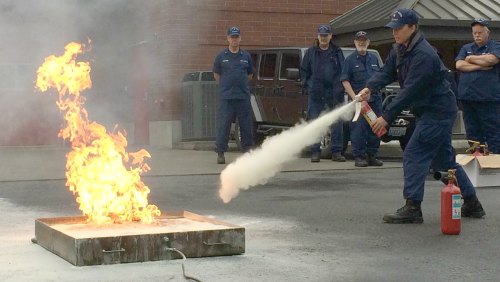 Where is the Auxiliary Headed?

COMO Darren Lewis has a distinct idea of where the Auxiliary is headed - at least electronically. Officers have long complained about the difficulty of getting information to the membership - and the membership has long complained about the fractured way we keep data and how convoluted the process is to find information when needed. The National IT department may have an answer. A system called myCGAUX is being rolled out that will consolidate a lot of disparate bits and pieces of information and present it to you in a customized fashion so only what you are interested in and needed appears. COMO Lewis has made a video presentation about this new tool which can be accessed here. Please route any questions, comments, or concerns through your Chain of Leadership and Management.
Posted 24 May 2016 by SO-CS 02
---
LIFE JACKETS -- WHAT'S RIGHT FOR YOU?
The righ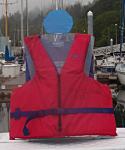 t life jacket for you is the one you are wearing when you need one. But when you go to the boat store - or even open the locker on a well stocked boat - you are confronted by a wide range of life jackets - some are very bulky, others light weight and seemingly comfortable. Like all boating decisions there are a lot of issues -- and any decision you make when you go to buy a life jacket is a compromise between many factors. Mike Brough, a member of Flotilla 21 and a qualified Auxiliary Crew Member has written a very comprehensive article about life jackets - its posted on his personal web site (non-Auxiliary) and is well worth investigating.
And for a funny look at silly humans who DON'T WEAR life jackets check out this video on U-Tube (non-Auxiliary web site).
---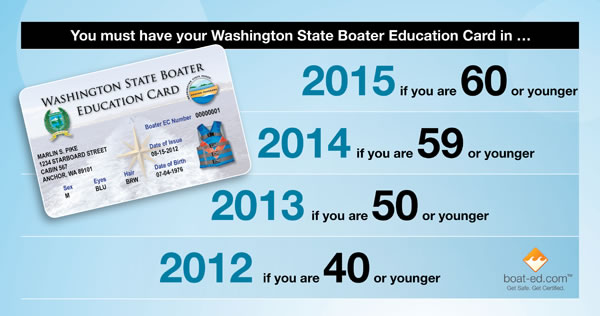 Boating Education Classes
Interested in taking a boating education class? Want to meet the requirements of the Washington Boater Education law (required by everyone 59 or younger in 2014), or find out more about boating safety or boating education in general?

Use our handy class finder!

Members--use the class finder if you are interested in helping teach, if you need a class to become Basically Qualified (BQ) or to meet the basic boating education requirements of the Boat Crew Program.
---
Vessel Safety Checks
Get a free Vessel Safety Check - a qualified Auxiliarst will check your boat for compliance with the applicable federal and state requirements in this free program. This isn't a law enforcement action - the examiner can't report any problems to law enforcement. Be safe, get a Vessel Safety Check and display the sticker proudly!
If you are in the Seattle area, fill out this form to request an appointment to have a local examiner contact you. If you are out of the Seattle area, use the national Vessel Examiner locator to find an examiner near you.
---
2016 Division Bridge
| | |
| --- | --- |
| Division Commander, Jim Ehnborn | Division Vice Commander, Karen McKeag |
| | |
---
The advancement of boating safety is the primary goal and mission of the Coast Guard Auxiliary. You can find additional information

About Us
. You can also check out all of the activities throughout this and other Auxiliary web sites and Facebook pages.
Have fun, be safe, and think about joining us!