Welcome to the Division 2, District 13 Web Site
Division 2 Of District 13
Division 2 is the smallest Division geographically in District 13. We cover most of King County - the greater Seattle/Bellevue metropolitan area. The Division's 170 members provide the boating public with boating safety education, vessel safety checks, and partnerships with the boating community.

SEATTLE BOAT SHOW - SEATTLE BOAT SHOW - SEATTLE BOAT SHOW
The 2015 Seattle Boat Show (external site) will run from 23 JAN through 1 FEB 2015

Division 2 is taking the lead on coordinating the Auxiliary's information booth at the Boat Show.

See our Boat Show information page to find out what you need to know to volunteer--signup tutorial, uniforms (Tropical Blue), parking, directions and other information.
Please sign up early (and often) so you don't miss out on this opportunity to work with the boating and want-to-boat public!
---
District 13 Spring Meeting - Right Here In Our Back Yard
The District 13 Spring Meeting will be at the Ramada Inn in Tukwilla February 27 and 28th. Fridays events cover the formal meetings of the District Board and Saturday is a full day of training with something for every member around the theme of "back to basics". For a full list of the events and a sign up link please go the the D13 meeting web site and "check it out"
OPTREX - OPERATIONAL TRAINING EXERCISE
All Crew, Coxswain, and PWC qualified members in the Station Seattle Operating Area are invited to attend a spring time Operational Training Exercise (OPTREX) to "knock off the rust of our long Pacific North Wet winter" and get our operational level back up to professional standards. OPTREX will kick off with two weekend shore side training sessions on 28 Mar and 11 Apr at Pier 36 (exact room yet to be determined). The syllabus is available for download here. IFacilitators include Kelly Garber, Dave Larkin, Mike Brough, Mike Allert, Doug Julien, Garrison Bromwell Tammy King and Ed Odom.
On The Water Training is scheduled for 18 Apr and 25 Apr with facilities working from the Everett/Edmonds area and in Lake Washington.
Get the dates on your calendar NOW! Additional information will be announced as the training date gets closer.
---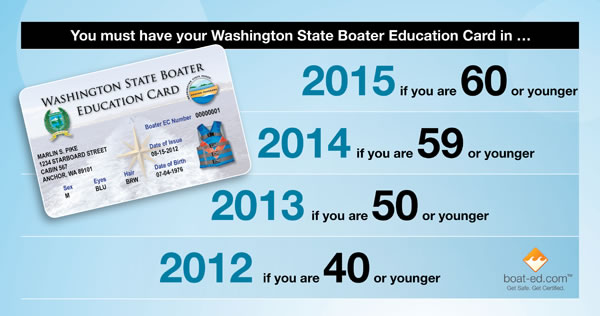 Boating Education Classes
Interested in taking a boating education class? Want to meet the requirements of the Washington Boater Education law (required by everyone 59 or younger in 2014), or find out more about boating safety or boating education in general?

Use our handy class finder!

Members--use the class finder if you are interested in helping teach, if you need a class to become Basically Qualified (BQ) or to meet the basic boating education requirements of the Boat Crew Program.
---
Vessel Safety Checks
Get a free Vessel Safety Check - a qualified Auxiliarst will check your boat for compliance with the applicable federal and state requirements in this free program. This isn't a law enforcement action - the examiner can't report any problems to law enforcement. Be safe, get a Vessel Safety Check and display the sticker proudly!
If you are in the Seattle area, fill out this form to request an appointment to have a local examiner contact you. If you are out of the Seattle area, use the national Vessel Examiner locator to find an examiner near you.
---
The advancement of boating safety is the primary goal and mission of the Coast Guard Auxiliary. You can find additional information

About Us
. You can also check out all of the activities throughout this and other Auxiliary web sites and Facebook pages.
Have fun, be safe, and think about joining us!