Welcome to the Division 12, District 8ER Web Site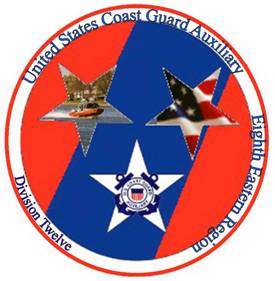 The U.S. Coast Guard Auxiliary is the uniformed, all-volunteer component of the United States Coast Guard. The Auxiliary was created by an Act of Congress in 1939, and has grown to over 32,000 members who daily support the Coast Guard in all its non-military, and non-law-enforcement missions.
Division 12 started with the formation of one of the first flotillas in the country in November of 1939 in Knoxville, Tennessee. Division 12's four flotillas cover the northeastern portion of Tennessee and the southeastern portion of Kentucky. Although not in our assigned area, we have members who live in Southwestern Virginia and Western North Carolina.
Auxiliary members conduct safety patrols on local waterways, assist in Search and Rescue, teach boating safety classes, conduct free vessel safety checks for the public, provide boating safety literature to dealers, as well as many other activitiesrelated to recreational boating safety.
The Coast Guard considers the Auxiliary its primary resource for recreational boating safety outreach and prevention (see the message "From the Commandant"), and each Coast Guard district around the nation has established a senior officer and staff to provide tight liaison and coordination between the active-duty Coast Guard and the various Auxiliary units in that district.
For the most part, we are the visible part of the Coast Guard in the Division 12 area.
Our operational areas include aircraft, boats, high frequency radios, and public education.
We support Coast Guard Sector Ohio Valley in Louisville, Kentucky, MSO Paducah, Kentucky, MSD Nashville, Tennessee, Air Station Mobile, and the area activities of the USCGC Ouachita out of Chattanooga.
Our surface operational facilities patrol 165 miles of navigable waterways on the Tennessee River upstream of mile marker 567, the Little Tennessee River, the Clinch River, and the Emory River. In addition, we patrol recreational lakes Boone, South Holston, Cherokee, Douglas, and Norris in Tennessee and Laurel in Kentucky. Our air operations cover the eastern portions of the Ohio and Tennessee Rivers.
Membership in the Auxiliary is open to persons 17 years of age and older. Prospective members must pass a federal background security check, participate in at least one of our operational areas, and agree to support the missions of the US Coast Guard. Find the unit nearest your Zip Code by clicking on "Units" at the top of this page. And for dozens of reasons why you should join, visit "Recruiting". You will not be sorry!
PLEASE LEARN MORE ABOUT US BY EXPLORING OUR SITE. IT'S FOR EVERYONE