Welcome to the Vessel Examination & Partner Visitation Web Site
What our directorate does for you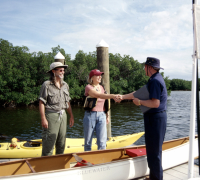 Get a safety check!
The Auxiliary has certified Vessel Examiners who can perform a free
Vessel Safety Check
(VSC) at your boat. An examiner inspects your equipment, like navigation lights and life jackets, to help you be safe on the water. If your boat meets all requirements, it earns the VSC decal. Your decal may offer third-party benefits – talk to your insurance provider to learn more.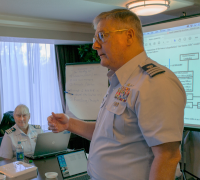 Auxiliarist training
Certification in the Auxiliary's boating safety ratings allows you to save lives. The V-Directorate hosts courses for
Vessel Examiner
and
Program Visitor
online, to prepare for in-person training. We also offer qualification as an
AUXLWO Observer
. This role gathers data for the annual life jacket wear rate study, used by numerous third-parties to develop law and policy.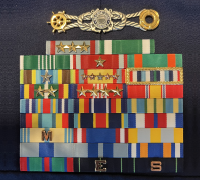 What is recreational
boating safety?
Too often, pleasure outings on the water turn tragic. Each year, hundreds of lives are lost and thousands are injured because of preventable accidents on U.S. waterways. The Coast Guard Auxiliary is tasked with reducing and eliminating these tragedies. As the V-Directorate, we ensure the Auxiliary's message reaches recreational boaters through teams of Vessel Examiners and Partner Visitors at the stores, on the docks, or even in your boat! We serve so everyone can come home safely.
After visiting, you can find more RBS resources from the Auxiliary at:
"RBS Job One" magazine ⯈
Public education ⯈
Boating safety outreach ⯈
Who are we?
Since 1939, the U.S. Coast Guard Auxiliary has served the nation as the uniformed auxiliary service of the United States Coast Guard. Over 20,000 members of the Auxiliary serve the operation of the Coast Guard on our coast and waterways, and strive to improve recreational boating safety (RBS) outcomes. Auxiliarists' duties range from radio watchstanders and boat crews to vessel examiners and marine environmental educators.
We are the Vessel Examinations & Program Visitation Directorate (or "V"), a leader in the Auxiliary's boating safety mission. The Vessel Safety Check program has thrived as a cornerstone of the Auxiliary's safe boating program since 1947. The V-Directorate guides the courtesy checks nationwide. We likewise guide the Program Visitors initiative – our local boating safety ambassadors – and manage other critical special projects.