Welcome to Auxiliary Online Learning
Coast Guard Auxiliary MOODLE Online Classroom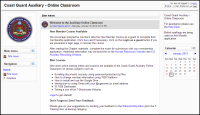 The member-training portal known as the "U.S. Coast Guard Auxiliary Virtual Classroom" has moved to a new location and is now called the Coast Guard Auxiliary Online Classroom.
The Direct link (URL) to the new MOODLE Online Classroom is: http://classroom2.cgaux.org/moodle/
On 19 January 2022 the Auxiliary Online Classroom (https://classroom2.cgaux.org/moodle/) was rebuilt as New AUX Online Classroom.
Everyone is now a first-time learner to this specific site and will need to create a new account using your Member ID, associated email address and a new password. Once a new account is created, you will be given access to the New AUX Classroom. The New AUX Online Classroom requires all users to create a STRONG password with 10-characters, UPPER & lower case letters, numbers, and special characters. To better visualize, here is an example of a STRONG password: ABcdef12#$
Follow this link to access a Video Tutorial on how to Create a New Account in the New AUX Classroom:
https://cdir-ce-public-content-east.s3.amazonaws.com/cognito/SignUpInwithUSCGAUX.mp4
These links are also available on the system Log-in page. Another significant change is the way in which you register for a self-pace course. This is a part of our security upgrade. The new protocols require that every course have an extra layer of security at the course level. This is accomplished using enrollment keys for self-paced courses. An enrollment key is simply a 4-6 character code unique to each course that unlocks the course for individual learners.

Within the new AUX Classroom, there are now 2 types of enrollments.

1. Manual Enrollment: This is used for courses that have specialized enrollment criteria such as C-Schools or courses with limited enrollment. Learners will be enrolled directly by the course instructor.

2. Self-Enrollment/Self-Paced: Any course open for self-enrollment such as Core Training, BQC2 or other courses that do not require an instructor. For security purposes, these courses now require an enrollment key.

Each Directorate is responsible for securely maintaining a list of enrollment keys associated with their self-paced courses. Each Directorate also has a special page on their WOW site called "Enrollment Keys". You can access enrollment keys using your Member Zone (MZ) password. A video showing the process is available to view after login to the New AUX Classroom.

Your access or password for the Member Zone (MZ) and for the National Testing Center (http://ntc2.cgaux.org/NTC) have not changed.

A few other points of consideration: Due to the change-over and enhanced security, prior enrollments and past learning history from the OLD AUX Classroom could not be rolled into the new system. Nothing transferred to the New AUX Classroom. Users will have to re-register for any self-paced courses they were engaged in prior to the transition. Any training completed in the old system and verified through the National Testing Center is safely recorded in AUXDATA. This includes Core Training and the Basic Qualification Course as well the AUXOP courses. Some old/outdated training content from multiple directorates were not transitioned to the new system because they were unable to run in the new secured system. Certain other valid training courses transitioned to the new system but are hidden for now while they are being updated. Once complete, they will be available again. Users enrolled in self-paced training can re-enroll in the same course within the new system. Unlike the old system the new system can track user progress and even generate certificates of completion.

Like any transition, this one is not without a few challenges. But once we make it out of the inlet, it will be fair winds and following seas as we take the Auxiliary into the future.
Online Testing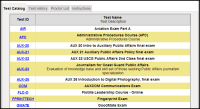 Online testing can be accessed at the National Testing Center at http://ntc.cgaux.org/. If this is your first visit to the new Testing Center, you will need to create an Auxiliary Member Zone Password. Online testing allows Auxiliary members to take all open book and proctored examinations.
All Districts have been authorized by the CHDIRAUX to participate in the on-line testing program and will receive credit towards qualification, re-qualification or certification.
Some of the tests may require a proctor. Here are the current requirements to become a proctor:
A commissioned, warrant, or petty officer of the Coast Guard or Coast Guard Reserve, any Coast Guard civilian employee or any Auxiliarist designated as an AUXOP (AX or AX2), specifically appointed by the Director, may proctor and process the exams, including on-line exams. An Auxiliarist who has successfully completed a specialty course(s) but has not yet achieved AUXOP designation, and who has been specifically appointed by the Director, may proctor and process the exam for that course(s), including the on-line exam.
FEMA Emergency Management Institute Courses
The Emergency Management Institute (EMI) offers the following free-of-charge, self-paced courses:
EMI has implemented electronic certificates for all online test submissions. Upon successful completion, you will receive an email within one business day that confirms your transcript has been updated and a link to create your electronic certificate. Provide a copy of this certificate to your FSO-IS to register completed courses into AUXDATA.