United States Coast Guard Auxiliary - Public Affairs

We congratulate to all our members who participated in our monthly photo submissions. Here are some of the past photos we like to share. If you would like to submit your photo(s) to our Photography Branch of the National Public Affairs "A" Directorate.
CLICK Here for more information on submitting your photo for POTM
CLICK Here to email your photo(s)
---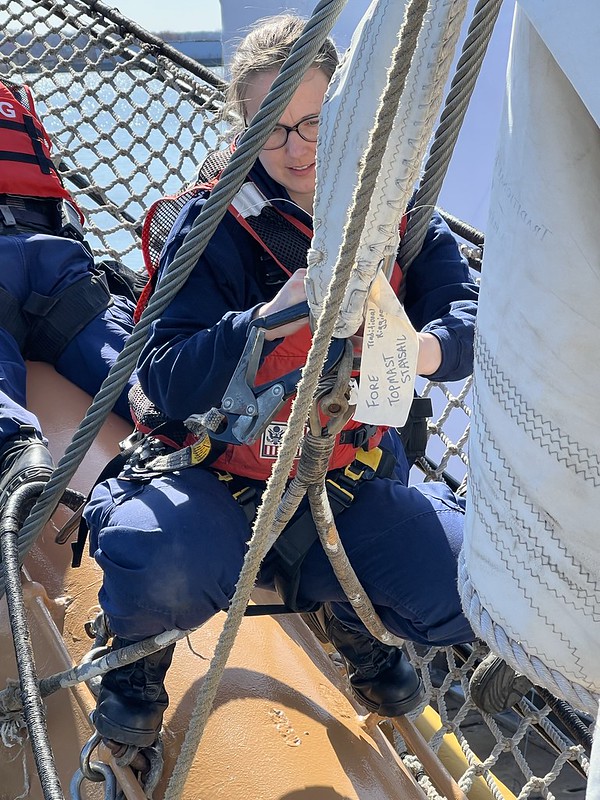 MAY 2023 WINNER - Auxiliarist Julia Muller mouses a shackle on the Fore Topmast Staysail on the bowsprit of the CGC EAGLE. Mousing a shackle uses wire to prevent it from loosening or coming free while underway. U.S. Coast Guard Auxiliary Photo By Kyle Robinson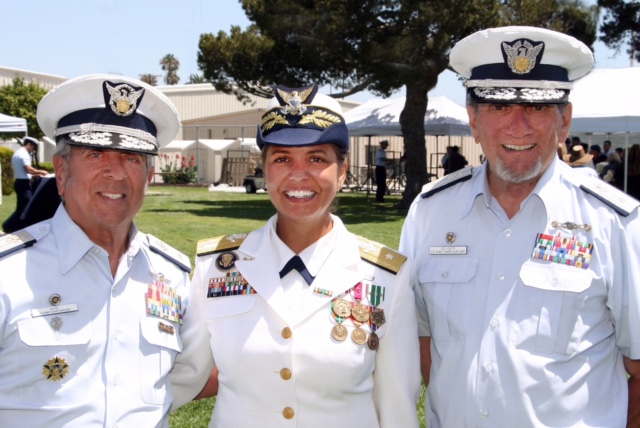 JULY 2022 WINNER: San Pedro, CA. After a Change of Command ceremony at Sector Los Angeles/Long Beach on June 21 , newly promoted Rear Admiral Rebecca Ore is flanked by Auxiliary COMO Charlie Geiger and past Auxiliary COMO Al Verdi. Coast Guard Auxiliary Photo by Scott Hedblom, AUXPA3.
---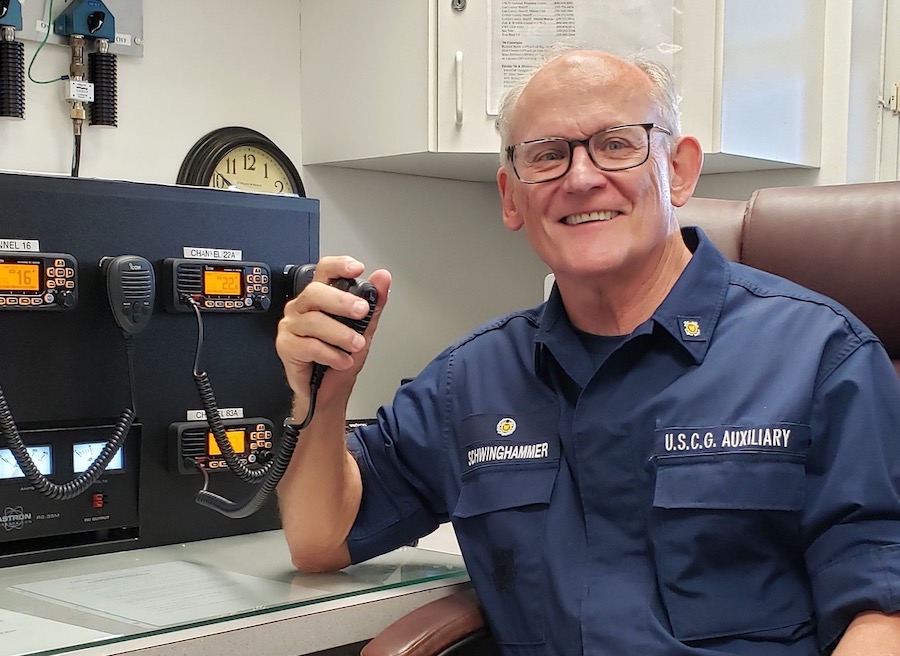 MAY 2022 WINNER: Naples, Fla. – Terrence Schwinghammer, FC, Flotilla 96, District 7, is a Telecommunications Operator (TCO) in the Operations Program and stands radio watch for a surface patrol. The patrol and watch stander communicate at regular intervals, and as needed, using VHF radios to ensure that operations are proceeding normally. TCOs undergo training in radio operations and are required to demonstrate radio knowledge and skills-based personal qualification standards (PQS) for certification. U.S. Coast Guard Auxiliary photo by Ellen M. DeLeo.
---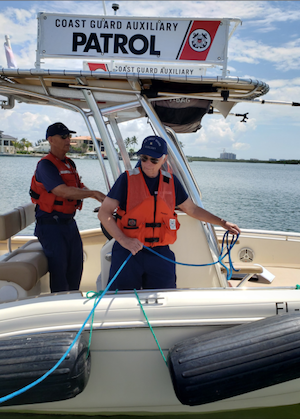 APRIL 2022 WINNER: A boat crew trainee, completing their qualification check ride, works a side-tow. Side tows provide the greatest control of a disabled vessel, and are required to place the vessel on a trailer or in a slip. Boat Crew Qualification is rigorous and opens an Auxiliarist to a host of exciting and valuable missions e.g., marine observation, search and rescue, safety zones, aids to navigation and bridge inspections among a host of others. Qualified auxiliarists augment the U.S. Coast Guardin its maritime safety and public education missions. You should consider joining! U.S. Coast Guard Auxiliary photo by Ellen M DeLeo.
---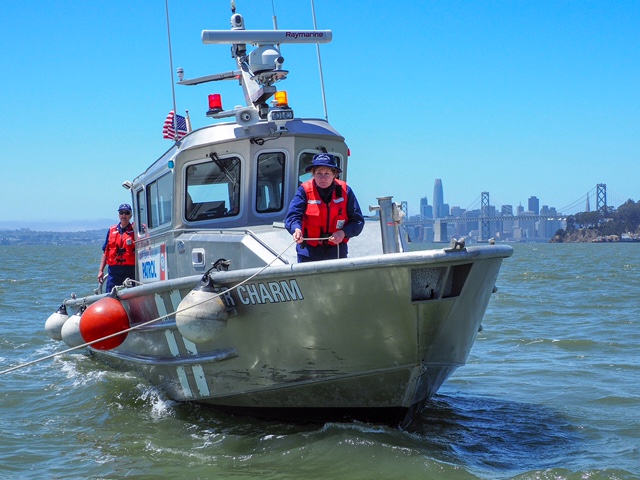 MARCH 2022 WINNER: SAN FRANCISCO - The crew of U.S. Coast Guard Auxiliary operational facilities (OPFACs) Servant and Silver Charm met at U.S Coast Guard Station San Francisco to demonstrate surface operation skills as part of District 11 North Region's Check Ride Operations Program (CROP) on Saturday, July 10, 2021. Coast Guard Auxiliary qualifying examiners were present for qualifying and recertification assessments during pre-underway briefings towing evolutions, anchoring, search and rescue (SAR) patterns, and post-patrol debriefing. U.S. Coast Guard Auxiliary photo by Tiffany Townsend.
---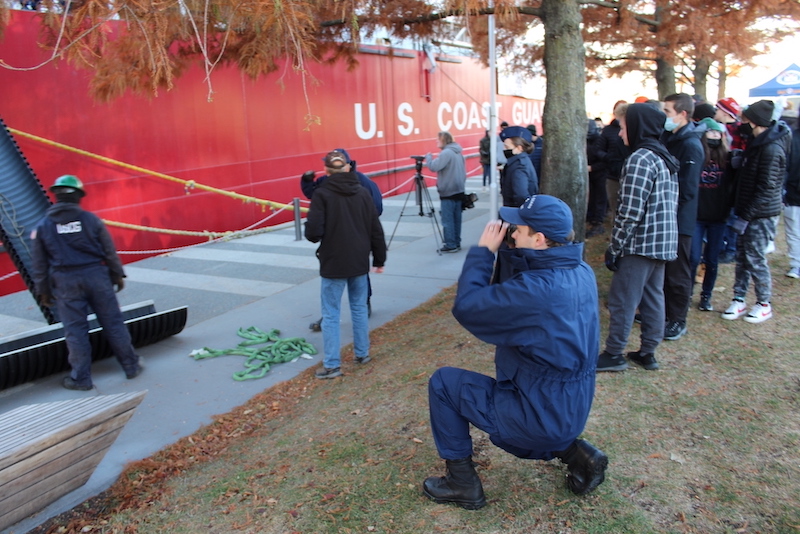 FEBRUARY 2022 WINNER: CHICAGO, IL - John Saran, AUXPA1, crouches to photograph the crew of the US Coast Guard Cutter Mackinaw as they prepare to unload Christmas trees with the assistance of hundreds of volunteers at Chicago's Navy Pier during the 2021 Christmas Tree Ship event on Dec 4, 2021. Photo by Matthew Thompson, US Coast Guard Auxiliary
---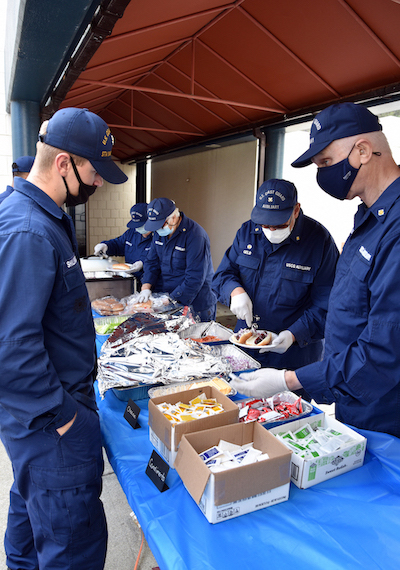 JANUARY 2022 WINNER: Yerba Buena Island, Calif – Auxiliarists who complete AUXCA (Auxiliary Culinary Assistant) training can augment the active duty in a variety of ways. Here, District 11 Culinary Assistance staff are serving active duty personnel on October 23, 2021 at U.S. Coast Guard Sector San Francisco. U.S. Coast Guard Auxiliary photo by Roger Bazeley
---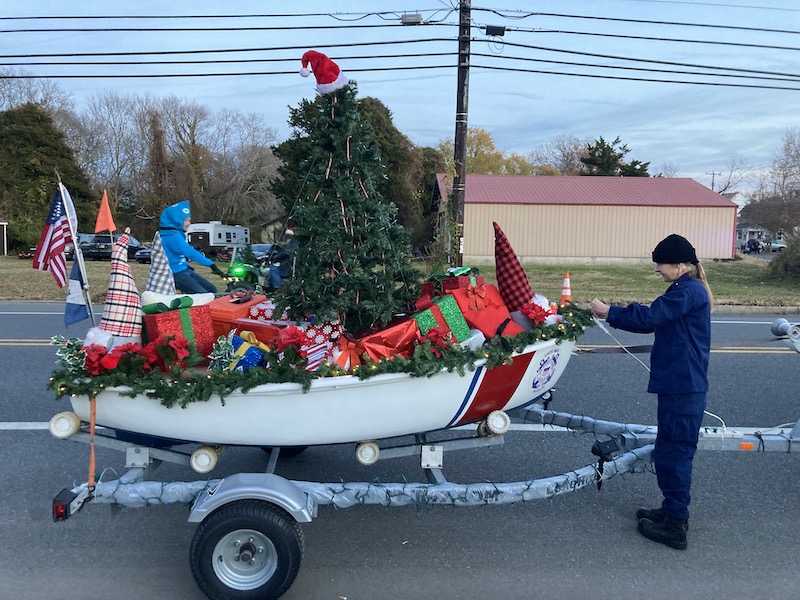 DECEMBER 2021 WINNER - West Cape May, N.J. - Flotilla 053-08-02 entered the West Cape May Christmas parade. Their first entry's motto: "Safety Floats Santa's Boat". This public affairs mission was led by Anne Marie Gillesberg, seen making final adjustments just before the parade's commencement, on December 16th. U.S. Coast Guard Auxiliary photograph by Sandy Dalton.
---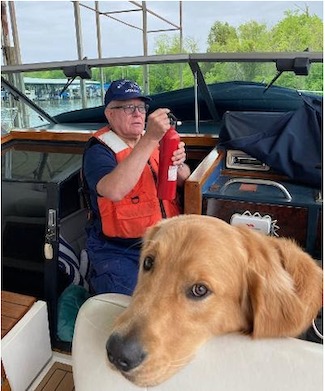 NOVEMBER 2021 WINNER - Hendersonville, TENN - Coast Guard Auxiliarist James Mayo inspecting a fire extinguisher during a vessel examination. Meanwhile Nash, a Golden Retriever and apparent captain of the boat, wonders if this master is going to get under way any time soon. The VE was successful and soon Nash and his family were out enjoying the beautiful spring day. U.S. Coast Guard Auxiliary Photo by Ramon Llorens, Jr.
---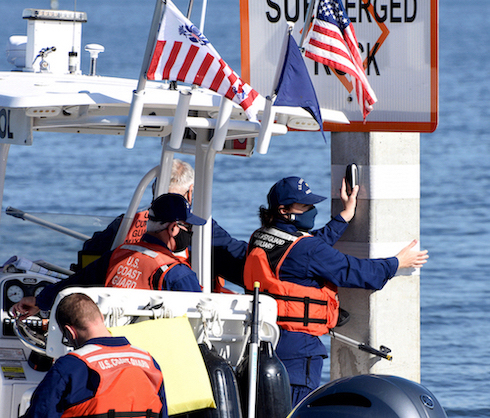 OCTOBER 2021 WINNER - Melbourne, FLA - The crew of an Auxiliary operational facility inspecting one of the POW MIA Park's Danger warning. Jim Parker, Flotilla 17-11, holds the boat in position on the piling while Greg Hendricks, Flotilla 17-6, pilots the facility. Faron Petteys, from Flotilla 17-6k, takes the position using a hand-held GPS, and BMC Lund, U.S. Coast Guard working alongside the Auxiliary members, records the observations. U.S. Coast Guard Auxiliary photo by Jill Bazeley.
Team Coast Guard is comprised of Active Duty, Reserve and Auxiliary members. Partnering like this is a key source of pride for the Auxiliary. If you need a moral boost, consider joining the U.S. Coast Guard Auxiliary.
---
SEPTEMBER 2021 WINNER:
Northport, N.Y. - Sunday 19, September, found Fort Salonga Flotilla 27's marching band front and center in the Great Cow Harbor Day Parade. Northport, on Long Island, is a historic maritime village, dating back to colonial days. Community outreach has many facets. Auxiliary band capture the hearts of more than just the
young and is one more path to serving the community. U.S. Coast Guard Auxiliary photo by Robert Kothe.
---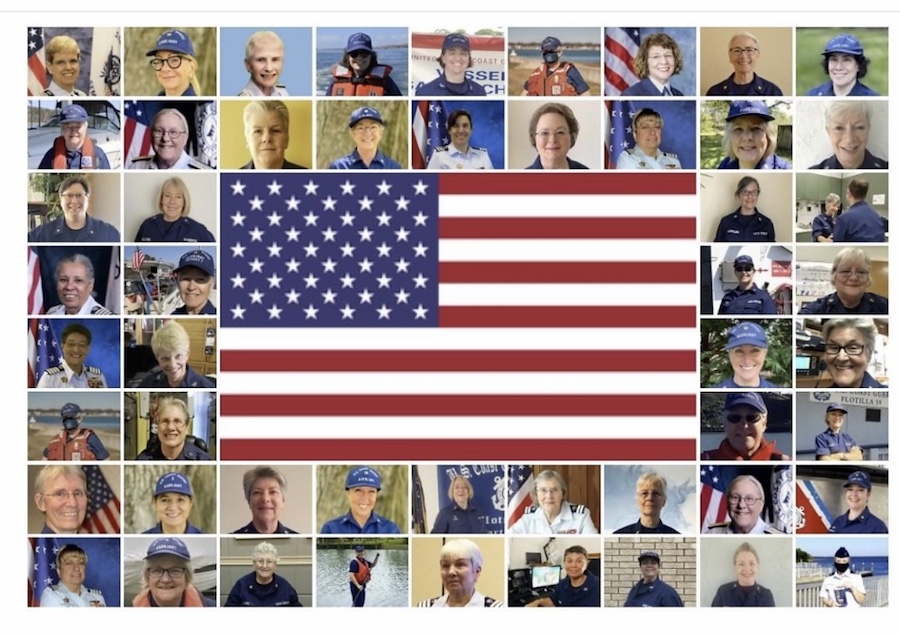 AUGUST 2021 WINNER:
2021 Women's History Month.
Photo Illustration by Deborah Heldt Cordone. Re-posted on Instagram by Jimmin Chang in Commemoration of National Women's Equality Day.
---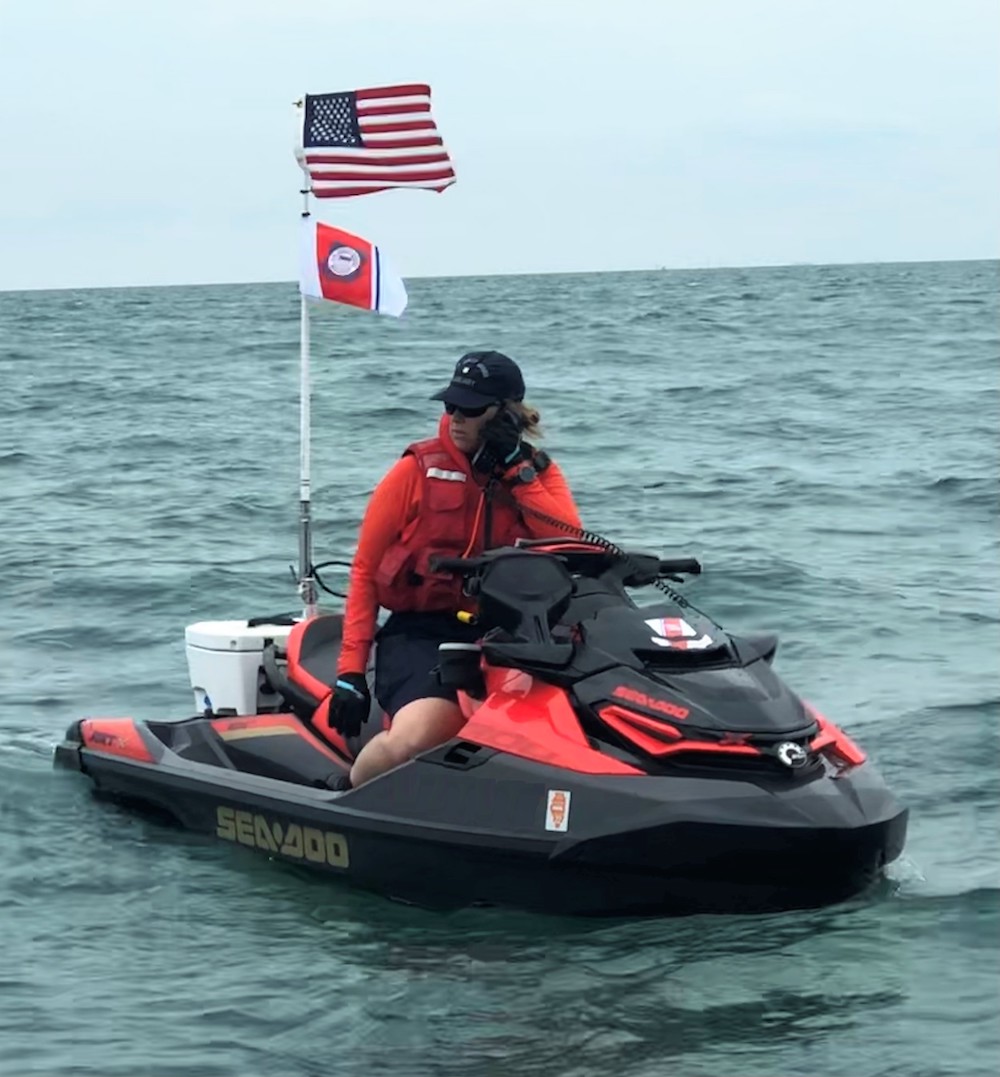 JULY 2021 WINNER: Portage, Michigan — Shelley Markle, DSO-PA, calls in her unit's Operational status to Station Chicago while on patrol in early July. Photo by John Saran AUXPA1
---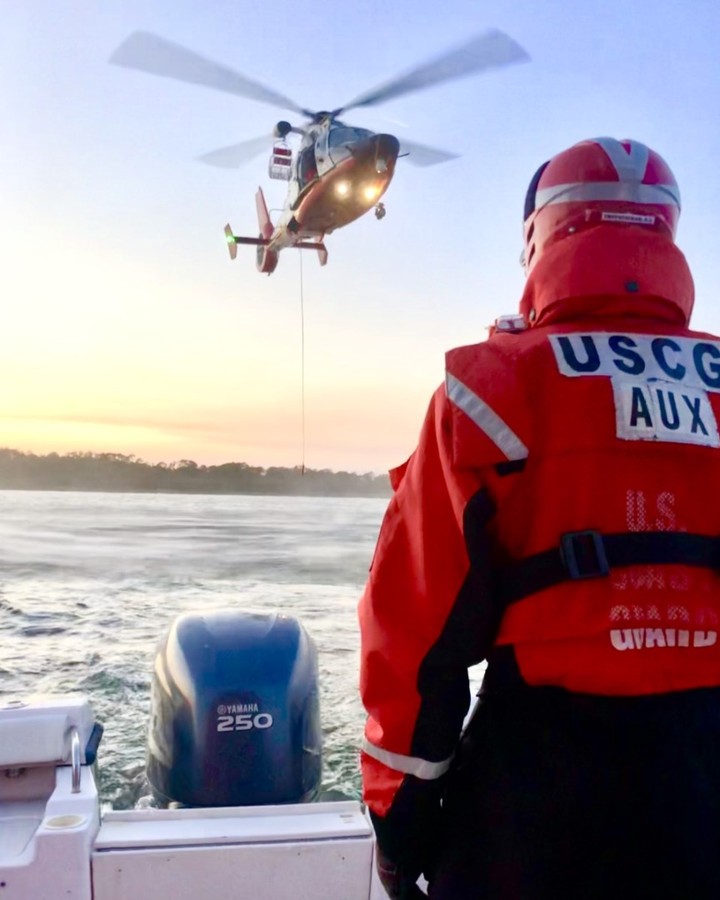 JUNE 2021 WINNER: SAVANNAH, Georgia — Phil Deloach of District 7's Flotilla 10-2 keeps a watchful eye on an incoming U.S. Coast Guard MH-65 Dolphin helicopter. The active duty and Auxiliary frequently train together in a variety of mission types. In this victim transfer drill, the helicopter dropped a rescue basket on the Auxiliary vessel's deck. During a SAR operation, transferring a victim to a helicopter provides advanced medical care far sooner than on the water transport. U.S. Coast Guard Auxiliary photo by Andrew Niquette.
---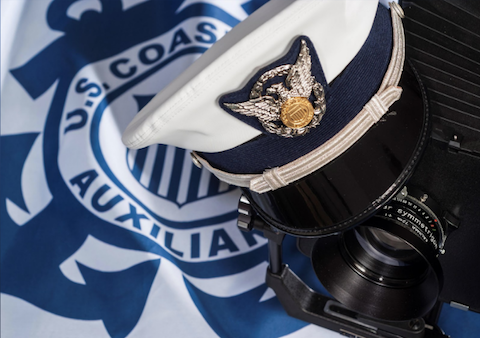 MAY 2021 WINNER: MURFREESBORO, Tennessee — The Public Affairs Academy Inaugural Photography Class completed 45 weeks of training on Monday, June 7, 2021. Auxiliary photographers capture the exciting missions of Team Coast Guard. This image ties together the service, pride and science of photography used by the National Photo Corps. U.S Auxiliary photo by Ramon Llorens Jr.
---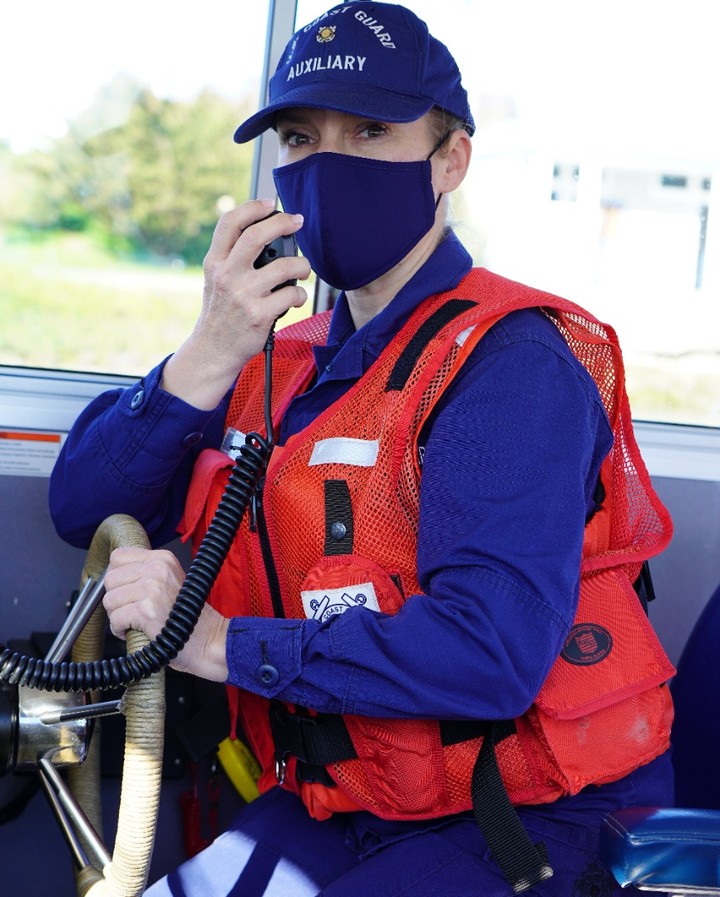 APRIL 2021 WINNER: BRISBANE, California — The U.S. Coast Guard Auxiliary is on the move! Crew Member Tiffany Townsend, at the helm of the operational facility Silver Charm on February 27, 2021 conducts a pre-mission equipment check. Townsend was part of the first approved, phase-two USCG District Eleven re-deployment since the March 2020 COVID-19 pandemic stand down. U.S. Coast Guard Auxiliary photo by Roger Bazeley.
---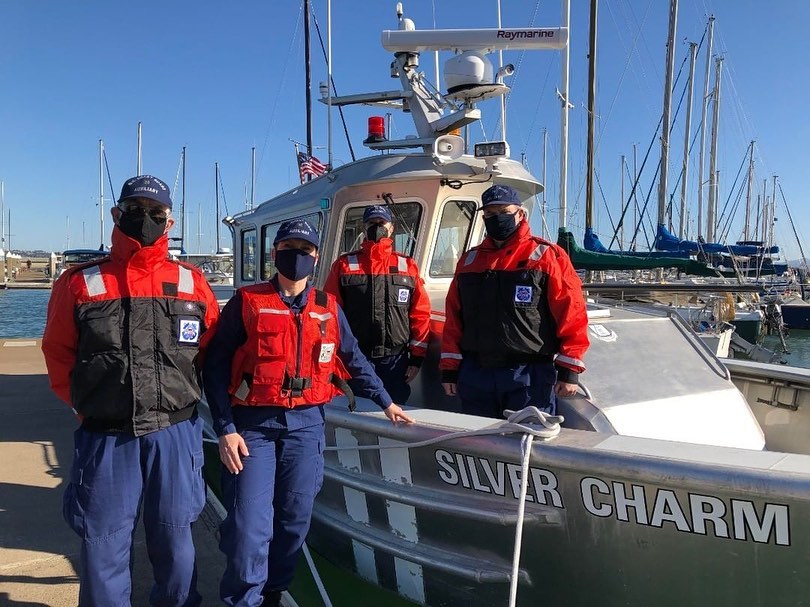 MARCH 2021 WINNER: BRISBANE, California — The USCG Auxiliary resumes domain awareness and training patrols, March 20, 2021 in the San Francisco area. While observing COVID-19 safety protocols, the crew of the operational facility, SILVER CHARM prepare. to get underway. The crew, left to right: Tiffany Townsend, Gary Kaplan, Coxswain Terry Blanchard, and Cassandra Mani are required to maintain their boat crew qualifications and continuously enhance their seamanship proficiency and professionalism. Training and qualifying as boat crew is an exciting way to develop yourself and provide value to your community! U.S. Coast Guard Auxiliary photo by Roger Bazeley.
---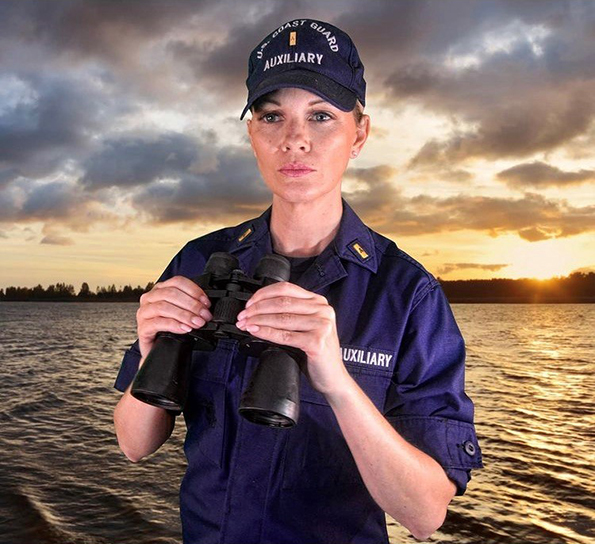 FEBRUARY 2021 WINNER: An auxiliarist stands watch. Watchstanding conveys mission purpose. Supporting the Auxiliary's mission requires recruiting new members. U.S. Coast Guard Auxiliary photo by Craig Eversen.
---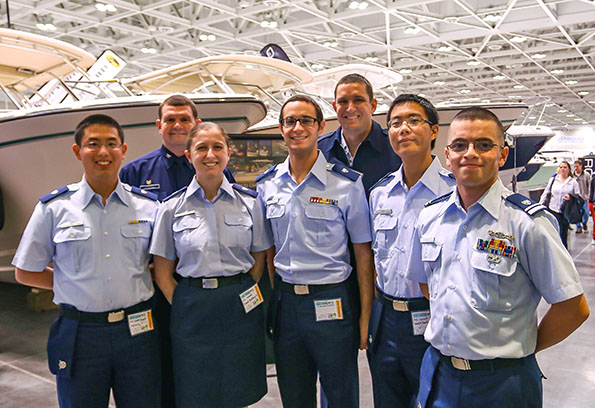 JANUARY 2021 WINNER IS A CLASSIC FROM 2014: Virginia Beach, Virginia — Members of Coast Guard Auxiliary University Program (AUP) from William and Mary University, one of the oldest universities in America, and members of Flotilla 5-1 pose with Capt. John Little, Commander of Sector Hampton Roads, at the Mid-Atlantic Boat Show. USCG Auxiliary photo by Auxiliarist Michelle Thorton.
The Coast Guard Auxiliary University Program introduces current college students to the Coast Guard and Coast Guard Auxiliary. It additionally prepares them for possible careers in the Coast Guard after graduation as well as recruit the next generation of Auxiliarists. Students are active in all areas and aspects of the Auxiliary's missions and operations and are required to complete qualification courses and training to graduate from the program. Students are members of the Auxiliary and the AUP unit at their school. Interested students should visit the Auxiliary University Program website below as well as the Coast Guard Auxiliary recruiting website for information on becoming an Auxiliarist.
U.S. Coast Guard Auxiliary University Program
---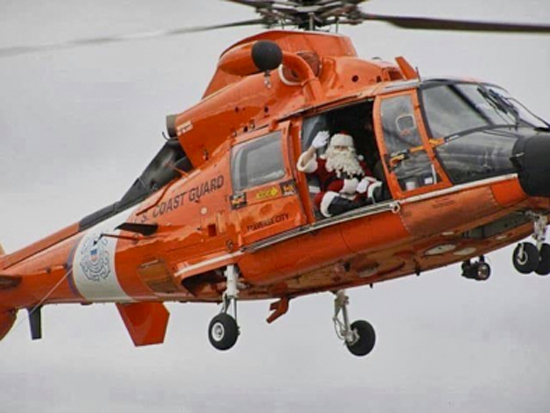 DECEMBER 2020 WINNER IS A TIMELESS CLASSIC — Santa arrives to delight children of all ages aboard a U.S. Coast Guard MH-65 Dolphin helicopter. Santa chose the twin turbine single-rotor helicopter due to its all weather and night operations certifications. U.S. Coast Guard image
---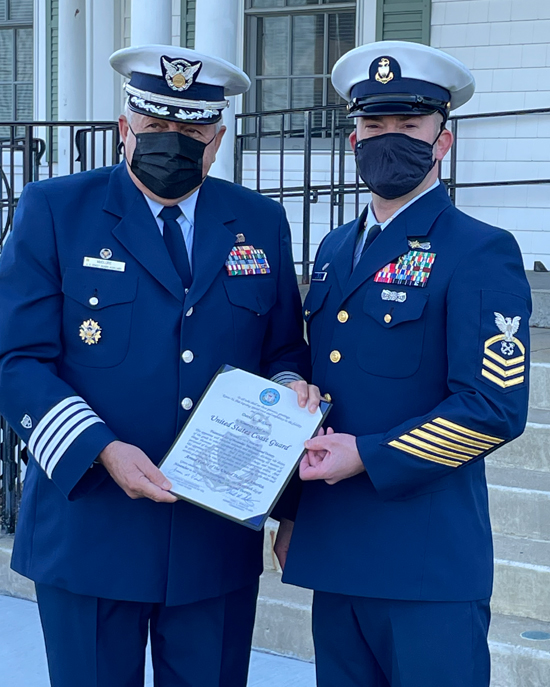 NOVEMBER 2020 WINNER:
SANDWICH, Mass. — On 20 Nov, 2020. Auxiliarist David McClure (left), of District 1 Northern Region was designated as an "Honorary Chief", demonstrating a significant commitment to the Chiefs and Chiefs Mess. He was nominated by Station Cape Cod Canals' Chief Boatswains Mate (right).
USCG Auxiliary photo by Auxiliarist Reid Oslin
---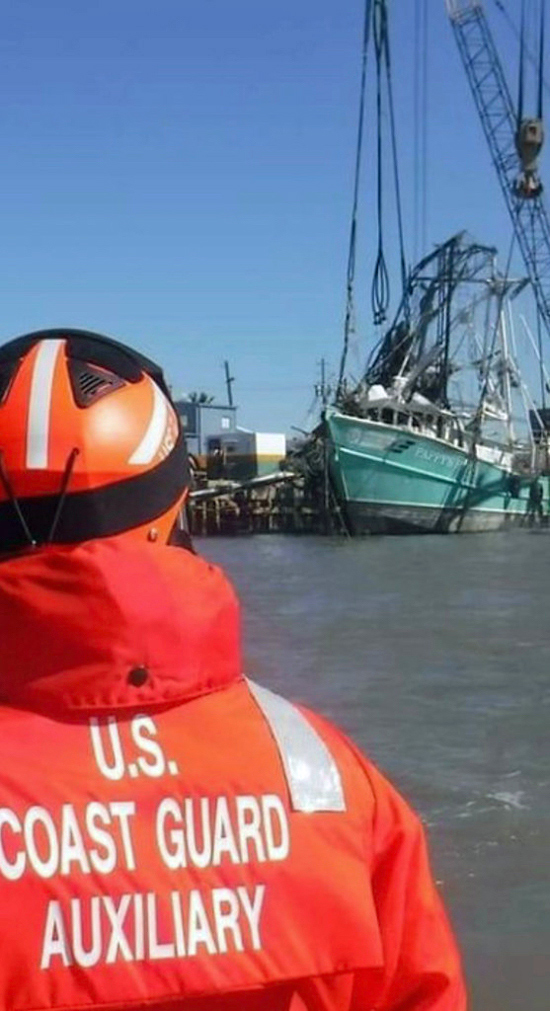 SEPTEMBER 2020 WINNER: GALVESTON, Texas — Coxswain Paul Brown positions his facility to protect divers raising a fishing boat that sank at the dock in February 2020. USCG Auxiliary photo by Auxiliarist Paul Brown
---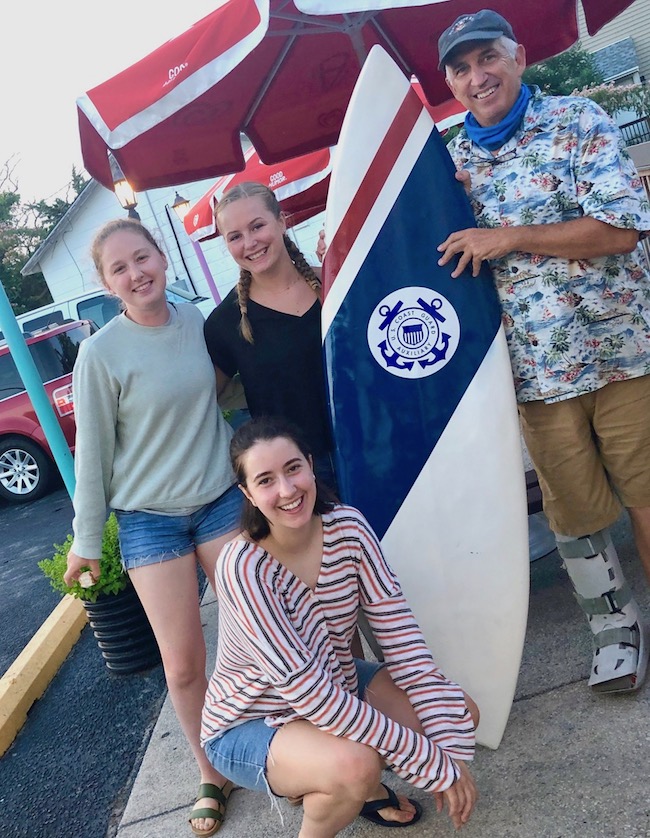 AUGUST 2020 WINNER: VILLAS, New Jersey — Cadets from the U.S. Coast Guard Academy spend their downtime from summer training at Coast Guard Station Cape May in New Jersey enjoying fellowship and cool treats at a nearby ice cream stand owned by Auxiliarist Joe Giannattasio. USCG Auxiliary photo by Auxiliarist Chris Tuttle
---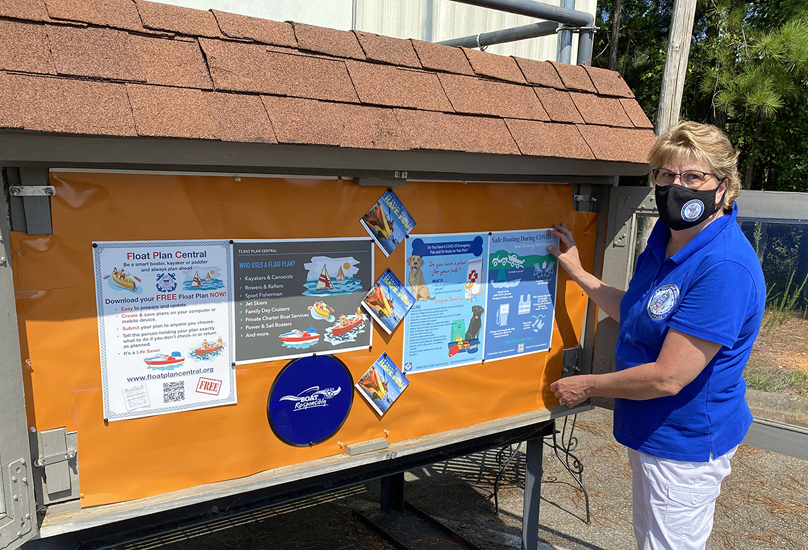 JULY 2020 WINNER: JORDAN LAKE, N.C. — Sherry Spillman, an Auxiliary Public Affairs Specialist 1, refreshes the display station in front of the communications trailer to keep the boaters at Jordan Lake knowledgeable during boating season amid the COVID-19 pandemic. USCG Auxiliary photo by Scott Spillman, AUXPA3
---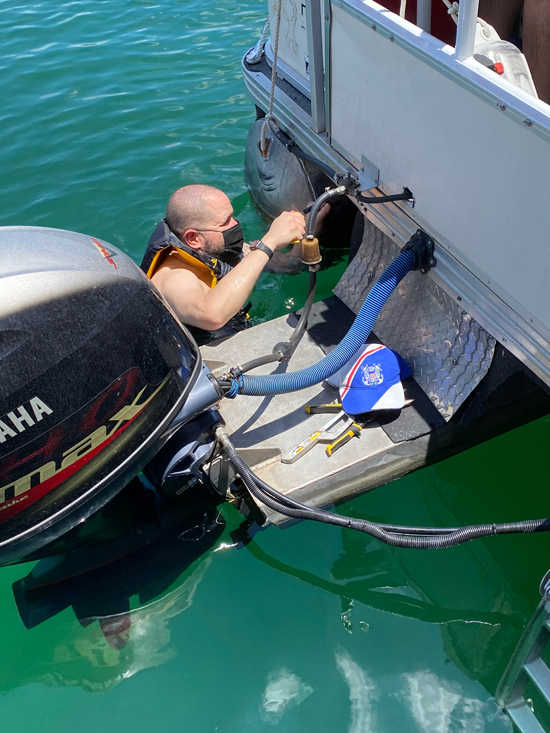 JUNE 2020 WINNER: STILLHOUSE HOLLOW LAKE, Texas — On June 6, 2020, Cristobal Rivera, vice flotilla commander of Flotilla Belton & Stillhouse Hollow Lakes, assists Rafael Vazquez with repairs on facility Salty Dog. Improving performance is imperative to ensure that everything with be ship shape when called to duty. USCG Auxiliary photo by Alvin Dillard, AUXPA1
---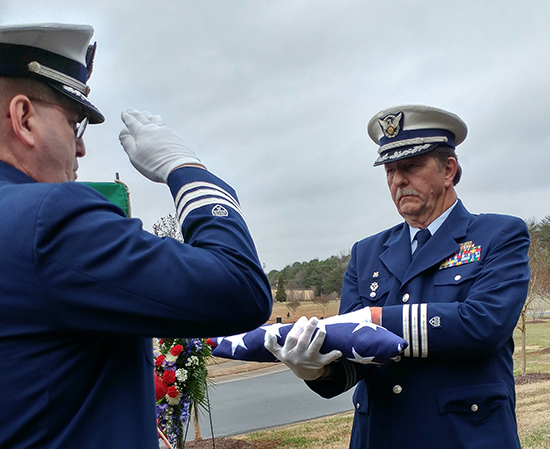 JANUARY 2020 WINNER: MEBANE, N.C. — Scott Spillman, the division commander of Division 9 in District 5 Southern Region, salutes the U.S. flag while Fred Carden, a retired member of Flotilla 9-9 (Burlington), receives the flag during the funeral for Ted Schmidt, a retired member of Flotilla 9-9, Jan. 11, 2020. Schmidt served on active duty with the Coast Guard and was a member of the Coast Guard Auxiliary for more than 20 years. USCG Auxiliary photo by Sherry Spillman
---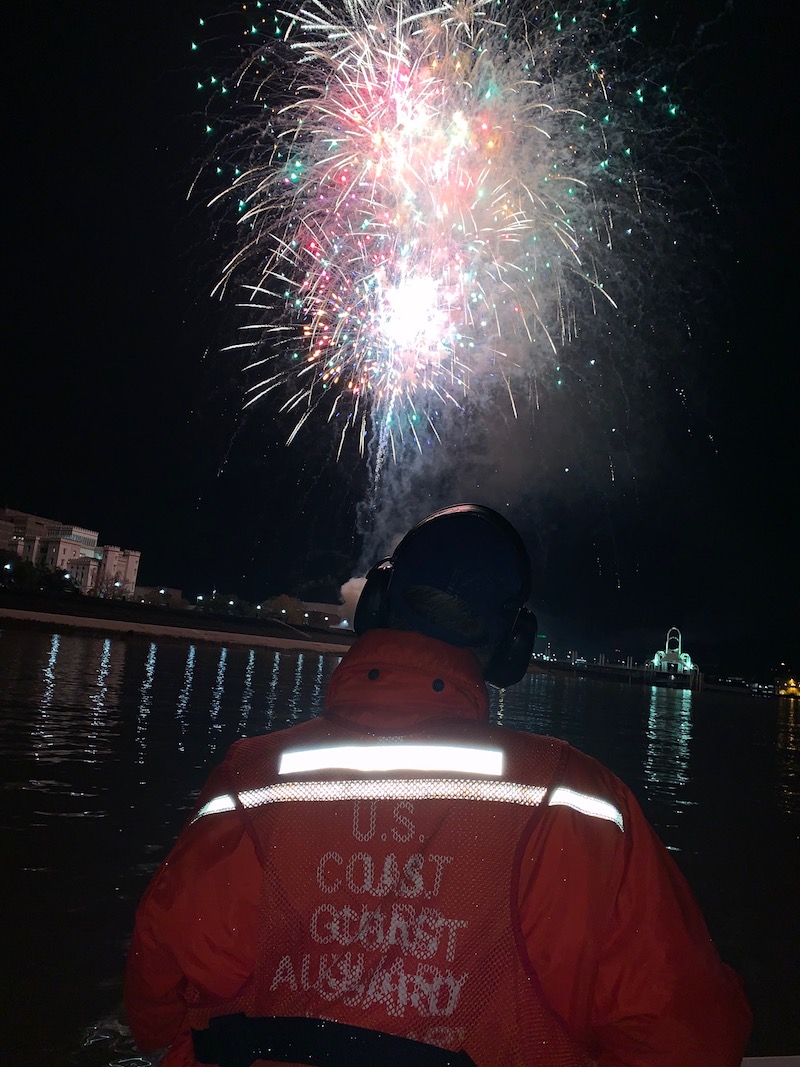 DECEMBER 2019 WINNER: Baton Rouge, La. Flotilla boat crew members and Marine Safety Unit Baton Rouge assets provide a safety zone on the Mississippi River at the Festival of Lights Celebration. USCG Auxiliary Photo by Auxiliarist Steve Oubre
---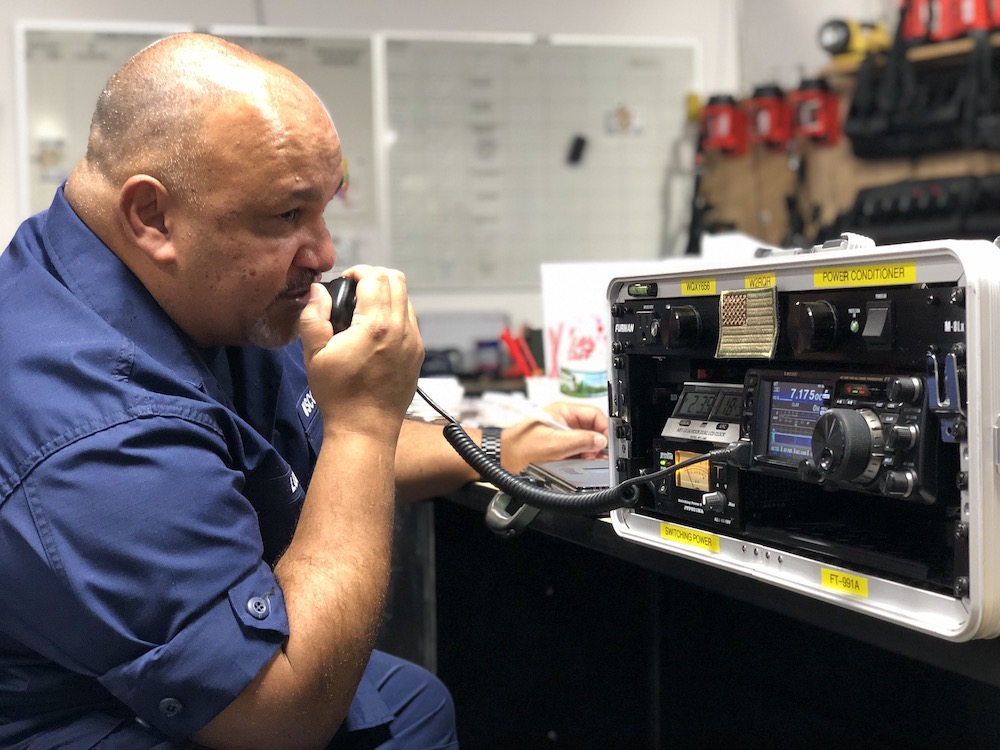 OCTOBER 2019 WINNER: Yonkers, N.Y. Auxiliarist Lugo from Flotilla 5-4, Division 5, 1st District, Southern Region, reached numerous amateur radio operators around North America on the 40-meter band while operating W2A, a special events station in celebration of the 80th Anniversary of the USCG Auxiliary from the Yonkers OEM office. Multiple former active duty members answered the CQ with Semper Paratus. USCG Auxiliary Photo by Auxiliarist Sandro Sherrod
---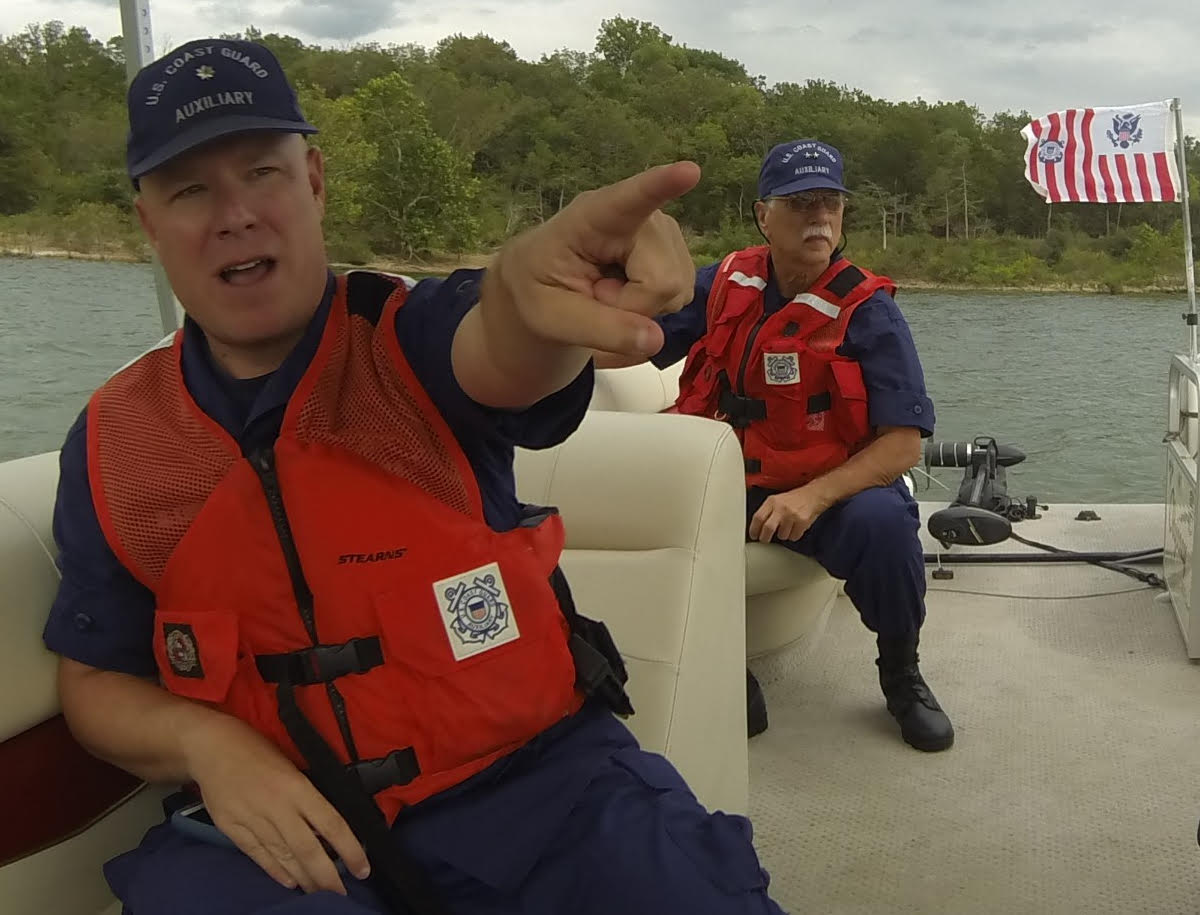 SEPTEMBER 2019 WINNER: Branson, Mo. On September 22, 2019 the 8th Western Rivers Director of Auxiliary CDR Suzanne Hemann and National Deputy Commodore Randall Ventress visited with members of Division 5 regarding the 2018 DUKW Marine Casualty incident. USCG Auxiliary Photo by Julie Carey
---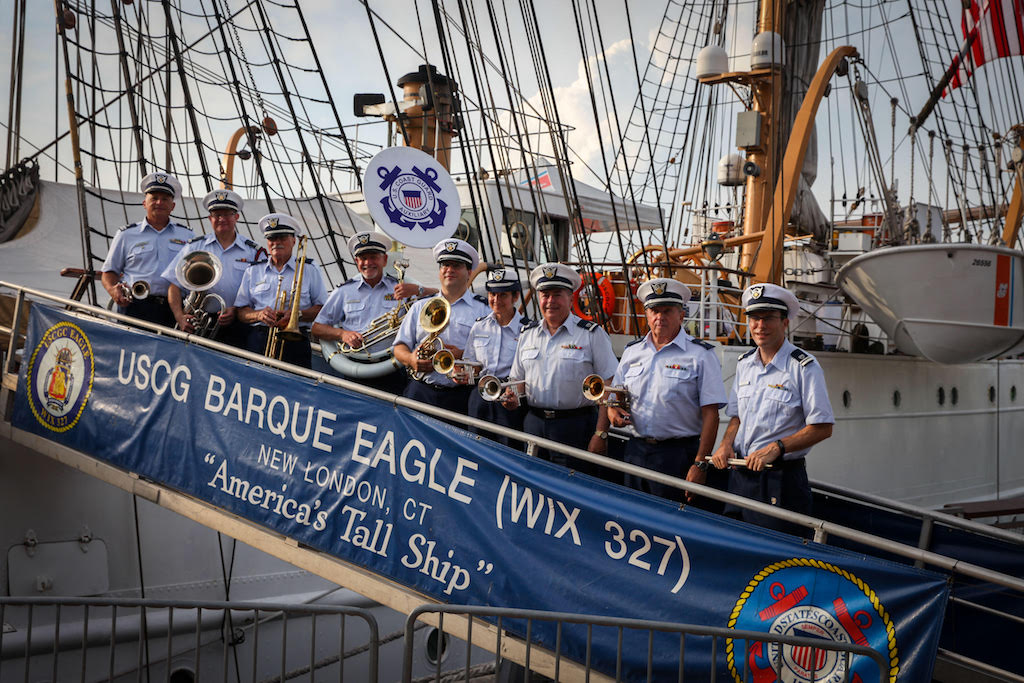 AUGUST 2019 WINNER: NEW YORK CITY - The Coast Guard Auxiliary Band pose on the gangplank of the United States Coast Guard Cutter EAGLE after their performance during the cutters transit from the Statue of Liberty to Pier 86, Friday, 17 June marking the training ship's first visit to New York City in three years. Coast Guard Auxiliary photo by Jonathan Bernz.
---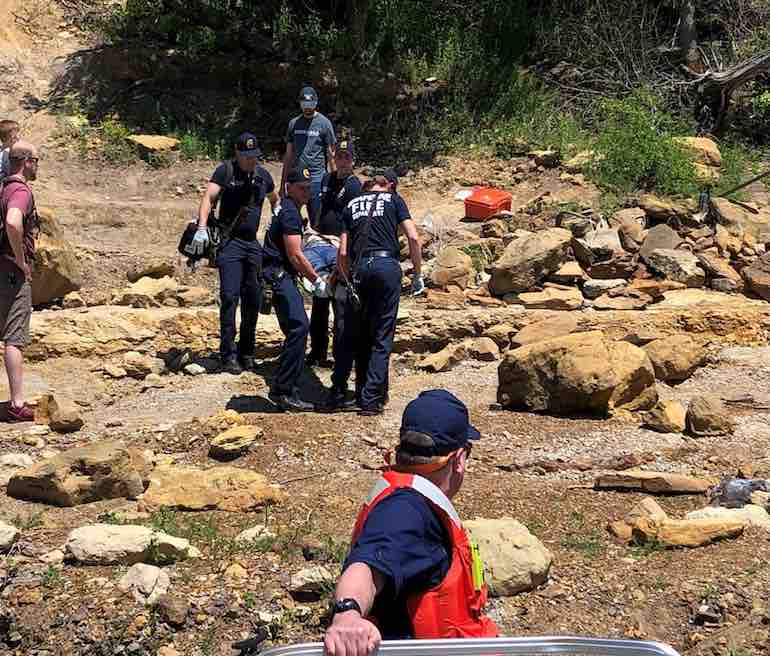 Lake Grapevine, Texas - Patrol Activity
MAY 2019 WINNER: Provided injured transport services to Grapevine Fire Department at their request. The incident occurred on the North Trail of Grapevine Lake when a hiker was injured west of the Rockledge Park Trailhead. After the crewmate noticed the emergency vehicles we proceeded to the scene. We stood by at water's edge as EMS was enroute on the trail. As they tended to the victim, the Grapevine Fire Department asked if we could transport to an old (since closed) boat ramp in Rockledge Park. We commenced transport of the victim on a backboard, 4 EMT's and their equipment. No further involvement. Grapevine radio was notified of the situation via VHF 83 and Sector Houston (SAR) Search and Rescue desk was notified of intentions to transport. No SAR assigned since it was a request by Grapevine Fire Department to transport assist only.
Photo above by Aux Boat Crew Brooke Davis in Foreground. Photo by Fred.
---

JULY 2018 WINNER: Port Canaveral, Fla. A Coast Guard Auxiliary vessel and a 29-foot Coast Guard Response Boat - Small (RB-S) conduct two-boat training exercises in the port's middle turning basin. Auxiliarists from Flotilla 6, Division 17, 7th Coast Guard District train frequently with their active duty counterparts from Coast Guard Station Port Canaveral. In this drill, the Auxiliary boat has made a distress call requesting immediate assistance from the Coast Guard.
USCG Auxiliary photo by Jill Bazeley
---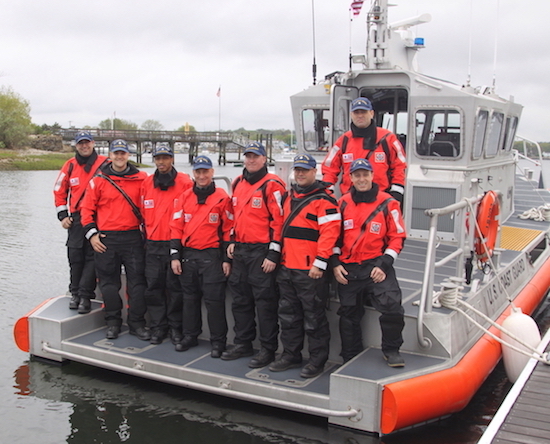 MAY 2018 WINNER: Westport, Conn. Crew aboard Coast Guard RBM 45733 poses for in her stern. They had just arrived at the Cedar Point Yacht Club's Open House event. USCG Auxiliary Photo by Auxiliarist Peter Jensen.
---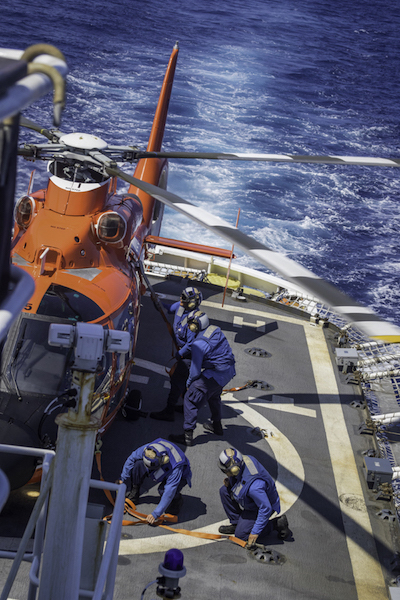 APRIL 2018 WINNER: Miami Beach, Fla. Helicopter training aboard the USCGC Reliance, several miles off the coast of Miami Beach. This Florida based twin MH-65 Dolphin search and rescue helicopter trains with the crew of the 210-foot USCG Cutter Reliance. USCG Auxiliary Photo by Auxiliarist Jonathan Bernz
---