e-Learning Public Affairs Courses

Public Affairs e-Learning Courses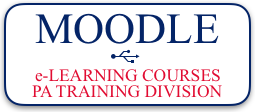 Accessing Public Affairs Training Courses
The following courses may be accessed through the Moodle site - Public Affairs Training section. In order to access Moodle, you will need to log in through the Moodle portal. If you do not already have a Moodle password, you will need to set up an account before you may begin your training. The instructions to set up an account are located at the top of the Moodle training page.

All of the Public Affairs courses are listed under the Public Affairs tab (near the middle of the page). To begin your training, please click on the link for the training course you desire. I hope you enjoy your training experience. If you have any question regarding course navigation or course content, please do not hesitate to contact the Branch Chief for e-Learning, Public Affairs, Dr. Brian Harte at brian.harte@cgauxnet.us

NEW COURSE ENROLLMENT PROCESS (Enrollment Keys)
Our enhanced security means that for courses that allow self-enrollment, you will need an Enrollment Key to access the course. This is a one-time requirement. Each course has a unique key.

To acquire a key to a specific course, visit the WOW site of the Directorate that manages the course. Click on the menu item called Enrollment Keys. This page be behind security and will require you to log in with your Member Zone credentials. Once logged in, you will be provided with a list of courses and enrollment keys for that directorate. Simply copy the key for the desired course, return to the Aux Classroom and place the key into the course enrollment dialog box to enroll.
USCGAUX: National Directorates (National Site Map page)
AUX Enrollment Keys 2022.mp4 (vimeo.com)

Introduction to Auxiliary Public Affairs (AUX-20)

Welcome to the exciting world of Public Affairs. Public Affairs Officers ("PAOs") have a tremendous responsibility within the Coast Guard and Coast Guard Auxiliary. They are primary representatives and spokespersons of these organizations in contact with the public. They can communicate through the media or directly through public safety booths. They are trusted advisors to the unit's elected officer in matters of public affairs, and interact with most of the other appointed officers in promoting their programs inside and outside the Auxiliary.
This course is designed to provide your first overview of public affairs missions and programs. It is a prerequisite to the Auxiliary Public Affairs Specialist qualification.

CG Public Affairs Policy (AUX-21)

The Bible of Public Affairs is the USCG Public Affairs Manual, COMDTINST M5728.2C, released December 2001. This course will take you thorough the Manual, and will quiz you about sections that as an Auxiliary Public Affairs Staff Officer you should be most knowledgeable about.
Please Note: As a PAO, you should only discuss (either verbally or written) topics for which you have first hand knowledge. It is perfectly acceptable to tell a Reporter you a) don't know, or b) not at liberty to discuss because of Coast Guard Policy vis a vis [Fill in the reason].

Coast Guard Public Affairs Specialist 2nd Class (AUX-22)

This course is designed to prepare Coast Guard petty officers for the Public Affairs 2nd Class rating. It is a good introduction to Coast Guard Public Affairs and a prerequisite for completion of the Auxiliary Public Affairs Specialist qualification.

This course was recently revised and the new course is currently in development on AUX E-Learn. If you begin this course before the new course is completed, you are grandfathered into it and may complete it for credit toward your Auxiliary Public Affairs Specialist qualification. If you prefer, you can take the new course, but you will be limited to the development time of the course developer.

Journalism for Coast Guard Public Affairs (AUX-23)

This course is used by the Navy and Coast Guard at the entry level to ensure that public affairs personnel have a basic understanding of journalism. Although the text is used in the Coast Guard Public Affairs Specialist 2nd Class course (which you should have already completed), this course explores the material in a more systematic and thorough manner. This course is a prerequisite for the Auxiliary Public Affairs Specialist qualification.

Introduction to Digital Photography (AUX-26)

Appropriate use of photography is essential in public affairs. This course was developed to train Coast Guard Auxiliary public affairs people the basics of digital photography. This course was developed totally within the Coast Guard Auxiliary Public Affairs National Staff.
---
If you are already registered and want to access the online courses,
click here
.
For further information, please email Brian Harte, PhD., Branch Chief for Public Affairs eLearning.