History of the U.S. Coast Guard Auxiliary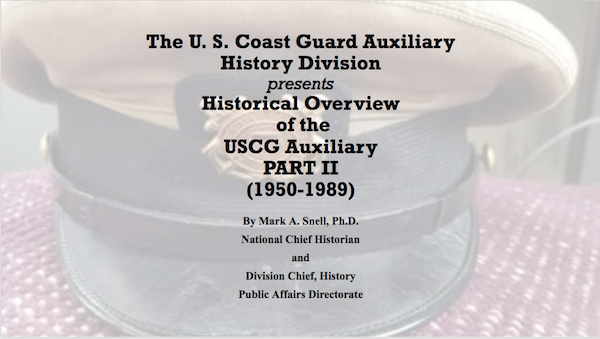 The History of the United States Coast Guard Auxiliary Part 2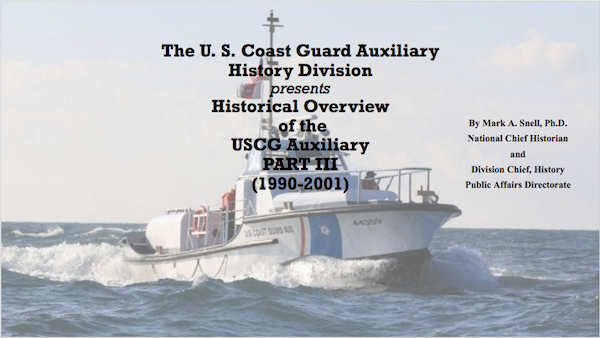 The History of the United States Coast Guard Auxiliary Part 3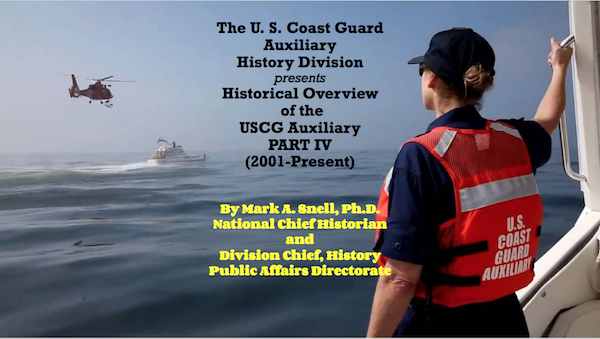 The History of the United States Coast Guard Auxiliary Part 4 (Updated 2022)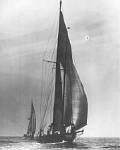 Boating always has been one of America's favorite pastimes and entered the sport arena in the early nineteenth century. Rowing and yachting races were among the most popular spectator sports through the 1930s. The wealth generated in post Civil War America, along with the growth of railroads, spurred the development of resorts, country homes, and the suburbs–all places to go boating. The federal government began to construct large dams, reservoirs, and lake systems during the Depression, adding to waterways. With the development of the single-operator motorboat and the outboard engine at the turn of the twentieth century, the number of recreational boaters skyrocketed. In 1939, the Coast Guard reported that there were more than 300,000 boats operating in federal waters. In the previous year it had received 14,000 calls for assistance and had responded to 8,600 "in peril" cases–a record number. Boaters needed to be better trained in seamanship and federal law. At the same time, civilian yachtsmen were pressing the Coast Guard to establish a volunteer arm of the service.

As a result of these demands, on June 23, 1939, the Congress passed legislation that established the Coast Guard Reserve, its volunteer civilian component, to promote boating safety and to facilitate the operations of the Coast Guard. Groups of boat owners were organized into flotillas and these into divisions within Coast Guard Districts around the country. Members initially conducted safety and security patrols and helped enforce the provisions of the 1940 Federal Boating and Espionage Acts. Then in February 1941, a military reserve was created and the volunteer Reserve was renamed the U.S. Coast Guard Auxiliary.


Following America's entry into the World War II in December of 1941, recruits flooded into Auxiliary flotillas in a burst of patriotic fever. June 1942 legislation allowed Auxiliarists to enroll in the Coast Guard Reserve on a part-time temporary basis. Throughout the war, some 50,000 Auxiliarists constituted the core of the temporary Reserve membership. These reservists, along with newly enrolled civilians, performed coastal defense and search and rescue duties. They patrolled bridges, factories, docks, and beaches. They fought fires, made arrests, guided naval vessels, and conducted anti-submarine warfare. As their ranks grew, thousands of active duty Coast Guard personnel were freed up for service overseas.


Following the war, by 1950 the four traditional Auxiliary cornerstone missions of public education, operations, vessel examination, and fellowship had been established. The public education program yearly trains tens of thousands of boaters in seamanship, piloting, rules of the road, and weather, among other topics. Specially qualified coxswain and crew members conduct search and rescue missions in their own boats and support Coast Guard missions. Auxiliary pilots and air observers search for boaters in distress, floating hazards, pollution spills, and ice-locked vessels. Communications watchstanders handle distress calls at Coast Guard and Auxiliary radio stations. Vessel examiners conduct Vessel Safety Checks under which recreational vessels are examined for properly installed federally required equipment and systems.

During the past decades, the Auxiliary has continued to grow in membership which today totals more than 30,000 members in the United States and its territories. Training is held at every level from the flotilla to national training schools. Leadership and management training, award programs, and data management systems ensure a high level of professionalism.

Under legislation passed in 1996, the Auxiliary's role was expanded to allow members to assist in any Coast Guard mission, except direct law enforcement and military operations, as authorized by the Commandant. Thus, Auxiliarists can be found examining commercial fishing vessels, flying in C-130 aircraft, working in Coast Guard offices, and crewing with regulars. The three components of the service–the active duty Coastguardsmen, the Reservists, and Auxiliarists–truly constitute TEAM COAST GUARD.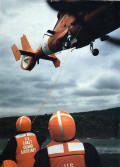 In any given year, Auxiliary members work an untold number of hours, as they largely administer their own organization. In 1998, their assistance to the public resulted in 445 lives being saved, 12,760 persons being assisted, and a total value of $36.4 million dollars in volunteer services being provided for a range of specific missions. Since 9/11, members have been integrated into the Department of Homeland Security and perform a variety of port security functions. In 2006 on any given day, the U. S. Coast Guard Auxiliary: saves 1 life, assists 28 people, completes 62.5 safety patrols, performs 299 vessel safety checks, educates 369 people on boating safety, participates in 100 Coast Guard operational support missions, attends 70 public affairs functions, and more. The 32,950 members of the Auxiliary field 4,971 vessels, 2,873 personal watercraft, and 226 aircraft and man 2,641 communications stations.

Over the years, Auxiliary programs also have kept pace with boating trends. Members helped implement the provisions of the 1958 Federal Boating Act. In the 1970s, they formed flotillas in sole-state waters to meet local demands for water safety. They introduced new courses such as those for sailors and personal water craft (PWC) operators as their numbers increased.
The U. S. Coast Guard Auxiliary is the largest volunteer marine safety organization in the world and has fostered similar ones in foreign countries. During its sixty years, it has lived up to its motto of – "A Proud Tradition, A Worthy Mission."


Disasters and rescues: The Auxiliary always has responded to calls for emergency and disaster assistance. Some of the well-known disasters in which units have rendered aid have been the 1943 Mississippi floods; the September 1944 New Jersey Hurricane; the 1947 2nd District floods; the 1960 Seismic Wave in Los Angeles; 1964 Hurricane Cindy; 1972 Hurricane Agnes; the 1978 Grand Teton Dam burst; 1989 Hurricane Hugo; and the myriad of cases in the 1990s: 1992 Hurricanes Andrew and Iniki; 1993 Storm of the Century and the Great Midwest Floods, Winter of 1994; 1996 TWA Flight 800 crash;1997 the Great North Dakota floods; 2001 Mississippi River floods; 9 hurricanes, 4 in Florida; 2004. In 2005, Hurricanes Katrina, Rita, and Wilma that hit New Orleans, the Gulf Coast, Florida, and Texas, causing evacuation of the city of New Orleans that was flooded, more than $80 billion in damages, and a death toll of more than 1,800 persons.
Coast Guard Support: Auxiliarists have replaced active duty and reserve Coastguardsmen at local stations when they have been assigned disaster or war duties. To ensure that the search and rescue capability was maintained, members filled in at stations during the Vietnam War; the 1964 Cuban refugee, 1980 Mariel, and 1994 Cuban-Haitian boatlifts. Auxiliary units provided varied support to the Coast Guard during Operation Desert Storm in 1991 and the Afghanistan and Iraq Wars from 2001. Auxiliarists turned out nation-wide immediately upon hearing of the terrorist attacks in New York and Washington on September 11, 2001, in the New York City region on staff at the Coast Guard building in lower Manhattan, helping to close down the Port of New York from Montauk Point to the George Washington bridge; taking over radio watchstanding at Coast Guard stations, conducting round the clock security patrols, flying observation missions, and providing supplies and food.
Public Service: Auxiliary units have conducted operations for large public festivals and international Olympics including the 1983 America's Cup Race, the 1984 LA Olympics; the 1995 Atlanta Olympics; the 1995 World Special Olympics; the 1976, 1986, 1992, and 2000 Operations Sail; the 1996 USS Constitution Sail in Boston; 2004 G-8 Summit in Georgia and the Republican National Convention in New York City. Since the 1970s, Auxiliary crews have conducted search and rescue missions for space rocket and shuttle launches from Cape Canaveral, including participation in the 1986 Challenger Shuttle explosion recovery operation. In 1958, Delaware Auxiliarists discovered emission of phosgene gas from fire extinguishers; as a result its use was banned as of January 1, 1962.
Awards: The Auxiliary as a whole and individual members have received many boating safety, life-saving, and Auxiliary and Coast Guard awards including: for the Auxiliary as a whole, the 1957 Ole Evinrude Award and 1968 citation from the National Safety Council; for individuals, the Michelob Schooner Award and the Olin [Corporation] Marine Safety Award. The Auxiliary's highest life-saving award the Plaque of Merit has been awarded to numerous Auxiliarists, along with other operational Auxiliary and Coast Guard awards. Four Auxiliarists have been awarded the Gold Lifesaving Medal: Eric Lundberg; Robert and Jean Colby of Saginaw, Michigan; and Frank Mauro of Ft. Lauderdale, Florida. Six others have received the Silver Lifesaving Medal. The Secretary of Transportation Gold Award has been awarded twice for disaster relief during the 1990s and following 9/11. A number of Auxiliarists received the U.S. Department of Transportation 9/11 Award for services rendered on 9/11 and during surge operations in the weeks that followed. Every member of the Coast Guard was awarded a Presidential Unit Citation for the Coast Guard's work during the aftermath of Hurricane Katrina and Rita in 2005.