United States Coast Guard Auxiliary - Public Affairs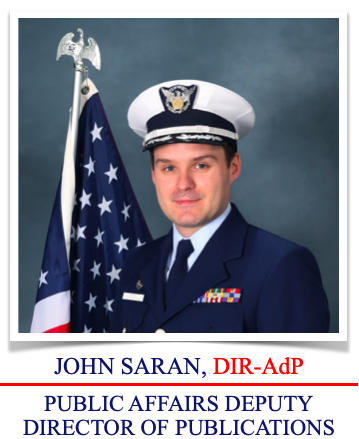 John Saran was appointed Deputy Director - Publications in the Public Affairs Directorate in 2022 after serving as Division Chief - Publications, the Branch Chief – Publications Support and as a District Staff Officer – Publications for District 9WR. During his time in the Publication Division, Saran assisted the Auxiliary in expanding to a digital media platform and contributing Auxiliary-related articles to active duty and reserve publications. During his time as a DSO-PB, he was the editor for Currents and oversaw the creation of the district's social media platform. His publication won best District publication in the 2022 National Public Affairs Contest.
He serves as 2023 DCAPT-E (Chicago, NW Indiana, Western Michigan) in District 9WR and previously served as Division Commander of Chicago Division 35 and Flotilla Commander of the Six Chicago Flotilla. In addition to his publication duties, Saran holds many qualifications including AUXOP, AUXPA1, Boat Crew, and MSAM and actively seeks out opportunities to augment active duty and reserve personnel. He owns the AUX vessel, PISAR, which operates out of USCG Station Chicago and is featured in several Auxiliary publications, websites and recruiting materials.

Saran lives in the northern suburbs of Chicago, is married and spends many hours chasing his 2-year old around the house.