United States Coast Guard Auxiliary - Public Affairs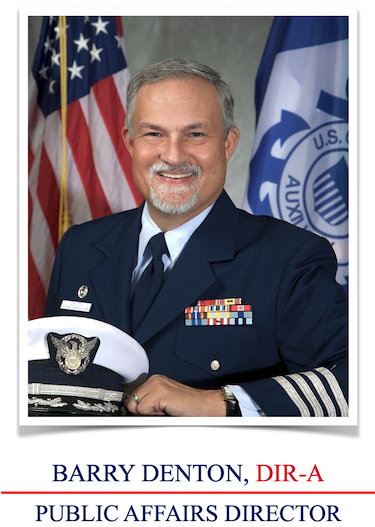 Barry Denton spent thirty years serving his community as a law enforcement officer before retiring in 2022 at the rank of Major. From commanding the department's Bomb Squad to serving as a public information officer, he has held numerous positions within the police department. He was awarded numerous departmental awards including three medals of valor. He is a realtor with Keller Williams, covering southwest Florida. He is also a faculty member with the University of Louisville and the American Military University where he teaches courses in criminal justice, emergency management, antiterrorism, and explosive ordnance disposal.
Dr. Denton received his bachelor's degree in criminal justice and a master's degree in police administration from the University of Louisville. He obtained a second master's degree in emergency management from the American Military University. In 2017, Dr. Denton obtained his doctorate in Organizational Leadership from Spalding University. He is a graduate of the Southern Police Institutes Administrative Officers Course and the Department of Criminal Justice Training School of Strategic Leadership. He has authored and published three books: Crime and Justice: Past and Present, Case Studies in Terrorism, and Practical Recruitment for Law Enforcement. He was a contributing author and editor in the book Law Enforcement in the 21st Century. He is a Kentucky Law Enforcement Council Certified Law Enforcement Instructor, Firearms Instructor, and FBI Instructor.
In 2017, he joined the United States Coast Guard Auxiliary, serving in several leadership positions including Division Chief of Marketing, Branch Chief of Marketing Promotion, Division Public Affairs Officer, Division Finance Officer, Flotilla Commander, Flotilla Publications Officer, and Flotilla Public Affairs Officer. He has been awarded the Auxiliary Achievement Medal and two Team Commendation Awards. He is an Instructor (IT) and Public Affairs Specialist 1 (AUXPA1).
Outside of the Auxiliary, he is very active member in his community and currently serves as the Past President of the Rotary Club of Bonita Beach Sunset and serves the Chair of the Rotary District 6960 social media pages. Dr. Denton's free time is spent with his lovely wife of twenty-three years, Julie, visiting their daughter, Calloway, who is a junior in college in Kentucky and volunteering at their church, Grow Church.