Auxiliary Art Program

A Coast Guard Auxiliarist maneuvers a 41-foot utility boat during helo ops with an HH-60 Jayhawk. Artist by Auxiliarist Lew Jackson. 04/02/2008 - Image from DVIDS
The operations of the U.S. Coast Guard are rich in human drama and meaning, visual images, and history. In order to bring an understanding of our service to a broader public, the Coast Guard instituted the Coast Guard Art Program (COGAP). One of the program's goals is to recruit volunteer artists to depict scenes of Coast Guard life through various media. Artists must apply for membership and submit samples of their work so they can be evaluated. If they are accepted into the program, they can submit works for consideration by a jury that is normally convened in January. Only if the jury selects the pieces, do they finally become part of the collection. The artists then donate the paintings to the Coast Guard to become part of its exhibit program. Upon request the paintings will be loaned to various museums around the country for exhibitions.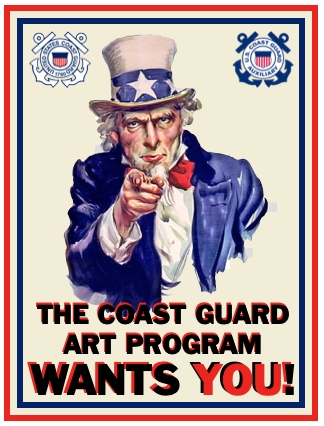 The Coast Guard will provide COGAP artists access to facilities that may include cutters, aircraft, and bases. Paintings currently in the collection depict the many missions performed daily by the Coast Guard including those of maritime safety, security and mobility, national defense and protection of natural resources as well as significant scenes from Coast Guard history. The program is administered as part of the Public Affairs Office in Coast Guard Headquarters in Washington, D.C. For more information call at 202-372-4643 or visit the website at U.S. Coast Guard Art Program from which you can also download a membership application.
Paintings of the Coast Guard Auxiliary are included in the collection but presently, there are only a few. It is for this reason that the National Public Affairs Department is encouraging Auxiliarists who are painters to consider applying to the COGAP program and if accepted, to create works depicting Auxiliarists and their contribution to the service. Auxiliarists can also help by encouraging civilian painters to apply to COGAP.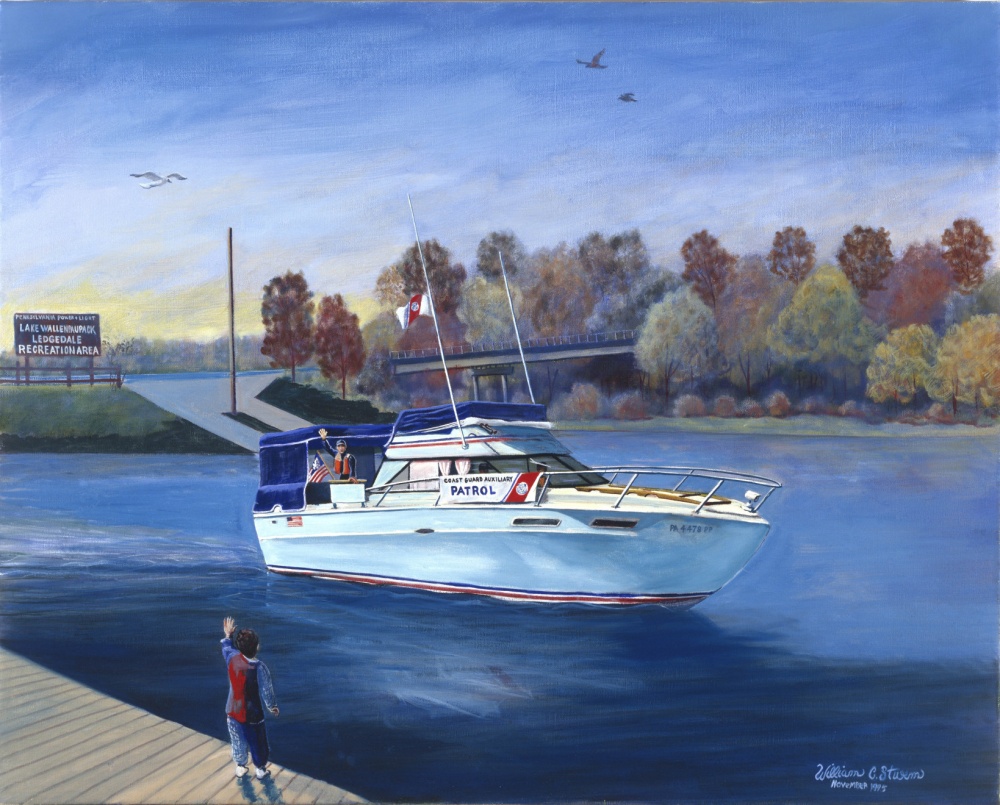 William Sturm (b.n/a)
Hail to the Auxiliary, 1995

The Coast Guard Auxiliary was established by Congress in 1939. Each year, Coast Guard Auxiliarists volunteer more than two million hours conducting harbor patrols, teaching boating safety classes, offering vessel safety checks and assisting their active duty counterparts with search and rescue or marine environmental protection missions. Courtesy photo from U.S. Coast Guard Headquarters, DVIDS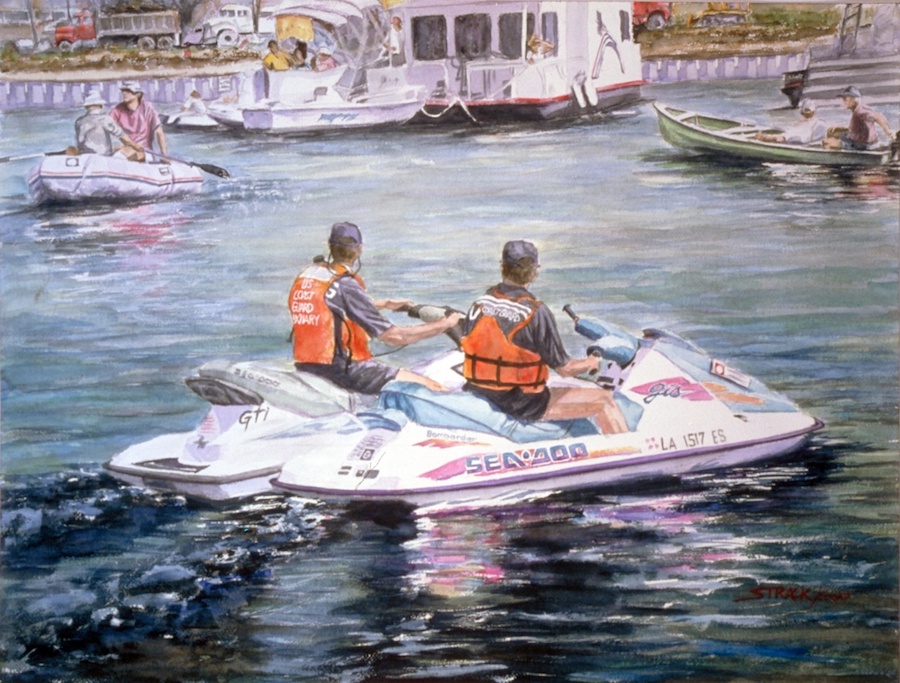 Annie Strack (b.n/a)
Coast Guard Patrols, 2007



Patrolling the Tchefuncte River during the Wooden Boat Festival in Madisonville, Louisiana.

Courtesy photo from U.S. Coast Guard Headquarters, DVIDS