Welcome to the District 17 Web Site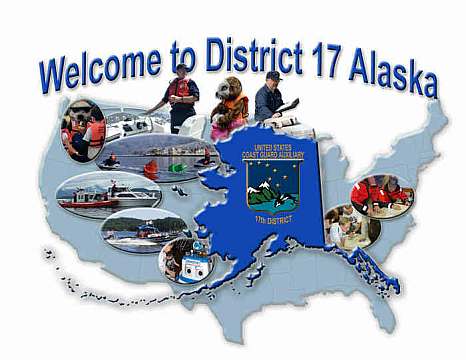 Just by the very nature of what we do, the Coast Guard, Coast Guard Auxiliary and our local communities need each other. Our local community is the place where we grab a bite of lunch, watch the Independence Day parade, send our children to school — the place where we live and work.

In the Coast Guard Auxiliary, we believe we should reach beyond simply carrying out our missions. We strive to cultivate productive relationships within our communities. We want to get to know you, our neighbors, and encourage you to get to know us as well.

Beyond our local involvement, many national Coast Guard Auxiliary programs give you the opportunity to learn more about whom we are and offer us the opportunity to listen to your concerns. Our community relations and outreach efforts help introduce you to our role as America's Volunteer Lifesavers and explain our relevance in your daily lives.

It's our community, but we are your Coast Guard Auxiliary. Get to know us!

Safe Boating Week
Whether it's Safe Boating Week, or just another day on the water, a safe outing begins with proper planning and preparation. It's also critical to know how to hail for assistance from another boater or your local waterway authority if needed.

Here are the top ways, some of which may be legally required to have aboard your boat, to get assistance on the water:

VHF Radio - A VHF (Very High Frequency) radio, which has a range of several miles, is the most reliable way to communicate with other boats and emergency responders on most waterways. New Digital Selective Calling (DSC) radios with a red distress button can even send an emergency call and other important information to authorities automatically when properly installed and registered.

Emergency Beacon - An emergency beacon, such as an EPIRB (Emergency Position Indicating Radio Beacon) or PLB (Personal Locator Beacon), can be activated to send a distress signal to satellites and rescue authorities. These devices are designed to work in remote areas where cell phone coverage is not available.

Sound Producing Device - A sound producing device, such as an installed horn, a handheld air horn, and even a whistle, can be used to signal for help. Five or more blasts from a horn or a whistle indicates danger or a dangerous situation is unfolding. Sound producing devices are required by law on most boats and can be heard over a considerable distance.

Visual Distress Signals - Visual Distress Signals (VDS) such as pyrotechnic flares and certain battery-operated SOS light beacons can be used to signal for help when you're out on the water. Flares and Coast Guard-approved distress lights can be seen from several miles away and are an effective way to signal for help when other methods of communication are not available.

Flag - A distress flag is an orange flag with a black square and a black circle. If you're in distress, you can hoist the flag to signal other boats that you need assistance. This is a good alternative for use on small, wet watercraft, like kayaks and personal watercraft where traditional flares could get wet or storage aboard is a challenge.

It's important to note that in an emergency, time is critical. You should be familiar with your safety gear and communication devices and where they're stowed aboard, before you head out on the water. In addition, it's a good idea to have a plan in place for how to respond in an emergency and to communicate that plan with everyone on board.
EVEN EXPERIENCED BOATERS NEED A VESSEL SAFETY CHECK
There are several ways to get your Free Vessel Safety Check!

This link works great if you are in the larger Towns & Cities.

This link will sometimes work better if you are in the smaller Towns & Villages.

Go to the left of this page and click on Divisions & Flotillas then pick the Flotilla closest to you.

Click here for Request Info Form.
Here are More Links With Helpful Info
Why Receive a Vessel Safety Check?
Safety! The peace of mind that your boat meets federal safety standards and that in an emergency, you will have the necessary equipment to save lives and summon help. Additionally, you will avoid substantial fines should you ever be boarded by the U.S. Coast Guard or other law enforcement and found to be in violation.
In many cases, boating insurance agencies offer discounts for vessels which undergo a Vessel Safety Check every year. All decals and safety checks are void December 31st of the year they are inspected, they are also void should the operator /owner fail to maintain the vessel's equipment or the vessel itself to the standard at the time of the safety check.

---

Marine Safety Alert – This safety alert provides information related to Kidde brand fire extinguishers. Nearly 40 million extinguishers involving 134 different models have been recalled. These fire extinguishers were manufactured between…" Read more "

Marine Safety Alert
- Let us enlighten you about LED lighting! Potential interference of VHF-FM Radio and AIS Reception.
" Read More "

---
Commercial Fishing Vessel Checklist Generator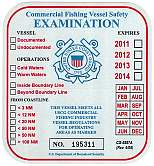 If you are a Commercial Fishing Vessel Owner or Operator you should get a Free Commercial Fishing Vessel Safety Examination before you head out for your fishing season. The peace of mind that your Vessel meets federal safety standards and that in an emergency, you will have the necessary equipment to save lives and summon help. Additionally, you will avoid substantial fines should you ever be boarded by the U.S. Coast Guard or other law enforcement and found to be in violation.

Alaska 5 - Star Safety Program

Alaska's uninspected passenger vessel (UPV) fleet has grown dramatically in the last decade from approximately 1600 in 1999 to over 3000 in 2009. While this industry has an excellent safety record, the risk of an incident remains significant due to Alaska's harsh maritime environment. To help manage this risk, the 17th Coast Guard District and Alaska's charter operators have instituted a voluntary dockside examination program to ensure that all regulatory requirements are satisfied. In addition, UPVs that participate in Alaska's unique, voluntary 5-Star Safety Program carry additional safety equipment beyond that required by regulation.