Vessel Safety Checks (VSC) for All Boaters
In an emergency, do you have the equipment to save lives and summon help?

Is your safety equipment still working?

Does your boat meet current state and federal safety standards?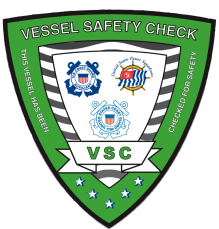 Want help figuring this out? The U.S. Coast Guard recommends all recreational boaters, including personal watercraft and paddle sport users (kayaks, canoes, paddle boards etc.), take advantage of the Vessel Safety Check (VSC) program every year.
Getting a free, voluntary Vessel Safety Check (VSC) and a current safety sticker can:
Give you more peace of mind. Know you have working equipment.
Help you avoid substantial safety standard equipment-related fines if you are boarded by law enforcement.
Potentially lower your vessel insurance rates. Check with your agent.
PLEASE NOTE THAT DUE TO COVID-19 RESTRICTIONS, WE ARE LIMITED IN THE NUMBER OF EXAMINERS AND AVAILABILITY OF SCHEDULING. THERE MAY BE DELAYS OR RESTRICTIONS TO VESSEL TYPES. WE APPRECIATE YOUR PATIENCE AND UNDERSTANDING.

Still have questions about Vessel Safety Checks? See the Vessel Safety Check website for more information.
Remember to BOAT SAFE:
Bring plenty to eat and drink – avoid dehydration.
Operate the boat in a safe and responsible manner.
Always wear a life jacket.
Take a boating safety course.

Sun, wind and temperatures can be more of a factor than boaters think.
Annual courtesy vessel safe check.
File a float plan – leave it with someone who will take action if overdue.
Evaluate the readiness of operating crew and passengers – it's ok to not get underway when there's doubt.