Welcome to the Flotilla 10-3, District 11NR Web Site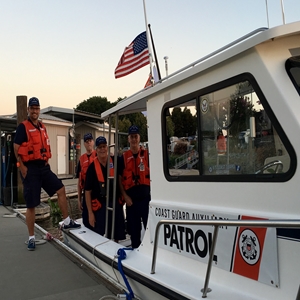 2020 Officers

(FC) Karl G Keller, (

VFC) Guy Mallery
Welcome to our homepage!

Let us share a little about the Stockton Flotilla (10-03); we are one of the oldest Flotillas in Northern California who's heritage dates back to World War II. If you have an interest in volunteering your time and expertise, please come to one of our monthly meetings to see if it has something for you...



Who Are We

The Coast Guard Auxiliary is an integral part of the Coast Guard Forces. We conduct safety patrols on local waterways, assist the Coast Guard with homeland security duties, teach boating safety classes, conduct free vessel safety checks for the public, as well as many other activities.



Our Vision

The U.S. Coast Guard Auxiliary in its role as the designated National Recreational Boating Safety Coordinator, is a leader in improving the boating experience of the maritime public. We are an organization noted for working in partnership with all stakeholders within the waterways activity spectrum and across all modes of transportation to reach consensus solutions.

Our Mission
To minimize the loss of life, personal injury, property damage, and environmental impact associated with the use of recreational boats, through preventive means, in order to maximize safe use and enjoyment of U.S. Waterways by the public.