Member Training
New Basic Qualification course (BQC II) for new members.
For Flotilla 8-7 information about Mandated Training, click here
There was/is an issue in recording of completed training in Course 502319 Civil Rights Awareness; if you think you might be affected, click here.
To learn about dealing with various AUX forms: Flotilla 8-7 AUX Forms Presentation.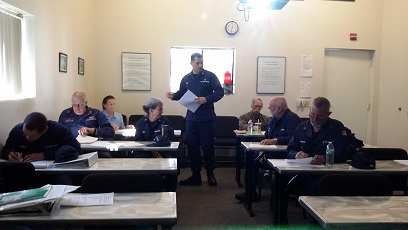 An ORM/TCT course being taught at USCGSTA Noyo River in March 2017. From the right: Jeff Gunning, Glenn Funk, Steve Nilson,
Instructor BM1 Lowry,
Betsy Frey, Helen MacKenzie-Morris, Ken Reynoldson.

Photo by Lorraine Cheny
---
National Training
Training Directorate Web Site
Training Compendium Includes courses, manuals, exams, powerpoints and workshops
2015 new Auxiliary Manual M16790.1G
2015 1 hour TCT Training Participant Reference Guide
2015 1 hour TCT Training Facilitator Resource Guide
2015 1 hour TCT Training Presentation Slides (pdf)
2015 1 hour TCT Training Presentation Slides (ppt)
2015 Operations Workshop (pdf)

- Any Auxiliarist qualified in the operations area can present the OPs workshop, however an operations-qualified person who is also IT qualified is preferred.


- Instructor will bring a Workshop Attendance ANSC Form 7039 to class. Each person will sign a Form, to be entered into AUXDATA by the IS officer..

---
Division/District Training
District Webinar Schedule and District Webinar Registration
New and Prospective Member Weekly Webinar
Auxiliary Procedures Course (APC) Manual and Additional Study Materials
AUX Acronyms
Forms, Forms, and More Forms
D11NR Forms
D11NR Downloadable Forms
List of ALCOAST and other USCG Messages
Division 8 and Flotilla 8-7 AUXDATA One Click Member Reports
D11NR AUXDATA Member Reports
Proctors
District Surface OPs

Training Courses:

C-School

Coast Guard Auxiliary - Online Classroom (was called U.S. Coast Guard Auxiliary Virtual Classroom)
National Testing Center Portal

Value-Added Training

FEMA ICS-100b

FEMA ICS-200b

FEMA ICS-700a

FEMA ICS-800b
ICS-210 Available in classroom only, usually at PCA Fairs and DTRAIN
ICS-300 COXSWAINs may substitute ICS-210 for ICS-300 (FEMA ICS-300 will not be accepted after 31 Dec 2010)
ICS-400 Available through CG only (FEMA ICS-400 will not be accepted after 31 Dec 2010)
Reminder: Make sure Anita gets a copy of your completion certificate
so your AUXDATA info can be updated.
---
AUXOP Courses:
Operational Auxiliarist Program (AUXOP)
Communications (AUXCOM)
Patrols (AUXPAT)
Seamanship (AUXSEA)
Search, Coordination & Execution (AUXSC&E)
Weather (AUXWEA)
Navigation (AUXNAV) Contact our FSO-MT for a hard copy. No digital version is available.
---
Student Study Guides and Drills:
A great place to find study guides and get ready for Auxiliary Exams Includes manuals for: APC, AUXCOM, AUXPAT, AUXSEA, Weather Specialty Course, NavRules and Study Guides for: AUXNAV, and AUXSCE

---
How to become a Vessel Examiner:

Mandatory VE Workshop (2014): AUXLMS
VE workshop informational email available at the District 11NR VSC site
---
Other Interesting Things:
Animated Knot Tying
AUX Online Courses
Classical Lens Maintenance

If there are any issues with this page content, contact our FSO-CS .