Welcome to the Division 1, District 11NR Web Site
Home Page
The Coast Guard's philosophy is to be
always ready (SEMPER PARATUS)
against all threats and all hazards. The Coast Guard Auxiliary has been an integral part of that philosophy, and Division 1 with its four flotillas located in the City and County of San Francisco, Marin County, and San Mateo County has served the San Francisco Bay Area community since its establishment in 1941 and is considered the oldest division within its district, hence its namesake, the Senior Division.
Our division is comprised of a diverse group of Auxiliarists from across the Bay Area who are committed to the Auxiliary's Four Cornerstones: Member Services, Recreational Boating Safety, Operations and Marine Safety, and Fellowship. Our members conduct surface safety patrols in San Francisco Bay and the nearby Delta, perform commercial fishing safety examinations and free vessel safety checks for the public, assist the Coast Guard with homeland security duties, teach public education classes such as boating safety courses, and many other activities.
National Safe Boating Week Video
Check out this video developed by Flotilla 12 from Division 1 along with a message from Terry Blanchard, past Division 1 Vice Commander:

Pete Gorenberg
Division Commander
Since 1939 the US Coast Guard Auxiliary has safeguarded our Nation's maritime interests in the ports, at sea, and around the globe. Members from all walks of life bring their experience to support the uniformed volunteer component of the United States Coast Guard. If you are interested in joining the Auxiliary, please contact me to learn more.
Pete Gorenberg joined the Auxiliary in 2017 as a member of Flotilla 12, Sausalito-Tiburon. He served as Flotilla Commander in 2021 and has recently been elected as Division 1 Commander for 2023. Pete is active in both Auxiliary aviation and surface operations, maintaining Aircrew and Coxswain qualifications. He also supports the recreational boating public as an Instructor and Vessel Examiner.
Alex J. Bennett
Division Vice Commander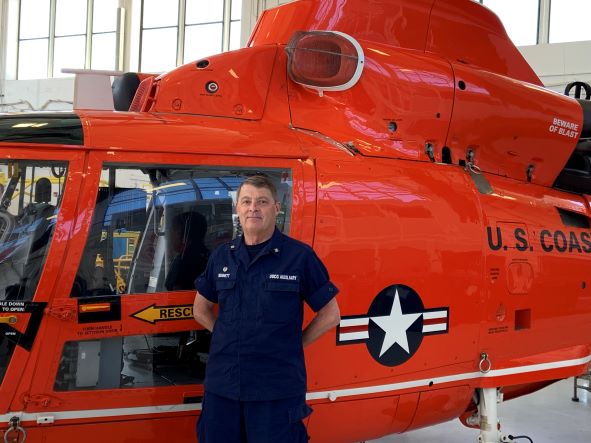 Alex J. Bennett joined the US Coast Guard Auxiliary in 2010 as a member of Flotilla 14 (Central Marin). At the Flotilla level, he has served as Flotilla Commander, Flotilla Vice Commander, FSO-OP and FSO-MA, the latter of which for nine years. He has also served as ADSO-MA, SO-MA and continues to assist at DIRAUX with the administration of the PPE Program for D11NR. For 2023, Alex was elected as Division Vice Commander as well as being appointed Auxiliary Unit Coordinator for USCG Station San Francisco. His primary Auxiliary interests are surface operations and navigation systems. He frequently patrols on San Francisco Bay assisting with Helo Ops, Kite Surfer Safety, and events such as Fleet Week.