Welcome to the District 8ER Web Site
District Commodore-Chris Whitacre

Welcome to our Eighth District, Eastern Region website. We serve the Tennessee, Ohio, Alabama, West Virginia, Kentucky, Indiana, Illinois, Missouri, Pennsylvania areas, as well as parts of Mississippi and Virginia.
Our website holds a remarkable amount of information, not only for our members, but for the boating public as well.
As Americas' "Heartland Guardians" we support the Coast Guard Active Duty and Reserve Forces in all areas with the exception of Law Enforcement and Military Duties. We serve proudly as a Force Multiplier by taking ownership of the Coast Guards' Recreational Boating Safety Mission by presenting Boating Safety Classes and Vessel Safety Checks to the Public. We also do Surface and Air Operations to help keep the Boating Public safe on the water.

Whatever your interests and talents, we have a place for you. We hope you are interested in our organization. Allow me to direct you to the "About District 8ER" link on the sidebar of this page and please contact our Human Resources Officer or find the closest flotilla to you in the Flotilla Finder, our online resource for placing you with a nearby group of Auxiliarists ready to serve.
Our members are our most valuable resource. Giving our membership the tools needed for the qualification path they choose, and leadership development is an integral part of our organization. Many opportunities for Advancement, Leadership, and Service exist within the Coast Guard Auxiliary.
Eighth District, Eastern Region Leadership stands ready to serve our organizations' members, our Coast Guards' needs, and our partner agencies.
Please see our District Chief of Staffs' comments below.
Honor, Respect, Devotion to Duty
Commodore Chris Whitacre
U.S. Coast Guard Auxiliary
Eighth District, Eastern Region
District Chief of Staff-Ron Boneau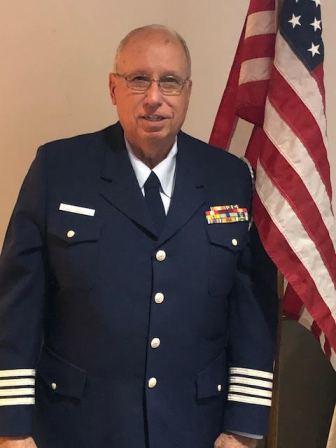 You have taken the first step so I would like to welcome you to our Eighth District, Eastern Region website for the U.S. Coast Guard Auxiliary. As Commodore Whitacre mentioned, we serve the boating community in all or part of ten states in the Heartland of our Country.
The Coast Guard Auxiliary was established by Congress in June 1939 and was called the Coast Guard Reserve. In February 1941 we were redesignated the U.S. Coast Guard Auxiliary. The Auxiliary is made up of all-volunteer members dedicated and diverse to carrying out the support of the Coast Guard and the Auxiliary by being Semper Paratus (Always Ready).
The purpose of the Coast Guard Auxiliary is to assist the Coast Guard in a variety of missions with the promotion of safety and efficiency for the operations of recreational boating by fostering knowledge of and compliance with the laws and rules of the road for boating.
Our hope, as you visit our website is that your interest will grow for our Auxiliary and the missions, we carry out daily in the Service of the Coast Guard and our communities. Our direction is focused on the Four Cornerstones of the Auxiliary, Members Services, Recreational Boating Safety, Operations/Marine Safety, and Fellowship.
During or after your review of the website, anyone of our members will be willing to help answer your questions as you develop your interest and reasons for your "Why" to joining the U.S. Coast Guard Auxiliary.
Ron Boneau
District Chief of Staff
U.S. Coast Guard Auxiliary.

Please report any website issues to Webmaster