Join the St. Augustine Coast Guard Auxiliary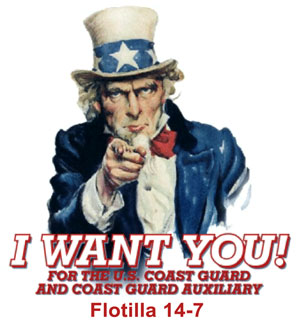 ---
Join Us Now!
Flotilla 14-7 - St. Augustine, Florida Coast Guard Auxiliary
Enrollment Protocol:
Start by filling out and printing the ANSC7001 form (click here or on the text to the left for the form).
Then contact Dr. Steven Bergmann, the 14-7, St. Augustine Flotilla Staff Officer - Human Resources (FSO-HR), at HR@mysafeboating.com.
He will schedule an appointment with you to continue the process.
You can also contact us through our flotilla email at cgaux0701407@gmail.com.
Review the document Charting Your Course (click here or on the text to the left). Begin thinking about how you would make a contribution and get some real satisfaction being a part of a group that helps both your community and your country.


Promoting Boating Safety, Security and Stewardship Since 1939
Come to a Flotilla 14-7 meeting at the St. Augustine Yacht Club (for a map to our meeting location, click here) held on the first Thursday of each month at 7:30 PM. This is a great time to meet the members and the officers of the Flotilla and get a real flavor of the personality and diversity of our group.
Next Steps (all these materials can be linked from this page by clicking the links highlighted below):
We hope to hear from you!
---