Welcome to the Flotilla 5-9, District 7 Web Site
National Flotilla of the Year
U.S Coast Guard Auxiliary




Headquarters Building Sandsprit Park, Stuart Florida 3443 SE Saint Lucie Blvd

About Us

Started during the days when German U-Boat activity was suspected off our South Florida shores. Flotilla 59 celebrates 80 years of service to the Stuart and Treasure Coast area in April 2022.





Today, Flotilla 59's membership remains strong with 68 truly dedicated members providing services to the public including Waterway Patrols, Boating Safety Courses, Vessel Safety Checks, and Public Outreach Activities.



If you are interested in volunteering and becoming a member, taking a class or having your boat inspected, send an e-mail or call us. Please leave your name and a contact number. You are welcome to attend our next General Meeting.





Flotilla 59 e-Mail

Meeting Information Call

772-288-0509
BOAT AMERICA
A Course on Responsible Boating
In-Person class at the Flotilla 59 building on Saturday January 20th 8am-5pm. Classes start at at 8am sharp so please be a few minutes early to prepare and familiarize yourself with the facility. The cost of the class is $35 per person.
This beginner boating class will give you the knowledge needed to obtain a boat license or safety certification in many States.
Pre-registration is encouraged to reserve your place. To preregister go to the PayPal Registration below and select About Boating Safely. Include your contact information and the names of the family members that will be attending.
Please Remember that seating will be by Pre-Registration.



---
This "hands-on" course will cover how to read a marine chart,
determine current position and plot a safe course to the
intended destination. Bring your own Parallel Ruler and
Divider or we'll provide a set to use during class. All Classes ($30 Fee Incl. Booklets).
This class is held at the Flotilla 59 building at Sandsprit Park in Stuart FL.
December 2nd, 2023 at 9am-3pm
---
U.S. Coast Guard Auxiliary Selects Flotilla 59, Stuart, as National Flotilla of the Year!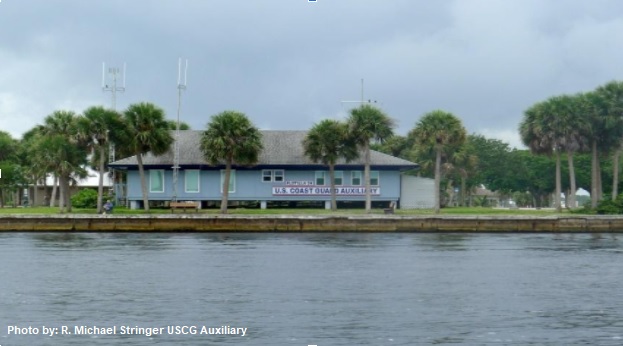 By: Hank Cushard / District 7 Auxiliary Public Affairs
STUART- U.S. Coast Guard Auxiliary Flotilla 59, Stuart, has been selected as the National Flotilla of the Year (FOTY). This award annually recognizes the most exemplary auxiliary flotilla in the nation. With over 800 flotillas in all 50 states, Puerto Rico, American Samoa, Guam, and the US Virgin Islands, this is truly an honor for the 55 plus members of Flotilla 59. The award embodies the spirit of the U.S. Coast Guard's uniformed volunteer component for its service and support to the local community and in particular the Treasure Coast.
In promoting and improving Recreational Boating Safety, offering virtual public education, vessel safety exams, and community outreach, in times of a pandemic did not go unnoticed by the National Auxiliary. These significant accomplishments in addition to providing a diverse array of specialized skills and trained crews, for the U.S. Coast Guard's many missions on the water and in the air were also seen as even more reasons to present this award to Flotilla 59.
Since 1942, their members once patrolled the beaches of Hutchinson Island looking for enemy submarines, the USCG Auxiliary Flotilla 59, has been offering safe boating courses and recreational boating support ever since.
U.S. Coast Guard Auxiliary Flotilla 59, Stuart, is located at 3443 SE St. Lucie Boulevard in Sandsprit Park and has been serving the Treasure Coast for over 80 years.
They are always looking for shipmates. If you are interested in exploring a role with this dedicated group of volunteers, check out their website, www.cgaux59.org or e-mail flotilla59@gmail.com or call 772-288-0509.
Semper Paratus!
---
Are you interested in
joining the US Coast Guard Auxiliary?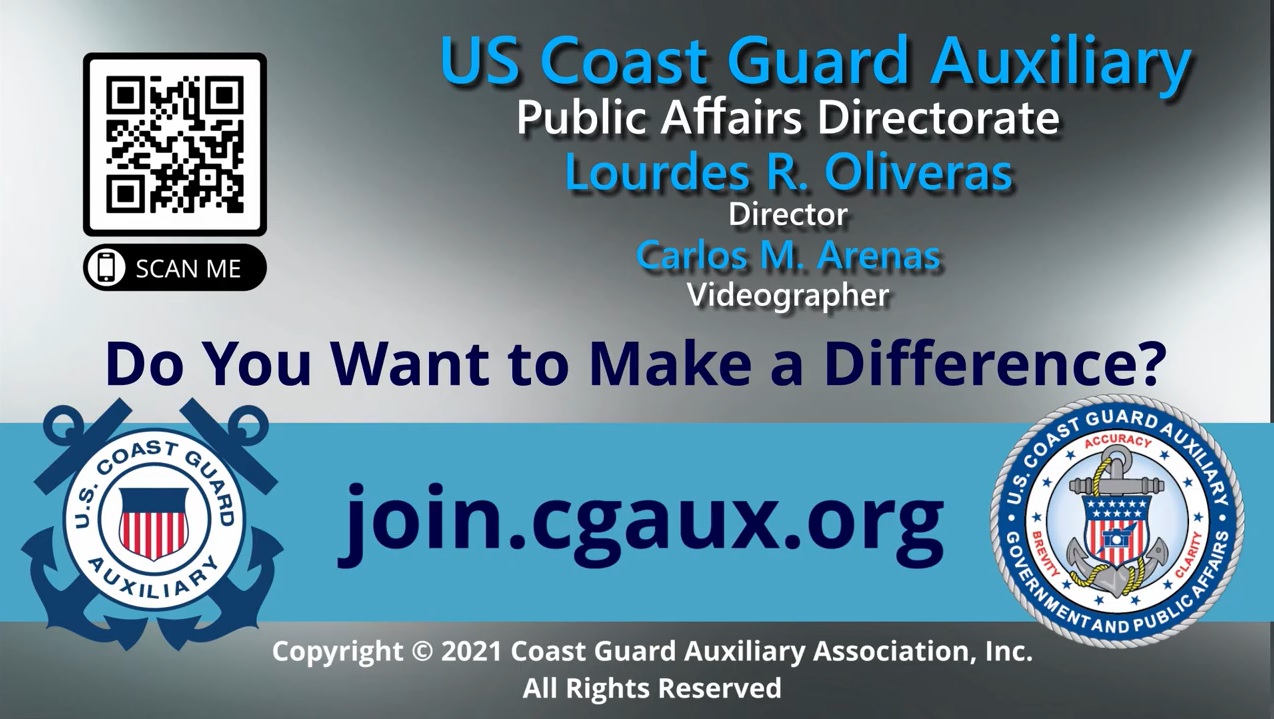 ---
2021 Get Home Tonight Campaign

In 2015 Flotilla 59 launched the Get Home Tonight campaign to encourage boaters to be Safe on the water and Prepared for all emergencies.

Safety begins with boater education by completing a boating safety or skills course.

Preparedness begins with an annual Vessel Safety Check for your boat.

Become a safer boat owner by taking a course and having your boat inspected.

Vessel Safety Check

A courtesy examination of your boat (Vessel) to verify the presence and condition of the Safety Equipment required by State and Federal regulations.

US Coast Guard Auxiliary Examiners

Trained specialist that will make recommendations and discuss safety issues that will make you a safer boater.

To schedule an examination please e-mail your name and a contact number to:

or call

772-288-0509.