Welcome to the Division 5, District 7 Web Site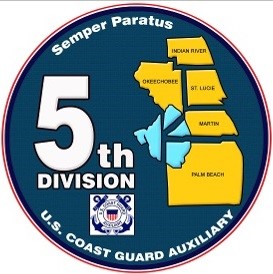 We serve an area from Sebastian Inlet south through Highland Beach, Florida, west to include Lake Okeechobee including six local Auxiliary Flotillas in our community, and supporting USCG Station, Lake Worth and USCG Station Fort Pierce.

Each Flotilla has active, local facilities that provide members with access to many USCG Auxiliary training programs and opportunities to use practice and hone those skills they have learned for the benefit of, and interaction with the boating public:
Public Education RBS & ABS Classes
Safety Patrols
Training
Uninspected Vessel Programs
USCG Auxiliary Youth Program Support- Sea Cadets & Sea Scouts, Boy Scouts
Vessel Safety Checks

Visit your closest Flotilla! Use the Contact Us link on the left to be contacted by your closest Flotilla for more information on these topics. Visit and join the US Coast Guard Auxiliary. Click the pictures to go to your local Flotilla's web site, where available.