Know Before You Go To The Beach
Know the local weather forecast, before you go to the beach. Click on these links to search for Weather, Surf Zone Forecasts and a Beach Forecast webpage from the National Weather Service, as well as some important science about climate and about hurricanes, from NOAA:
The National Weather Service
National Weather Service Surf Zone Forecast
National Weather Service Beach Forecast Model
Climate.gov - NOAA's Climate Science provides expertise and assistance addressing the increasingly frequent and extreme weather events.
Hurricane Safety and Science - from NOAA, Oceans Today

Know what hazards you may encounter, before you go to the beach and Know how you can keep safe from those hazards, so you can have fun and enjoy your time while you're there. Learn how you can stay safe from Lightning, the Sun's UV and Heat, Cold Water Temperatures, harmful Algal Blooms, Water Quality Contamination, dangerous Marine Life, dangerous Waves, Rip Currents and more, at this link to the National Oceanic and Atmospheric Administration (NOAA) information about Beach Hazards and How You Can Be Safe: Mitigate The Risks - Play It Safe

Know the water quality status before you go swimming. Every Friday, from late May through September, Sound Rivers updates the monitored sample results for water quality conditions of the Tar-Pamlico and Neuse River Watersheds. The Swim Guide will now continue year round! From October through April, samples will be collected Monthly from a limited number of Swim Guide sites. Click on this link to view their present water quality status updates: Swim Guide

Know how to swim. You should be a strong swimmer before you go into the ocean. Swim where lifeguards are on duty. Always obey all lifeguard orders and instructions. Never swim alone.
Know that cold water can be dangerous. Know how you can help protect yourself. Be safe from cold water hazards: Cold Water Hazards and Safety
Know what the warning flags mean. Not all beaches have flags. Read and obey the posted beach warning signs and flags you may see. You already know you shouldn't cross a road without first looking both ways for traffic. So, you should know that you shouldn't go into the water at a beach before first looking for the signs and flags, indications that rip currents are present and thinking about the safest place to swim. Knowing these things and taking the few moments of time to do this can make all the difference for your safety, while you are at the beach.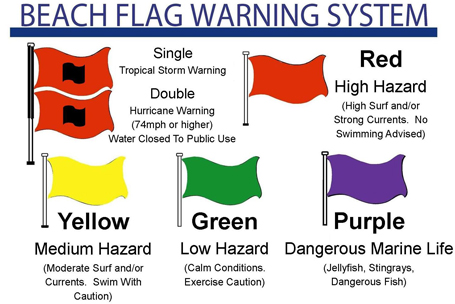 Know what rip currents are and how to spot them. There are many different kinds of rip currents. But, most rip currents are typically a narrow seaward flowing current that extends from the shoreline out to a position just beyond the line of breaking waves. Rip currents exist to bring the water that has come onto the shore with the breaking waves, back out and away from the shore. Some rip currents are extremely difficult to see, or may form unpredictably. You can spot most rip currents by looking for signs of a dark gap that looks like a path through the surf. There will be a noticeable difference and darker water color in the rip current. Or, you may see a line of foam or floating seaweed moving in a path out toward the sea. Wearing polarized sunglasses can help make it easier to spot the clues of a rip current, especially on bright sunny days.
Rip currents are powerful and can occur at any beach which has breaking waves. Don't place yourself in harms way. Lack of skills to identify rip currents is a major safety concern. Incidents involving rip currents can be prevented. When people are able to recognize the signs of an operating rip current they can avoid that area in the water.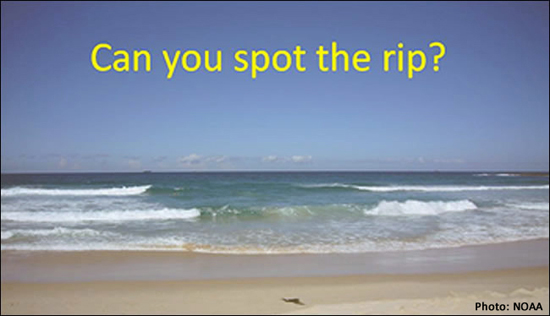 A rip current will Not pull you under the water and is Not "under tow".
A rip current is Not a "rip tide", as it is Not a tide.

A Rip Current Is A Flowing Current.

Know what to do if you see someone who is caught in a rip current. The best thing you can do for them is to throw them some form of flotation. This will get to them in time for them to hold onto and keep them afloat, while you inform a life guard and get help.
Know what to do if you find yourself caught in a rip current. You can stay safe, if you STAY CALM, FLOAT to conserve your energy, SIGNAL WAVE YOUR ARM WHILE CALLING FOR HELP, and THINK to assess the situation, your surroundings and what your options may be. You can be caught in a rip current and not realize it, until you find yourself being pulled away from the beach, while struggling to swim causes you fatigue and you are not getting any closer to the shore. If this happens to you, try not to panic, just float and conserve your energy.
Do Not try to swim against the flow of a rip current. Doing so will exhaust your energy and you won't win that fight - Not a survival option. The best way you can be safe is if you relax, focus on floating with the flow of the current and know it will stop flowing at the line of breaking waves. If you have enough energy and you feel able, your best option may be to try swimming to either side of the rip parallel to the shore, aiming for the whitewater. Then swim toward the shore, hoping you don't get caught in another rip current along the way. Your situational awareness is important.

Panic and fatigue from trying to fight a rip are the cause of tragedy. Fear is Not Your Friend In A Rip Current. Your body may have a panic response, because it can be a scary experience. The best approach to take to keep you safe, is one which eliminates panic. Even the very fit and best of swimmers can find themselves in trouble, if panic and fatigue take control.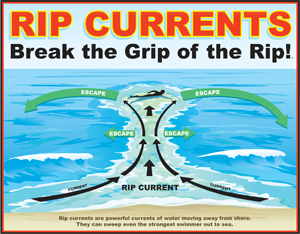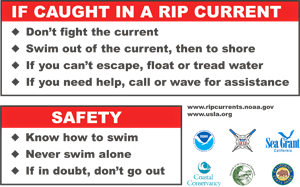 Knowledge is power that can help you take control of the situation to make the best decisions for your safety. Click on this link for some Rip Current Science information from the National Weather Service.

Most rip current incidents occur during beautiful blue sky beach weather conditions. Rip currents are complex and can be dangerous. They need breaking waves to form and there are many different kinds of rip currents. Here are some examples:

Most Rip Currents flow straight out. This kind of rip will bring you to a place just beyond the breaking waves, where the current will no longer operate.

Channelized Rip Currents can stay in the same place for long periods of time.
Boundary Rips are strong rip currents found along the sides of piers and jetties.
Flash Rips suddenly occur, operating in areas where there is a large grouping of waves breaking. They are the most difficult to see and they are unpredictable. Flash Rips are among the most dangerous of rip currents.
"Anyone Can Drown, No One Should" - The United Nations and The World Health Organization (WHO) - World Drowning Prevention Day is July 25th.
"Drowning is one of the world's most preventable, neglected and pressing public health issues." "Drowning is the 3rd leading cause of unintentional injury death worldwide, accounting for 7% of all injury-related deaths."
WHO - Global Report On Drowning: preventing a leading killer
WHO - Preventing drowning: an implementation guide
Teaching swimming, water safety and safe rescue skills are among the best of the evidence-based ways to prevent drowning.

The signs that a person in the water is drowning are often missed, before they go under water. A drowning victim doesn't look like what you see in the movies and on television. When a person is drowning, they go silent, becoming unable to call for help and unable to move their arms to properly reach for a flotation device. To read an important article on how a drowning can actually appear while it's happening, please click on this link: Drowning Doesn't Look Like Drowning

Signs to watch for when a person in the water is drowning:


Head low in the water, mouth at water level
Eyes glassy and empty, unable to focus
Eyes are closed
Hair over forehead or eyes
Not using legs - vertical
Hyperventilating or gasping
Trying to swim in a particular direction but not making headway
Trying to roll over on the back
Appear to be climbing an invisible ladder




Be Deliberately Aware Of Your Trash And Do The Right Thing With It. Marine Debris is a significant threat to our marine environment and is a pervasive issue globally. Human beings are the source of the problem. We must change our destructive behavior and become good stewards of our environment. Managing this problem starts with each one of us. Learn more at the National Oceanic Atmospheric Administration (NOAA) Marine Debris Program Office of Response and Restoration: https://marinedebris.noaa.gov/

Click on either of the images below to view, download or print a Marine Debris Fact Sheet and learn How You Can Help Prevent Marine Debris!