Current Flotilla Stories of Interest
In The News
U.S. COAST GUARD AUXILIARY
Outer Banks Flotilla 16-07
Cover of OUTER BANKS
Coastal Life
Fall 2023

---
District 5th Southern Winners
John Krogmann, District Commodore
Best Video—"Helo Ops"—Don Hawkinson, Flotilla 054-16-07,
Shot and Produced
Click here to see vidio https://www.youtube.com/watch?v=ElpNopokQSo

---
Surface Ops Workshop
Good day at the Surface Ops Workshop. Held at the Kitty Hawk Fire Department
---
The Dare County Arts Council in Manteo has a special exhibit on the Pea Island Lifesaving Station during the month of February.
It is definitely worth the visit if you are in Manteo
---
Come out and join us for the 2023 Coast Guard Marathon!


March 2-4


Last year's event was incredible and this one promises to be even bigger and better. It's going to be action-packed with music, food, swag, camaraderie, community, Coast Guard fly-overs and demonstrations, a little friendly competition, and above all FUN! See you there!!



RDML Hickey, U.S. Coast Guard Director of Operational Logistics


https://coastguardmarathon.com/



You can sign up for the 5K, 1/2, or full marathon
---
Start the New Year by Getting Involved with CGAUX Flotilla 1607
As we begin 2023 - the new flotilla officer team met on Saturday January 14, to begin planning for a banner year in the Outer Banks. We thank all of the newly minted staff officers who have offered their time and talents to bring success to our growing flotilla. The team is focused on building success and camaraderie amongst the 40+ members. Highlights of the coming year include:
Recruiting new members with a diversity of backgrounds and talents.

Effectively training members to continuously improve and become qualified for various CGAUX duties.

Supporting Elizabeth City and Oregon Inlet Coast Guard training operations with CGAUX crews on 3-4 missions per week.

Increasing CGAUX awareness through communications and advertising with local media, social, and in-person presentations.

Delivering robust safety training programs for motor, sailing, and paddle craft. Conducting vessel safety checks across the Outer Banks.

Raising money to benefit Coast Guard personnel and families.
It is time to start your 2023 adventure with Flotilla 1607 by attending all of our monthly meetings; getting to know your team mates and staff officers; enrolling in member training; taking part in the many events that we plan every year; and enriching your life by volunteering with an interesting and exciting organization dedicated to promoting safe boating.
Bring on 2023…It is going to be an adventure!
---
Mascot PB1
| | |
| --- | --- |
| | Kate Wilkins begins the NACO Three Star Award for Excellence in Diversity for OBX Flotilla |
---
Coast Guard Auxiliary welcomes new flotilla commander and staff
Cmdr. Tom Mattingly takes the helm at Outer Banks Flotilla 16-07.
[U.S. Coast Guard Auxiliary]
Outer Banks U.S. Coast Guard Auxiliary Flotilla 16-07 conducted its annual change of watch ceremony on December 14th, installing new officers effective January 1, 2022. During the event, incoming Flotilla Commander Tom Mattingly relieved Jack Horst who has served as Flotilla Commander for the past year.
Tom previously served as Vice Flotilla Commander and was also the flotilla communications staff officer. As Commander, Tom will provide primary leadership and supervision to the flotilla with responsibility to ensure that it carries out the primary mission of increasing boating safety awareness while supporting local Coast Guard air and sea operations.
Tom previously served in the U.S. Navy and holds Coast Guard Auxiliary Boat Crew, Vessel Examiner, Instructor, and FEMA Incident Command System certifications. "This is an amazing flotilla with a rich history of serving the Outer Banks recreational boating community, and our local U.S. Coast Guard Gold Team partners," said Mattingly. "Jack did an outstanding job leading the flotilla over the past year and our plan is definitely to build on that success by increasing our outreach activities, supporting the Coast Guard, and expanding on-the-water time with our newly refurbished utility boat – definitely be looking for us, we'll be out there!"
Tim Baker, who led the flotilla to National Flotilla of the Year in 2019, will serve as Vice Flotilla Commander, and in roles as Assistant District Staff Officer for Navigation Services (Aids to Navigation), and Flotilla Staff Officer for Member Training. "It has been an honor to serve in Flotilla 16-07," said Baker. "The flotilla excelled at every mission we were tasked with. I could not be more proud of the impact the members have had in carrying out our objectives. I am thrilled to work with Tom whom I have known for many years.I know he will lead this talented crew to future success."
Other new Flotilla 16-07 staff officers include Courtney Allen, FSO-Communications Services, Kate Wilkins, FSO-Diversity, Alex Molnar, FSO-Materials, Steve Kreisher, FSO-Navigation Systems, Milo Hyde, FSO-Operations, Don Hawkinson, FSO-Publications, David Lorenz, FSO-Public Education, Mike Sallade, FSO-Partner Visitation and Rob Wilkins, FSO-Secretary of Records.
From: https://www.obxtoday.com/


---
OBX Flotilla 1607 October Meeting
Outstanding general meeting for the OBX Flotilla 1607. Met with 6,000 hours! Rowland recognized for his amazing development of paddle craft safety materials! Three new boat crew! A new qual for DCAPT-NC Early! PB1 to Kate for her outstanding public engagement! And, of course $13,200 donated to CGMA from the Guardian Golf Tournament!!! 5sr DCO Allen W. Fredd, Jr. and Alena Howard, Chief Development Officer at CGMA attended to present and accept the donation.
---
It is just a blast to hang out with Sammy and everyone at the 2022
Outer Banks Seafood Festival!
---

OBX Aux Locker Day Cold Weather Gear

| | |
| --- | --- |
| | Exciting day at the OBX Aux Locker as six crew members were issued cold weather gear for the coming winter missions. "In some cases it was like trying to put a 20 pound turkey into a toaster oven," quipped Flotilla FSO-PA Bruce Burkley, "but overall we had all CAN DO attitude you need to get geared up!" Cold weather gear is essential to keeping crew safe on winter missions. Now we'll see this whether it all fits snug and leak free as we do the annual Flotilla winter gear "float" test this Sunday. Good luck crew! |
---
On 27 September, U.S. Coast Guard C130 Aircraft 2012 out of the Air Station Elizabeth City and the U.S. Coast Guard Auxiliary Vessel Molly B IV from Flotilla 1607 conducted a memorial service for Auxiliary shipmate Charles Foreman over the Albemarle Sound two miles west of Colington Harbour.
Mr. Foreman was a founding member of the Outer Banks Flotilla, joining after service in the U.S. Army. He served as a coxswain throughout his tenure. He served as the flotilla's Operations Officer for a total of five years coordinating activities and training between the Auxiliary and the Air Stations C-130 Hercules aircraft,
and H60 Jayhawk helicopters.
---
Coast Guard Auxiliary "Guardian" Golf Tournament Coming in September
The OBX Coast Guard Auxiliary Flotilla will be hosting its 3rd Annual "Guardian" open golf tournament on Saturday, September 24th at the Sea Scape Golf Links in Kitty Hawk. This event, hosting over 120 golfers, will benefit Coast Guard Mutual Assistance (CGMA), the official relief society of the U.S. Coast Guard in the local District.
CGMA is a non-profit charitable organization working closely with local Coast Guard commands to promote the financial stability and general well-being of Coast Guard people through interest-free loans, grants, and financial counseling.
The Title Sponsor for this year's event is TowneBank which has made a generous $5,000 donation to CGMA. Through the generosity of TowneBank and other primary sponsors including City Beverage, Fairlead, Marine Sonic Technology, Hampton Rubber Co. and Dunkin' Donuts, the tournament will raise over $20,000 with 100% of the net proceeds going to CGMA for use in the local Coast Guard District 5SR.
A number of sponsorship opportunities are still available and as well as room for several more foursomes ($300 entry fee per team) for those interested in playing in the event. If you are interested in making a donation or playing in the event, please contact Cmdr. Jack Horst at
hoagie2160@gmail.com
.
The Coast Guard Auxiliary is the uniformed civilian component of the U.S. Coast Guard and supports the Coast Guard in nearly all mission areas. The Auxiliary was created by Congress in 1939. For more information about a boating course near you or to learn more about water safety or becoming one of America's Volunteer Lifesavers, please visit our website at a 0541607.wow.uscgaux.info/ or www.cgaux.org.
KITTY HAWK, NC – Taylor Sugg, Regional President of TowneBank presents a check to Tom Mattingly, Vice Commander of OBX Auxiliary Flotilla 16-07, Chief Petty Officer John Ahlen, Commanding Officer of the Aids to Navigation Station in Wanchese, Dan O'Boyle, Director of Golf at Sea Scape Golf Links, and Bruce Burkley, OBX Auxiliary Flotilla Staff Officer.
---
It's Official, HE'S IN!!

On Thursday, May 5th, Nick Gardill, a standout Senior at First Flight High School in Kill Devil Hills, North Carolina, signed his Acceptance Letter to attend the United States Coast Guard Academy in New London, Connecticut.

The signing event was attended by Nick's entire family. They are all in on Nick's choice as you can tell from all the Academy gear they are wearing. Also in attendance is Second Class Petty Officer Logan Graham from U.S. Coast Guard Station Oregon Inlet, and Tom Mattingly, Vice Commander, U.S. Coast Guard Auxiliary, Outer Banks Flotilla.

Nick's path to the Academy included attending the week long Academy Introduction Mission (AIM) program. Nick's attendance was sponsored by the Outer Banks Flotilla.
Congratulations and best of luck Nick!
---
Director of Auxiliary in the OBX !!
Flotilla 1607 on the Outer Banks of North Carolina enjoys a unique operational role owing to our proximity to Air Station Elizabeth City (ASEC), the Coast Guards second biggest base, and Boat Station Oregon Inlet one of the Coast Guard's preeminent Surf Stations.
ASEC supports Search and Rescue Operations up and down the east coast with its C130 "Hercules" fixed wing aircraft and H60 "Jayhawk" helicopters leaning heavily on the Auxiliary in the training of its pilots, flight crews and rescue swimmers.
We schedule more than 200 missions each year with ASEC, simulating disabled vessels as the air crews practice all manner of rescue gear deployment. H60 operations are the most intense as the helicopter hovers 30 feet above our deck, delivering swimmers, baskets, litters and pumps while blasting the crew with hurricane force Category 2 rotor wash and heavy metal rock concert level noise.
This past week, we had the pleasure of welcoming CAPT Troy Glendye as a "Guest" for one of our H60 missions. Captain Glendye is the Chief of the Coast Guard Office of Auxiliary and Boating Safety where he serves as the Chief Director of the Coast Guard Auxiliary as well as the National Coordinator for the National Recreational Boating Safety Program. Captain Glendye has experience commanding 5 different airframes including the HU-25 Falcon, C-37A Gulfstream V, C-143A Challenger 604 and C-130J & H aircraft.

With all that experience, he was still astounded by the power of the Jayhawk, particularly during the extreme "rock & roll" of "Dead-in-the Water" drills. He qualified as an honorary member of the 1607 "High Five" team having played all the roles associated with helicopter ops. A picture is worth 1,000 words as you can clearly see he had a great time out on the water with our crew that included our Auxiliary North Carolina District Captain Wayne Earley, Dave Meister Flotilla Commander of the Elizabeth City Flotilla, and Jack Horst and Tom Mattingly, Flotilla Commander and Vice Flotilla Commander of the Outer Banks Flotilla.
We deeply appreciated our chance to both hear from and share perspectives with a senior gold side leader at the tip of the spear in addressing the many strategic issues facing the Auxiliary. And We trust that CAPT Glendye finished the day impressed with the dedication of our team to supporting the vital mission of the Coast Guard in Northeast North Carolina.

---
The Tale of Polar Bear 1
Our flotilla has a new tradition, the presentation of Polar Bear 1, or PB 1 as we call him at our monthly meeting. Each month a deserving member of our flotilla is selected to be PB 1's keeper for the next month.
PB 1's current caretaker is our Secretary of Records, Kevin Slattery. Kevin is responsible for the flotilla's records and reporting, a critical function in a busy flotilla. He has been counted on as the institutional knowledge bridge as new leadership takes over the flotilla. Kevin is also the long-term caretaker of the Flotilla's "High Five" 47' Motor Lifeboat model that PB 1 is standing watch on. Bravo Zulu Kevin!
So why a stuffed polar bear? Read on!
Late last year our long serving 27' Utility Boat was having trouble getting up to speed and on plane. U.S. Coast Guard Station Oregon Inlet determined there were small fractures in the hull from years of heavy use. The Station took the unusual step of weighing the boat. It turns out the boat weighed 2,000 pounds more than it should have. Water had completely soaked the interior hull insulation. Yikes!

So that raised a question. What else weighs 2,000 pounds??? Internet research (yep, the Great Google), conducted by Flotilla Commander Jack Horst, quickly came up with an answer…an adult Arctic Polar Bear!
A doctored photograph of our Utility Boat with a large Polar Bear riding in the stern was shown at our monthly flotilla meeting. LCDR Meg Peters, Assistant Air Operation Officer and an H60 helicopter pilot at the Elizabeth City Air Station, was attending our meeting and found the photograph hilarious.
She decided at that moment that any mission on which she was flying working with the Auxiliary UTL boat would be dubbed a "PB 1" mission (Polar Bear 1). And on those missions, we will proudly fly the PB 1 flag we had commissioned to dedicate those special missions!
By the way, our old UTL boat was retired and we do have a new Utility Boat. All is well!
---
USCG H-60 Rescues Four from the FV Bald Eagle
On Tuesday, December 7th a USCG H-60 Helicopter from the Air Station in Elizabeth City rescued four people from a distressed fishing vessel off Southern Shores. Read the story at OBX Today here.
---
"Basket, no trail line, underway..."
One of the most important, and downright thrilling things the Outer Banks Flotilla does, week in week out, is night training missions with the U.S. Coast Guard HH-60 Jayhawk helicopters based in Elizabeth City, NC.
The photo below was taken from our Auxiliary 27' UTL boat by Division 16 Commander Met Lewis on a November mission. As the title implies the helo crew is putting the basket (with the orange flotation devices) on the cage on our boat while we are underway. To see videos of what we old guys do go to our OBX Flotilla YouTube Channel.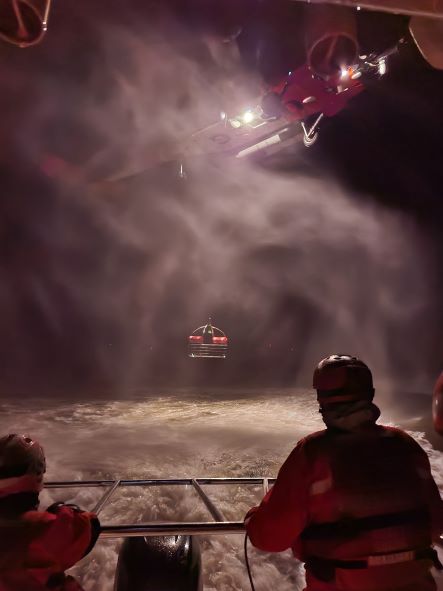 If this looks like fun (and it should!) contact us to discuss joining the Coast Guard Auxiliary!
---