Welcome to the Flotilla 10-6, District 5SR Web Site
A United States Coast Guard Auxiliary Flotilla dedicated to
Safe Boating, Education, Operations & Fellowship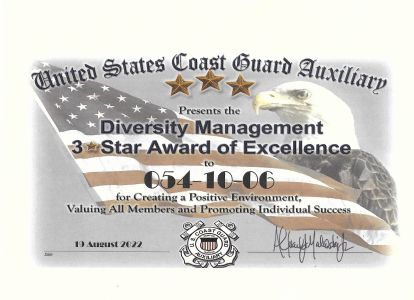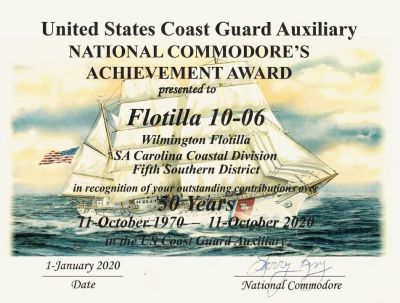 WHO WE ARE
United States Coast Guard Auxiliary Flotilla 054-10-06 serving the Wilmington, NC area

Dedicated men and women who volunteer their time, talent, resources to enhance and improve boating safety in our Area of Responsibility: the counties of New Hanover, Pender, Brunswick, and the Cape Fear River.
WHAT WE DO
Search and Rescue (SAR) operations, Safety patrols in local waters, Boating safety classes for the public, Free courtesy safety inspections of private and commercial boats, Local and regional public events, Training for flotilla members, Support the United States Coast Guard personnel at Station Wrightsville Beach, Station Oak Island, and Sector NC Headquarters,.
JOIN US TODAY
Visitors and guests always welcome. We meet 7:00 PM second Tuesday of month at Sector NC (Except during pandemic) Contact our Flotilla Commander for more information or email: flotilla10_06@ymail.com

---
See tabs on left for specific information. Note that some tabs require Auxiliary member credentials to access the information.