Welcome to the Flotilla 8-1, District 5SR Web Site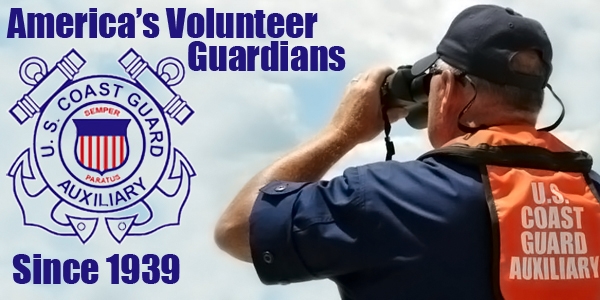 Flotilla 81 & Auxiliary Detachment (AUXDET)
Roanoke & Smith Mountain Lake, Virginia
Auxiliary Division 8
5th District Southern Region
Serving Central Virginia since 1961!

Welcome Aboard!
The Coast Guard Auxiliary was established by Congress in 1939 to promote safe recreational boating. With 35,000 members, it is as large as the active duty Coast Guard.
The service accepts the Auxiliary as part of the team, offering the best training available, along with many other benefits. Auxiliarists range from experienced recreational boaters and radio operators to licensed aircraft pilots who promote safe boating through Vessel Safety Checks, public education courses and search and rescue operations.
Auxiliarists are Congressionally-authorized, unpaid volunteers who assist with many Coast Guard missions. In reducing the Coast Guard's size, opportunities for the Auxiliary have grown. It is estimated that the Auxiliary provides nearly free of charge, almost $1 billion in service to America.
The Coast Guard Auxiliary on an average day saves one life, saves $11,119 in property damage, educates 594 people, completes 68 safety patrols, performs 13 assists, participates in 185 operational support missions and performs 383 courtesy marine examinations.
Here in the Roanoke area, Flotilla 81 educates almost 1000 boaters a year, completes 70 patrols a year with 35 assists, 100 support missions and 150 courtesy marine exams.
Membership in the U.S. Coast Guard Auxiliary is open to U.S. citizens at least 17 years of age.
Come visit with us! Stop by on the 4th Sunday of each month at 3:00 PM and visit with us. Changes in the meeting dates or location will be announced on this page.

GPS Address: 285 Oak Grove Drive, Moneta, VA 24121
Directions to the SML Auxiliary Detachment (SML AUXDET): From Rt. 122, turn on Merriman Way Road (Rt. 666) at the Epworth Methodist Church. Turn left on Oldfield Road, then right on Oak Grove Lane. Follow Oak Grove Lane to the end, turn left – follow the road down to the gate and proceed to the white building near the antenna tower.
If you are interested in joining, please let us know using the contact methods below.

| | |
| --- | --- |
| Flotilla Commander Randolph Hellmuth Pirtle | Email |
| Vice Flotilla Commander Jerome Alexander Ix | Email |
| Membership/Human Resources Officer Thomas Ralph Merriman | Email |
Flotilla Commander's Cell Phone: (530) 601-1797

Flotilla general email address: sml.flotilla81@gmail.com
UPCOMING EVENTS
(see Calendar page for more details)

SEPTEMBER 2023
Thu - Sun Sep 21-24: D5SR District Training (D-TRAIN) Event - in Glen Allen VA
(For details, see Calendar item)
Sun Sep 24: Flotilla Business Meeting - (In-person & online) - 1500
(For details, see Calendar item)