Welcome to the Division 5, District 5SR Web Site
Welcome Aboard!


U.S. Coast Guard Auxiliary Division 5 is an integral part of the United States Coast Guard Auxiliary, 5th District, Southern Region serving the States of Maryland, Virginia and North Carolina. Our Division serves the Hampton Roads region with flotillas in Chesapeake, Norfolk, Portsmouth, Smithfield, Suffolk, and Virginia Beach. Our backgrounds, interests and skills bring a wide variety of talent and services to the boating public and the United States Coast Guard.
Did you know that
Auxiliarists donate more than 2 million hours annually to benefit other boaters and their families? That's why the US Coast Guard Auxiliary is called America's Volunteer Lifesavers. Division 5 dedicated members teach recreational boating safety courses to the public, perform free vessel safety checks, work side-by-side with the active Coast Guard by standing administrative and communication watches, and perform safety patrols.
We are always looking for new members to wear the Auxiliary uniform and share in the proud traditions and missions of the U.S. Coast Guard Auxiliary and the U.S. Coast Guard. The website includes a lot of information about our programs and services in support of the Coast Guard and other useful items for our members and the boating public.
Division 5, Division Commander Fred Hetzel and Vice Division Commander Nathan Dull

I invite you to take a look around. Please feel free to contact one of us or one of the flotillas in Division 5 for additional information about joining the Auxiliary.

Directions to The Galley on USCG Base Portsmouth VA (Division 5 Meeting place)

Base Access Policy Update regarding vehicle decals no longer required / issued. (20131001)

Division 5 Meets @ 7:00 PM the 2nd Tuesday of each month in The Gallery on USCG Base Portsmouth, VA.

(For directions and map in PDF format, click link above or click on the 'About Division 5' link on the left for leadership contact information)
SEMPER PARATUS!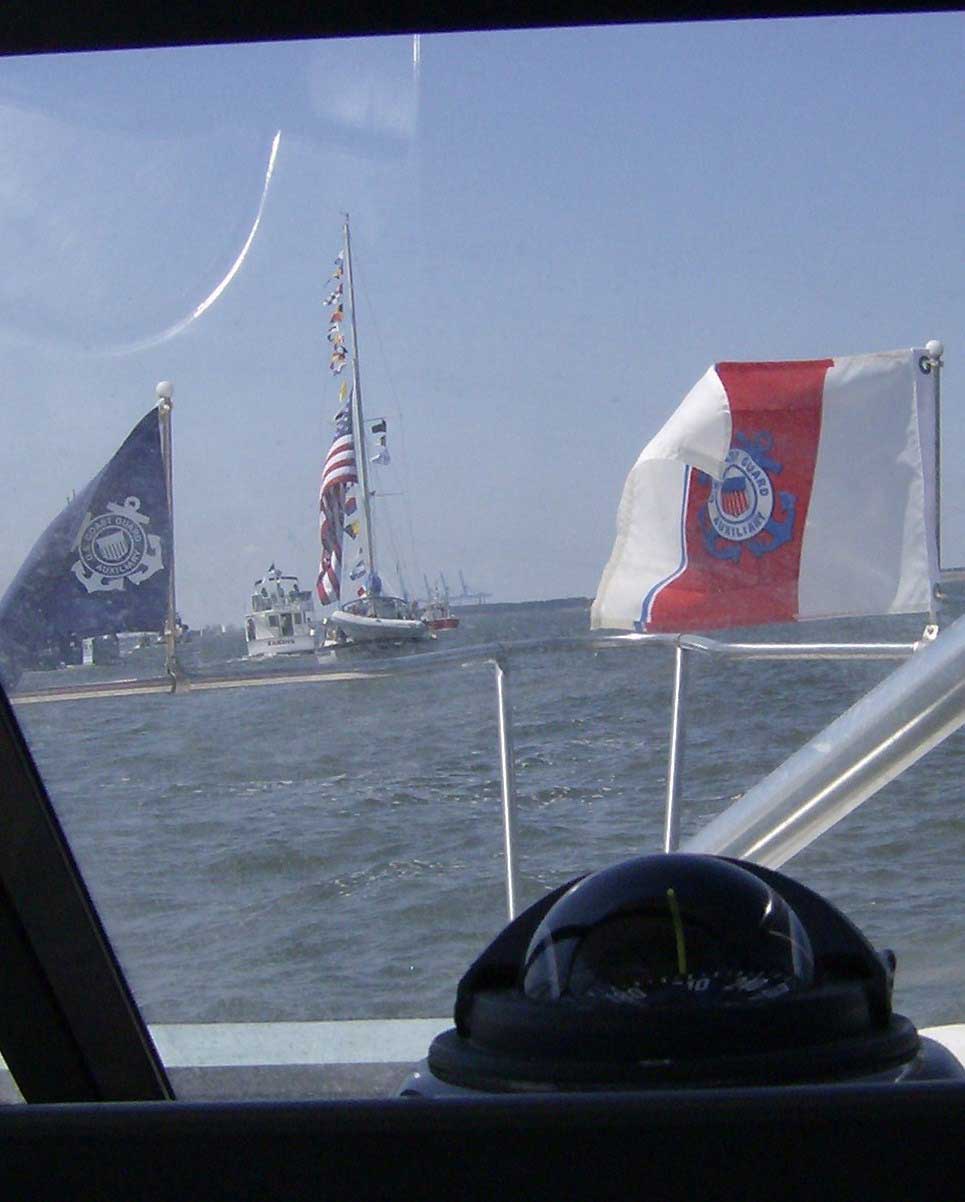 Commander Pennant & Auxiliary Patrol Ensign flank the boat's compass while under way during Harborfest