Welcome to the Flotilla 12-7, District 1SR Web Site
About Us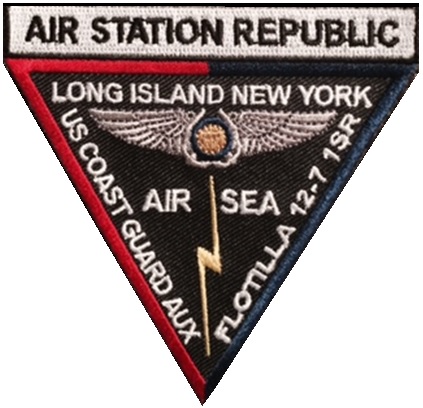 About the Coast Guard Auxiliary
The U.S. Coast Guard Auxiliary is the uniformed civilian component of the U.S. Coast Guard and supports the Coast Guard across all mission areas.
Air Station Republic is an aviation focused unit of the United States Coast Guard Auxiliary. We fly under the direction of Coast Guard Air Station Cape Cod and support Sector New York, Sector Long Island Sound and Sector Northern New England with Homeland Security, Marine Safety, Environmental and Ice Patrol missions as well as logistical missions transporting equipment and area familiarization flights for Active Duty Coast Guard Personnel.
Our Mission
The mission of the U.S. Coast Guard Auxiliary is to contribute to the safety and security of our citizens, ports, and waterways. We balance our missions of Recreational Boating Safety and Coast Guard Support with Maritime Homeland Security and other challenges that emerge as a result of a post-9/11 era.
Our Activities
The Coast Guard Auxiliary operates in Safety and Security Patrols, Search and Rescue, Mass Causality Incidents or Disasters, Pollution Response & Patrols, Homeland Security, Recreational Boating Safety, Commercial Fishing and Vessel Exams and Recruitment for all service in the Coast Guard. Additionally, the U.S. Coast Guard Auxiliary operates in any mission as directed by the Commandant of the U.S. Coast Guard or Secretary of Homeland Security.
We invite you to explore our site and our Photo Gallery to learn more about who we are and what we do.
Our Privacy Policy and Disclaimer
Click here to view our Privacy Policy and Disclaimer information.