Welcome to the Flotilla 7-5, District 1SR Web Site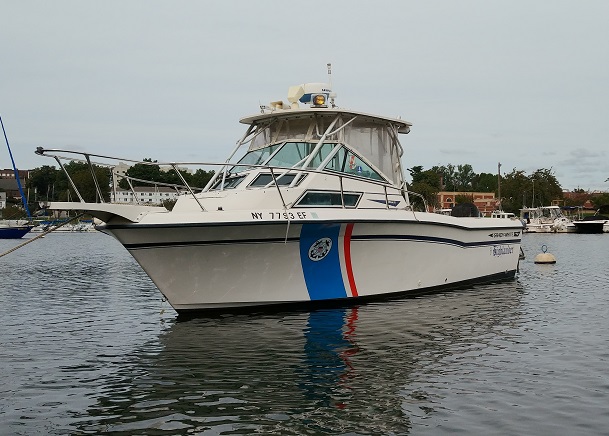 Interested in joining the Coast Guard Auxiliary?
Email auxflotilla75@gmail.com
Call 914 698-0323

---
New York Boaters! If you were born on or after 1 Jan, 1993, then you are going to need this class before operating a power boat this year! Click here to see the complete schedule for phasing in the new law.

Our class qualifies you for the New York or Connecticut Safe Boating Certificate.
Click here
for information on our boating safety class.
---
---
What is the Coast Guard Auxiliary?
The U.S. Coast Guard Auxiliary is the uniformed volunteer component of the United States Coast Guard. The Auxiliary was established by Congress in June, 1939 as the Volunteer Reserve, and conducted many of the Coast Guard's domestic missions while the Active Duty and Reserve components were forward deployed during World War II.
Today, the missions of the Auxiliary are:
To promote and improve Recreational Boating Safety;

To provide a diverse array of specialized skills, trained crews, and capable facilities to augment the Coast Guard and enhance safety and security of our ports, waterways and coastal regions;

To Support Coast Guard operational, administrative and logistical requirements.

Safe Boating Class Mamaroneck
Safe Boating Course Mamaroneck
Safe Boating Instruction Mamaroneck
Safe Boating Certificate Mamaroneck
Safe Boating Training Mamaroneck
Boating Safety Class Mamaroneck
Boating Safety Course Mamaroneck
Boating Safety Instruction Mamaroneck
Boating Safety Certificate Mamaroneck
Boating Safety Training Mamaroneck
Safe Boating Class Rye
Safe Boating Course Rye
Safe Boating Instruction Rye
Safe Boating Certificate Rye
Safe Boating Training Rye
Boating Safety Class Rye
Boating Safety Course Rye
Boating Safety Instruction Rye
Boating Safety Certificate Rye
Boating Safety Training Rye
Safe Boating Class Larchmont
Safe Boating Course Larchmont
Safe Boating Instruction Larchmont
Safe Boating Certificate Larchmont
Safe Boating Training Larchmont
Boating Safety Class Larchmont
Boating Safety Course Larchmont
Boating Safety Instruction Larchmont
Boating Safety Certificate Larchmont
Boating Safety Training Larchmont
Safe Boating Class Port Chester
Safe Boating Course Port Chester
Safe Boating Instruction Port Chester
Safe Boating Certificate Port Chester
Safe Boating Training Port Chester
Boating Safety Class Port Chester
Boating Safety Course Port Chester
Boating Safety Instruction Port Chester
Boating Safety Certificate Port Chester
Boating Safety Training Port Chester
Safe Boating Class New Rochelle
Safe Boating Course New Rochelle
Safe Boating Instruction New Rochelle
Safe Boating Certificate New Rochelle
Safe Boating Training New Rochelle
Boating Safety Class New Rochelle
Boating Safety Course New Rochelle
Boating Safety Instruction New Rochelle
Boating Safety Certificate New Rochelle
Boating Safety Training New Rochelle
White Plains
Rye Brook
Bronxville
Yonkers
Mount Vernon
Tuckahoe
Eastchester
Pelham
Pelham Manor
Armonk
North White Plains
Greenwich
Stanford
Cos Cob
Ridgefield
Bedford
Bedford Hills
Katonah
Chappaqua
Harrison
Pleasantville
Mount Pleasant
Hawthorne
Thornwood
Sleepy Hollow
Pocantico Hills
Irvington
Dobbs Ferry
Ardsley
Elmsford
Ossining
Peekskill
Verplank
Buchanan
Yorktown
Yorktown Heights
Westchester County
Westchester
Westchester Magazine
Westchester News 12
Westchester Boating Course
New York Boating Safety
The Journal News
Lo Hud
Hudson Valley
NY Patch
Hamlet Hub