Welcome to the Flotilla 4-6, District 1NR Web Site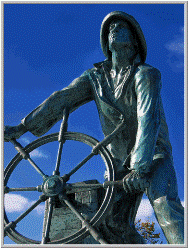 The U.S. Coast Guard Auxiliary
"The purpose of the Auxiliary is to assist the Coast Guard as authorized by the Commandant in performing any Coast Guard function, power, duty, role, mission or operation authorized by law." 14 U.S.C. § 822
The U.S. Coast Guard Auxiliary was authorized by Congress on June 23, 1939. This act authorized the Coast Guard to use civilian volunteers to promote boating safety on the nation's waterways.
Thus, the Coast Guard Auxiliary, traditionally known for its Boating Safely Classes and Vessel Safety Checks, now has greatly increased responsibilities.
For more information on services provided by the Coast Guard Auxiliary in the Cape Ann area, please use the links provided at the left, or contact us by email with specific questions. Information pertaining to National Programs can be found using the links found at the top and bottom of this site's pages.
An Average Day in the Auxiliary, Nation-Wide
Educate 929 People on Recreational Boating Safety & Environmental Protection

Complete 7 Regatta Patrols

Complete 91 Safety Patrols

Accomplish 19 Search and Rescue (SAR) Assists

Save $729,000 Worth of Property

Assist 56 People in Trouble on the Water

Complete 15 Recruiting Support Missions

Perform 615 Vessel Safety Checks

Participate in 120 USCG Operational Support Missions

Participate in 42 USCG Administration Support Missions

Complete 122 Public Affairs Missions

Save the Life of a Recreational Boater