Welcome to the Prevention Web Site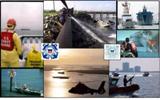 The National Oceanic and Atmospheric Administration's (NOAA) Office of Coast Survey (OCS) wants to know you are satisfied with our products, services and data, and if you have suggestions as to how we can impove them. This information will be used to enhance our abilities to better meet your needs.
The survey has two tracks, one for professional maritime users of our products and data and another for recreational users. You will only be asked to fill out one section of the survey; whichever is most pertinent to your interests. Either track should take no more than 10 minutes of your time. Go to https://wwwsnapsurverys.com/wh/s.asp?k=143157118215 to complete the online questionnaire.
Answers to the questionnaire will only be used for statistical analysis.
When you complete the questionnaire click "SUBMIT" and wait for the Office of Coast Survey website to be displayed to ensure your responses were received.

Please complete the survey by June 1, 2015.

As an integral part of Team Coast Guard the U.S. Coast Guard Auxiliary is integral to supporting U.S. Coast Guard Missions.
The USCG Auxiliary's Prevention Department is responsible for the planning and administration of Auxiliary programs to support and augment the United States Coast Guard's Prevention Directorate. As such, we assist and augment the Coast Guard's vital role as the nation's guardian agency ensuring the safety and environmental protection of our nation's precious waterway resources. As America's Volunteer Guardians, we are committed to be dedicated, vigilant and ready to engage this mission on behalf of our fellow citizens.
The Department oversees two major Auxiliary programs - Navigation Systems and Marine Safety.
Navigation Systems
ATON Verification
PATON Verification
Bridge Verification
Chart Updating
Marine Safety
Commercial Vessel Activities
Inspected Commercial Vessels
Foreign Flagged Vessels
Domestic Vessels (i.e. T-Boat, K-Boat, passenger, cargo, tanker)

Uninspected Vessel Activities
Uninspected Passenger Vessels (i.e. fishing guides, sailing schools, sightseeing tours)
Uninspected Tow Vessels
Commercial Fishing Vessels
Port and Facility Activities
Port Facility Inspections
Container Inspections
Marine Safety oriented MOM patrols
Regional Exam Center Support
Prevention Outreach
America's Waterway Watch
Citizen Action Network
Sea Partners
Communication and Education
Trident qualification program
Website maintenance
Marine Safety grant support
---
Please Note: Because of the diversity and breadth of the programs overseen by the Prevention Department, and the diversity of those programs which are both Direct Augmentation of Coast Guard Programs and are Auxiliary programs exclusively, this site is a portal to sites dedicated exclusively to specific programs. Currently, they may not link back to this page. Please bookmark this page as those sites may not link back to this portal to return here.