Welcome to the Public Affairs Web Site
Welcome to the website of the U.S. Coast Guard Auxiliary Public Affairs Directorate. We are proud to serve as the gateway for not only the public, but also our members who are looking to further their knowledge of the Auxiliary. The links that are provided will help reinforce the professional capacities of the U.S. Coast Guard Auxiliary. This website contains information on the Auxiliary- from its history to tools on boating safety. If you are unable to find what you are looking for, please let us know.
We hope you enjoy your visit.
Rich Mihalcik, Director- Public Affairs Directorate
---
Public Affairs Directorate Mission Statement
The Public Affairs Directorate engages and communicates with the public and stakeholder groups. It encompasses creative services, public affairs, publications, training and Web services. The Directorate serves the auxiliary and active duty Coast Guard by developing and distributing stories, photos and video to members, the public, and promotes a positive image of the United States Coast Guard. It reaches the right audience, with the right message, using the right communication tools, at the right time. It builds awareness, understanding, credibility, trust, and mutually beneficial relationships with external publics with whom the Auxiliary's success depends.
---
NACON Public Affairs Award Winners
---
---
Newest Issue of NAVEX Has Been Released for the Third Quarter!
---
---
Photo of the Month
Wreaths for Vets
Killeen, TX - When Flotilla 57 lined up for the Veteran's Day Parade in Killeen, TX, Public Affairs Officer Alvin Dillard observed Wreaths for Vets float line up behind them. More than 5000 wreaths will be placed at the Central Texas Veterans Cemetery in Killeen on November 24th. All branches of the military are interred there. More than 800 volunteers will participate in this annual event. Flotilla 57 will also participate in the laying of the wreaths. These wreaths will be retrieved from the graves on January 13, 2018.
Click here to submit a photo for Photo of the Month!
---
Winners of the Public Affairs Directorate Contests
Publication Winners
Hiawatha - Troy Stockers and David Caswell
Photography Winners
Fellowship - Robert Fabich, Sr.
Member Services - Barbara Sama
Operations - Valerie Fernandes
Public Education - Joann McCollum
Team Coast Guard - Jon Jeffery
Vessel Examination - John Moyer
Public Affairs Event/Project Contest Winners
Auxiliary PSAs in Boating Magazines - Joseph Giannattasio
50 Year Service Exhibit - Mark Picciano
Public Affairs Video Contest Winners
"Flotilla 59 Year in Review" - Flotilla 59
"Some Like It Hot: The AuxFS Program" - Thea Narkiewicz
---
---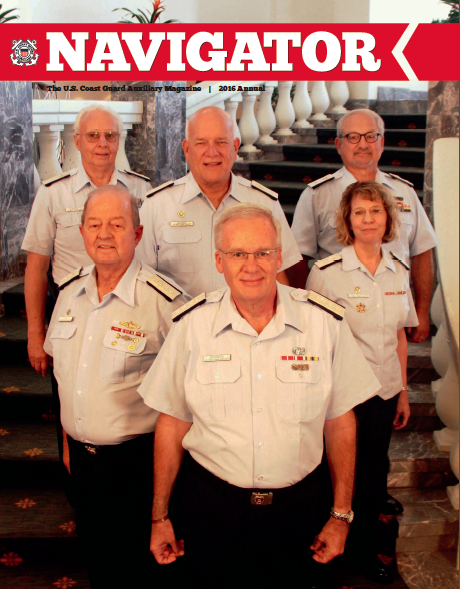 2016 Navigator Available Online!
(Click the picture to access)
---
Public Affairs Leadership Team
---
Deputy Director of Support
Deputy Director for Publication
This is an official United States Coast Guard Auxiliary website for the public's information. Our postings do not endorse this site or anything on it, including links to other sites, and we disclaim responsibility and liability for the site and its content.