Welcome to the Public Affairs Web Site
Welcome to the website of the U.S. Coast Guard Auxiliary Public Affairs Directorate. We are proud to serve as the gateway for not only the public, but also our members who are looking to further their knowledge of the Auxiliary. The links that are provided will help reinforce the professional capacities of the U.S. Coast Guard Auxiliary. This website contains information on the Auxiliary- from its history to tools on boating safety. If you are unable to find what you are looking for, please let us know.
We hope you enjoy your visit.
Rich Mihalcik, Director- Public Affairs Directorate
---
Public Affairs Directorate Mission Statement
The Public Affairs Directorate engages and communicates with the public and stakeholder groups. It encompasses creative services, public affairs, publications, training and Web services. The Directorate serves the auxiliary and active duty Coast Guard by developing and distributing stories, photos and video to members, the public, and promotes a positive image of the United States Coast Guard. It reaches the right audience, with the right message, using the right communication tools, at the right time. It builds awareness, understanding, credibility, trust, and mutually beneficial relationships with external publics with whom the Auxiliary's success depends.
---
Navigator Express 2018 Q1 Now Available!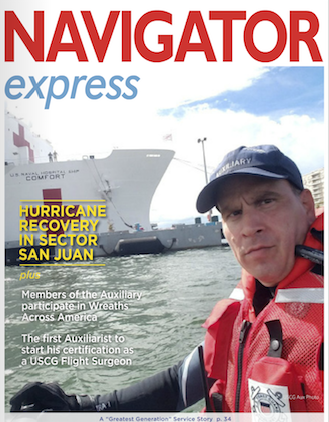 ---
---
Photo of the Month
MEMBER TRAINING - Appropriate and effective training of our members is key to a highly evolved, dynamic, effective, and efficient organization. Training enables us to become valuable partners with Active Duty Coast Guard, helping them meet mission objectives. Also, we meet our commitment to be of service not only to the maritime community, but the community as a whole.
Coast Guard Auxiliary photo by Stevie White.
Click here to submit a photo for Photo of the Month!
---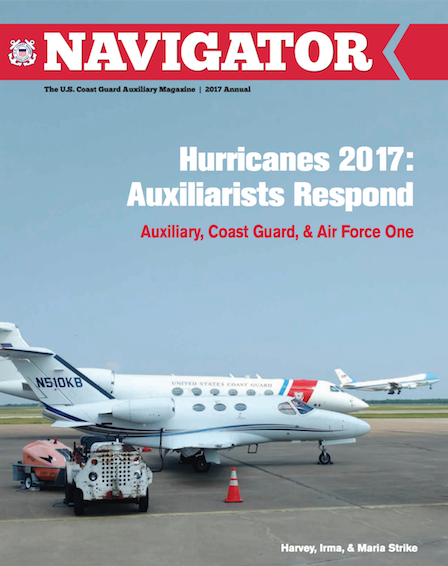 ---
Public Affairs Leadership Team
---
Deputy Director of Support
Deputy Director for Publication
This is an official United States Coast Guard Auxiliary website for the public's information. Our postings do not endorse this site or anything on it, including links to other sites, and we disclaim responsibility and liability for the site and its content.