Welcome to the Public Affairs Web Site
Public Affairs Directorate Mission Statement
The Public Affairs Directorate engages and communicates with the public and stakeholder groups. It encompasses creative services, public affairs, publications, training and Web services. The Directorate serves the auxiliary and active duty Coast Guard by developing and distributing stories, photos and video to members, the public, and promotes a positive image of the United States Coast Guard. It reaches the right audience, with the right message, using the right communication tools, at the right time. It builds awareness, understanding, credibility, trust, and mutually beneficial relationships with external publics with whom the Auxiliary's success depends.
---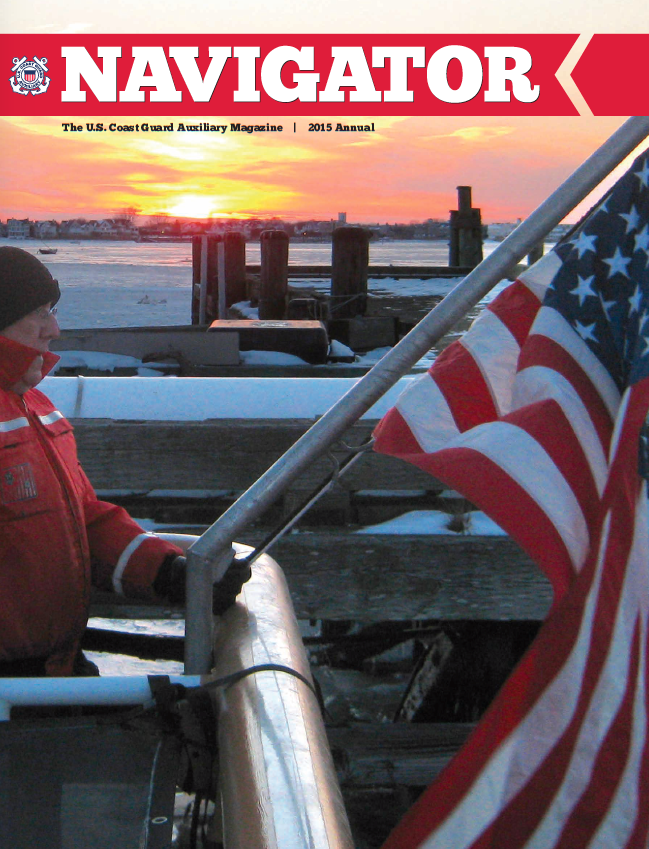 2015 Navigator Now Available Online!
(Click the picture to access)
---
Photo of the Week
Ironman World Championship
KAILUA KONA, HAWAII - Auxiliary Coxswain Roger Johnson and Boat Crewman Richard Matzelle observe the swimmers competing in the Ironman World Championship at the turnaround point in Kailua Bay on October 10, 2015. The Coast Guard Auxiliary Facility was on station in Kailua Bay for the race to provide security for the triathletes as they swam. Auxiliarists conduct regatta missions to enhance safety during approved regattas and other marine events. Coast Guard Auxiliary photo by Karen Lathrop.
Click here to submit a photo for Photo of the Week!
---
NACON 2015 National Public Affairs and Publication Awards
Admiral Paul Zukunft, Commodore Mark Simoni, and Commodore Harry Jacobs present awards for the Public Affairs and Publication National Contest to the winners at the National Coast Guard Auxiliary Convention in San Antonio, Texas.
Recipients of the photography awards were:
COMO Daren Lewis (Member Service Category)
Dawn Smith (Public Education Category)
Robert Fabich, Sr. (Public Affairs Category)
Judi Bidwick (Vessel Examination Category)
Tammera Badano (Fellowship Category)
Roger Bazeley (Marine Safety Category)
James Matthies (Operations Category)
Linda Vetter (Team Coast Guard Category)
Recipients of the publication awards were:
The Eastward (Editor: Mark Thomas) (District Publication)
Intercom (Editor: Dorothy Riley) (Division Publication)
Rose City Beacon (Editor: Thomas Brennan) (Flotilla Publication)
---
---
Commodore Harry M. Jacobs, Director of Public Affairs
Commodore Jacobs is Director of Public Affairs of the Coast Guard Auxiliary and a former District Commodore of the 11th Coast Guard District, Southern Region. Jacobs has been a member of the Coast Guard Auxiliary for 35 years. He is a former Director of Human Resources, a former Division Chief for Recruiting and Retention, and a former Aide to two National Commodores and a current member of the California Boating Safety Officers Association.
He did his Postgraduate work in Educational Administration at the University of Southern California after earning master's and bachelor's degrees from California State University, Los Angeles. Commodore Jacobs has been the guest Speaker at over 350 service clubs in California and has been a presenter-panelist at the National Center for Risk and Economic Analysis of Terrorism Events [CREATE] at the University of Southern California.
---
Rich Mihalcik, Deputy Director of Public Affairs
Rich Mihalcik is currently serving as the Deputy Director of the Public Affairs Directorate. Prior to his appointment, he served as the Division Chief for Community Relations within the same directorate. He currently is a member of the Oxford, Connecticut flotilla, where he is extensively involved with public affairs and public education.
Before joining the Auxiliary, he had over 20 years of law enforcement experience, having performed numerous types of duties within this field; from interacting with the public by walking a foot beat as a patrolman, protecting world dignitaries, engaging in public affairs and is trained in emergency management.
Deputy Director Mihalcik resides in Burlington, Connecticut with his wife Michelle and their two children. Both he and his family enjoy traveling and outdoor activities.
---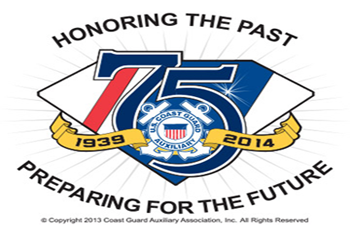 This is an official United States Coast Guard Auxiliary website for the public's information. Our postings do not endorse this site or anything on it, including links to other sites, and we disclaim responsibility and liability for the site and its content.