Welcome to the Public Affairs Web Site
Welcome to the website of the U.S. Coast Guard Auxiliary Public Affairs Directorate. We are proud to serve as the gateway for not only the public, but also our members who are looking to further their knowledge of the Auxiliary. The links that are provided will help reinforce the professional capacities of the U.S. Coast Guard Auxiliary. This website contains information on the Auxiliary- from its history to tools on boating safety. If you are unable to find what you are looking for, please let us know.

We hope you enjoy your visit.

Rich Mihalcik, Director- Public Affairs Directorate

---
Navigator Express 2018 Q1 Now Available!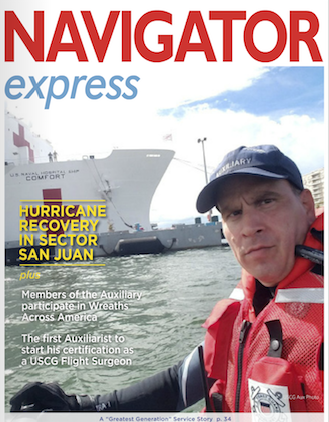 ---
---
Photo of the Month
Ten Auxiliarists from U.S. Coast Guard Auxiliary District 11 Southern Region pose for a group photo after successfully completing a 16-hour Public Affairs Refresher Course at the Marine Exchange of Southern California, San Pedro, California, April 15, 2018. Front left to right.
Row 1: Patrick O'Driscoll, Fl 66; Josh Motley, Fl 4-10; Paul Saba, Fl 11-07; Gerald Myers, Fl 62; David Smith, Fl 49; and, Keith Touzin, Fl 12-04. Row 2: Commodore Harry Jacobs, ADSO-PA – Training (Instructor); Scott Hedblom, Fl 12-07; Douglas Bradford, Fl 96; Commodore Robert Holm, ANACO-FC; Commodore Bert Blanchette, IPDCO; and, Chief Public Affairs Officer, Michael Anderson, USCGR (Instructor).
U.S. Coast Guard Auxiliary photo by Victoria Jacobs
Click here to submit a photo for Photo of the Month!
---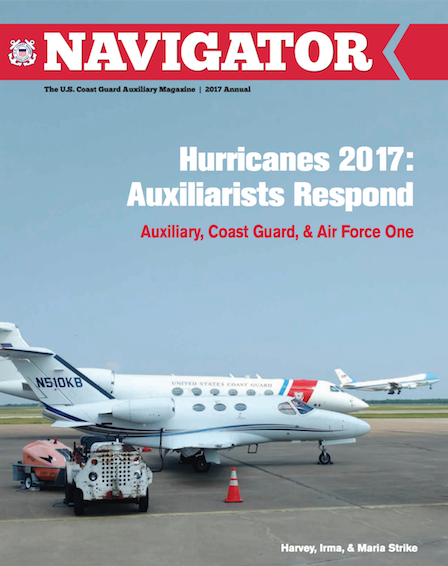 ---


This is an official United States Coast Guard Auxiliary website for the public's information. Our postings do not endorse this site or anything on it, including links to other sites, and we disclaim responsibility and liability for the site and its content.