Staff Officer Training and Resources
Welcome to the USCG Auxiliary Staff Officer Training and Resources Portal!
Are you a new or current staff officer in a Flotilla (FSO), Division (SO) or District (DSO/ADSO) or interested in becoming one? Well, as part of an ongoing initiative to help our Auxiliary appointed staff officers, the Training Directorate is pleased to present the Staff Officer's Training and Resource portal to help mentor and ensure your success in your role as an appointed staff officer.
As staff officers ourselves, we've heard, seen, and experienced the need (and importance) to have relevant training, robust mentoring, and useful resources to help you (as appointed staff officers) perform a critical role to support elected leaders and ensure success in accomplishing the mission of the US Coast Guard Auxiliary.
Knowing the experience level of staff officers can vary from being a freshly minted Flotilla Staff Officer (FSO) who is looking to learn about the basics of being a FSO to a seasoned District Staff Officer (DSO) who has to implement components of the district's strategic plan, this portal will provide training and reference materials to address these needs.
For New Staff Officers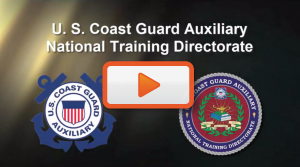 If you are a new FSO, we recommend that you view this new multimedia presentation or if you are an experienced FSO, SO, or DSO and want to mentor a new staff officer, please sit down with your mentee and view this content together.
In this presentation you will learn the purpose and function of a staff officer and identify the qualities of an effective staff officer, with the expectation that you (or your mentee) will apply these "best practices" in the staff officer role.
Training for All Staff Officers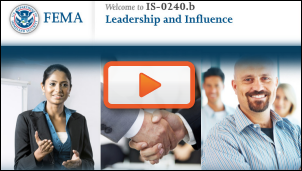 As a staff officer, it is critical to develop your leadership and management toolbox so you can be effective in your role either at the district, division, or flotilla level. We've chosen the four (4) most relevant out of seven (7) courses from the FEMA Emergency Management Institute Professional Development Series that provide developmental training, skills, and tools useful in any staff officer role (or any role/job outside of the Auxiliary).
We recommend that you complete these courses in this recommended order of completion starting with IS-240.b - Leadership & Influence as this course provides a baseline of training on how to lead teams and collaborate with others to achieve your shared goals:
Exportable Training for District Staff Officers (DSO): Strategic Plan Execution
As a DSO (or ADSO), you will play a critical role in managing projects to ensure the successful execution of your district's strategic plan. Like yourself, members of the National Staff have managed similar projects to support the National Strategic plan; based on our experiences, we have distilled our project management resources into a stepwise toolbox of easily digestible training content, instructional job aids, and core project management tools to support your efforts as a DSO and are pleased to present these below:
Additional Staff Officer Resource Links
The following resources may be useful to you as a staff officer: