Welcome to Auxiliary Online Learning
Coast Guard Auxiliary Online Classroom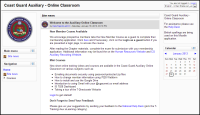 The member-training portal known as the "U.S. Coast Guard Auxiliary Virtual Classroom" has moved to a new location, and is now called the Coast Guard Auxiliary Online Classroom.
The Direct link (URL) to the Online Classroom is: http://classroom2.cgaux.org/moodle/ you can also click on the image to the right to access the site.
Please note:
All courses previously available in the Virtual Classroom should immediately be available at the new Online Classroom.
Old user accounts and course completion history have been retired, as the new site uses automatically provides members with new and permanent accounts based upon the same Member Zone Credentials used for AuxDirectory, NTC, Webforms, etc.
Members, member training officers, and unit webmasters should change all bookmarks, links, or other references to the old Virtual Classroom to the new site and address.

Support is available via the National Help Desk at http://help.cgaux.org.
Members should note that the Auxiliary Core Training Program courses referenced in ALAUX 014/18 (Ethics, Sexual Harassment Prevention, et al.) are still available in AUXLMS (please see the AUXLMS message below).

NOTE:The same Auxiliary Core Training (AUXCT)referenced above is also available in the

Auxiliary Online Classroom.
NEW! Many training courses within the Auxiliary Online Classroom are also available via mobile devices. To learn more about this capability, please click on the image below to access a brief instructional video within the Auxiliary Online Classroom.
Auxiliary Learning Management System (AUXLMS) is now available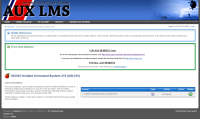 The Coast Guard is committed to supporting the Coast Guard Auxiliary by providing training materials, courses, and tools to impart the skills and knowledge needed to achieve mission excellence. As part of this commitment and as per ALAUX 001/13 of 18 January 2013, the Coast Guard has launched an enterprise-wide Auxiliary Learning Management System (AUXLMS) to automate the delivery and, in turn, improve the efficiency of training processes for Auxiliarists. This rollout of AUXLMS is a result of an extensive and comprehensive analysis performed by the Coast Guard Office of Training, Workforce Performance, and Development (CG-132), FORCECOM Training (FC-TADL), OSC Martinsburg, Auxiliary national training and information technology programs, and the Chief Director's office (CG-BSX-1).
Along with the Coast Guard Auxiliary Online Classroom, AUXLMS provides the flexibility for Auxiliarists to access additional training material anywhere and anytime on a personal computer. With AUXLMS, users can fulfill Auxiliary Mandated Training requirements from the comfort of home (e.g., Ethics, Sexual Harassment Prevention, et al.).
Enrolled Auxiliarists (prior to and including 18 January 2013) have until 31 December 2016 to complete all eight of the MT courses listed here; however, all new enrollees must complete all Auxiliary MT courses within their first year of enrollment. For this purpose, the first year of enrollment will extend to 31 December of the year following their Base Enrollment Date. For example, if a new enrollee has a Base Enrollment Date of 19 January 2013, then that individual will have until 31 December 2014 to complete all Auxiliary Mandated Training.
Please Note: Successful course completion of Auxiliary Mandated Training activities and ICS-210 are automatically recorded in AUXDATA without manual intervention of an Information Services (IS) staff officer. Data uploads from AUXLMS to AUXDATA will occur on a weekly basis each Monday.
For more information, click here or visit http://www.uscg.mil/auxiliary/training/auxlms.asp
A video overview on how to access AUXLMS is available here and printable directions can be accessed here.
For problems and support, please visit the National Help Desk at http://help.cgaux.org, and submit a ticket in the "T-Training" category. When you select that category, sub-categories appear; choose "AUXLMS". In addition, solutions and answers to your most Frequently Asked Questions (FAQs) regarding AUXLMS are available at the National Help Desk AUXLMS Knowledgebase.
If you are ready to access AUXLMS, please click on the AUXLMS link on the left menu or click here, which will take you to https://auxlearning.uscg.mil/
Online Testing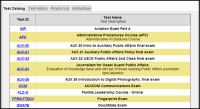 Online testing can be accessed at the National Testing Center at http://ntc.cgaux.org/. If this is your first visit to the new Testing Center, you will need to create an Auxiliary Member Zone Password. Online testing allows Auxiliary members to take all open book and proctored examinations.
All Districts have been authorized by the CHDIRAUX to participate in the on-line testing program and will receive credit towards qualification, re-qualification or certification.
Some of the tests may require a proctor. Here are the current requirements to become a proctor:
A commissioned, warrant, or petty officer of the Coast Guard or Coast Guard Reserve, any Coast Guard civilian employee or any Auxiliarist designated as an AUXOP (AX or AX2), specifically appointed by the Director, may proctor and process the exams, including on-line exams. An Auxiliarist who has successfully completed a specialty course(s) but has not yet achieved AUXOP designation, and who has been specifically appointed by the Director, may proctor and process the exam for that course(s), including the on-line exam.
FEMA Emergency Management Institute Courses
The Emergency Management Institute (EMI) offers the following free-of-charge, self-paced courses:
EMI has implemented electronic certificates for all online test submissions. Upon successful completion, you will receive an email within one business day that confirms your transcript has been updated and a link to create your electronic certificate. Provide a copy of this certificate to your FSO-IS to register completed courses into AUXDATA.