Flotilla meeting Training Mini-Course Series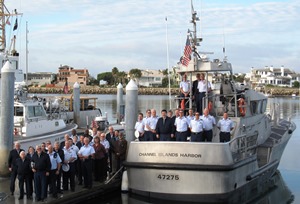 Welcome to the USCG Auxiliary Flotilla meeting training Mini-Course Series!
As former and current flotilla and division commanders, we've heard and seen the need to have engaging and thought provoking leadership development content that can be used at the Flotilla level. After speaking with various Auxiliary leaders from around the country, the Training Directorate is pleased to present The Flotilla meeting training Series of mini courses for use during unit meetings (flotilla, division, or district) and short Leadership articles suitable for unit publications such as newsletters and/or websites.
An easy and straightforward way to get started is to introduce the program and present one leadership module during each quarter of the year. The modules are ready to use and are designed to take between 15-30 minutes of your meeting time. Each module will consist of a facilitator guide and a short video.
Download and review the appropriate facilitator guide and video from the list below
Obtain the following equipment: 1) LCD projector, 2) Computer, 3) Screen, and 4) Speakers
Present the video and lead a short discussion as described in the facilitator guide
Flotilla Training Mini Course Resources
Below are links and downloadable resources to support flotilla leadership training.
Leadership Topic
Media Link
Resource Guides
Vice Admiral Charles Ray, Commander, Pacific Area offers additional insights into what makes a great unit climate, and gives tips on how to make the atmosphere in your flotilla even better.
Admiral Ray: What does a healthy thriving command look like from the outside?
Video
Instructor's Guide
Admiral Ray: How does a leader accurately gauge the health of his/her leadership climate?
Video
Admiral Ray: What do effective leaders communicate regarding current climate and his/her plan to develop climate?
Video
Instructor's Guide
Admiral Ray: What does a healthy command climate look like?
Video
Servant Leadership: Lessons from Admiral Robert J. Papp Jr.USCG (Ret.), the 24th Commandant of the United States Coast Guard.
Admiral Papp: The Concepts of Servant Leadership
Video
Instructors Guide
Admiral Papp: The Guiding Principles of Servant Leadership
Video
Instructors Guide
Admiral Papp: How a leader must be servant first, and maintain a proper balance between self and service.
Video
Instructors Guide
Admiral Papp: His personal experiences as a new officer and as a ship commander illustrate leadership lessons for us in the Auxiliary.
Video
Instructors Guide
AUX Leadership: Topics and Tips for Leaders at All Levels
Leadership competencies are the knowledge, skills, and expertise the Coast Guard expects of its leaders. While there is some overlap in these competencies, they generally fall within four broad categories:

Leading the Coast Guard
Leading Self
Leading Change
Leading Others

Leadership Topics
Media Link


The Art of Saying No: The Auxiliary often would take you 24/7. Some members have trouble saying no, causing potential conflicts at home and work. There are times when it is important to recognize that if you accept more work on top of your existing workload, these problems may occur.
Video
Meetings and Agendas: Meetings are a basic necessity of all organizations including the Coast Guard Auxiliary. However, it's important that meetings are effectively organized so that attendees understand their purpose and value, and judge that putting on the uniform and commuting are worth it.
Video
5 Tips for Leading with Confidence: In the Auxiliary, many members are suddenly elected or appointed into new leadership roles with little to no prior managerial experience. These leaders must quickly become confident in their own ability to establish and meet high standards.
Video
Skills for Frontline Leaders: Often a flotilla commander is thrust into the leadership role with little management training. An inexperienced leader can result in lost or inactive members, declining performance, and possibly put the flotilla's existence in jeopardy.
Video
5 Tips for Identifying Potential Leaders: There is no magic formula to help leaders promote or hire the right "people person" to become a leader. Successful leaders have identified 5 key traits, based on their own experiences, for guiding their decisions.
Video
Successful Delegation: Delegation is a necessity in the Auxiliary beginning with the FC who appoints the FSO's up to the National Staff who appoints the entire assembly beneath the top elected officials. The question then becomes, what thoughts do we put into delegation and how do we delegate?
Video
5 Sacrifices of a Leader: You may believe that as a leader your job is relatively easy, this is not so. As a leader, you have a number of responsibilities including not only watching over your members but ensuring that they manage their work effectively and that they are happy.
Video
5 Common Leadership Mistakes and How to Avoid Them: Leadership is challenging at any level. Regardless of your leadership role the challenges can be just as difficult and small, daily leadership mistakes add up over time to quiet failures.
Video
Note: the videos will launch in a new window.