Auxiliary Weather

AUXWEA, the Auxiliary Weather Specialty course, is designed to present the Auxiliarist with a thorough knowledge of weather, its importance in the marine environment and to the conduct of safe and effective operations. An AUXWEA Specialist is able to make accurate and valuable short range (several hours) weather forecasts to enable crew mates to avoid dangerous weather conditions while performing their patrol activities. Long range (two or more days) forecasts are also developed to assist in planning operational activities.
The Auxiliary Weather Specialist develops a keen sense of weather processes, including those which have an element of danger: the thunderstorm, the squall line, fog, tornadoes and other severe phenomena. A comprehensive knowledge of weather processes and effects is essential to the competent mariner, whether on the high seas, the coastal areas, lakes and rivers or local reservoirs.
You can achieve success as an AUXWEA Specialist by passing a closed book, proctored examination with a score of 75% or better.
AUXWEA is now available within the Auxiliary Classroom and is configured for self-paced learning. This course contain all presentations and documentation as well as additional resources to help you be successful.
Click HERE to navigate to the Auxiliary Classroom and access the course materials.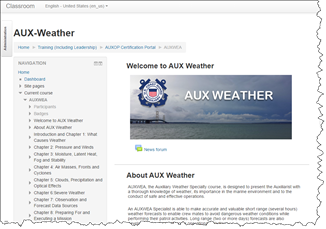 For instructor training materials, please visit "Training Materials" to the left.