Outreach and Education Resources
Fri, 01 Jun 18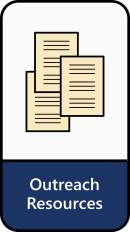 Public education instructors, partner visitors and vessel examiners can take advantage of numerous resources for their programs. This information can be distributed to members of the public or incorporated into other educational products.
Educational Resources

Public Education Materials
Recreational boating statistics 2017 (PDF) | Youth training policies (PDF) | Inflatable life jacket basics (PDF) | Paddleboards classified as vessels (PDF) | Paddlecraft Rules of the Road (PDF)

BoatUS Foundation
Boating safety page || Education page || Alcohol and boating | Carbon monoxide | Cold water boating | Crew overboard | Fire extinguishers | Flares and distress signals | Life jacket wear | Marine communications | Navigation rules

U.S. Coast Guard Boating Safety Division
Boating Safety Division home page || Federal boating laws | Federal regulations | State boating laws | Navigation rules | Accident reporting | Carbon monoxide | Life jacket wear | Propeller dangers (PDF) | Float plans | Boating under the influence (BUI) initiatives
Rope used in boating is often handling heavy loads, such as berthing, mooring, towing another vessel, preparing for a storm or managing sails. These animated knots are primarily for boaters, but many are useful for anyone who uses rope and values safety.

Global Report on Drowning 2014
The World Health Organization's Global Report on Drowning: Preventing a Leading Killer highlights that 372,000 people drown worldwide each year. Drowning is among the ten leading causes of death for children in every region of the world: Full report (PDF) | Executive summary (PDF) | Infographics (PDF) | Implementation guide (PDF; 2017)
Boating Safety Campaigns

"Wear It" Safe Boating Campaign
Campaign home page || "Wear It" logos | Infographics | Videos | Audio clips | Fact sheets | Print ads and posters | Banner ads | Safe Boating Campaign research | Social media | Wear Your Life Jacket to Work Day | National Safe Boating Week | "Ready, Set, Wear It"

Carbon Monoxide (CO) Awareness
Carbon monoxide page || Brochure (PDF) | Posters (8.5x11 PDF) (11x17 PDF) | Decals (General PDF) (Detector PDF) (Transom PDF) | Dangers of carbon monoxide | Prevention checklists | Prevention tips | Carbon monoxide accumulation diagrams | Centers for Disease Control report
Additional Outreach Materials

Sample Newspaper Articles
A series of public affairs articles promoting Recreational Boating Safety, Public Education and the Coast Guard Auxiliary. They are broken into twenty links here: 1 | 2 | 3 | 4 | 5 | 6 | 7 | 8 | 9 | 10 | 11 | 12 | 13 | 14 | 15 | 16 | 17 | 18 | 19 | 20 (PDF)

National Safe Boating Week: Past examples of proclamations (ZIP)
Life Jacket Loaner Program: Guidelines | Letter of Authorization
Boy Scouts of America: Safety Afloat training | Vessel Safety Checks
---
Note:
Links to non-Coast Guard entities are not under the control of the United States Coast Guard or the United States Coast Guard Auxiliary, and are provided for the convenience of our customers. They do not, in any way, constitute an endorsement of the linked pages or any commercial or private issues or products presented there. We cannot make any warranty or representation concerning the content of these sites, or secondary sites from the pages to which they link.