Welcome to the Recreational Boating Safety Outreach Web Site
Thu, 09 Aug 18
---
Welcome to the U.S. Coast Guard Auxiliary's Boating Safety Outreach Directorate. We work with numerous partner organizations to promote safe boating across the nation.
Check here for the latest boating safety news. Follow the links above for valuable safety information, or visit the Coast Guard Office of Boating Safety for more resources.
If your organization wishes to collaborate with the Coast Guard Auxiliary and promote boating safety, visit our partnerships wiki, and see what we can do together.
---




Boating Safety News

Tips to Survive a Fall into Cold Water – "It takes some skill for anyone to survive a fall into cold water and knowing more about these techniques could help save your life. Wearing a life jacket drastically increases your chances of survival in cold water…" Read more.
---

Don't Forget about Gangways and Ladders! – "Recently, a vessel pilot died while boarding a vessel when its gangway separated, causing two persons to fall into the water. This casualty serves as a reminder that equipment can quickly become a hazard…" Read more.
---

Let Us Enlighten You about LED Lighting! – "The U.S. Coast Guard has received reports regarding poor reception on VHF frequencies used for radiotelephone, digital selective calling and automatic identification systems when in the vicinity of light emitting diode (LED) lighting on-board ships…" Read more.
Featured Resource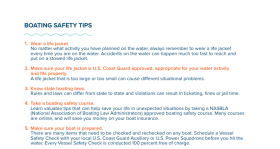 Boating Safety Tips – Prepare before you go on the water!
This fact sheet shares important information about how to enjoy a safe day on the water.
These tips are available online from the Safe Boating Campaign.
---
Note:
Links to non-Coast Guard entities are not under the control of the United States Coast Guard or the United States Coast Guard Auxiliary, and are provided for the convenience of our customers. They do not, in any way, constitute an endorsement of the linked pages or any commercial or private issues or products presented there. We cannot make any warranty or representation concerning the content of these sites, or secondary sites from the pages to which they link.