Welcome to the Recreational Boating Safety Outreach Web Site
Tue, 05 Jun 18
---
Welcome to the U.S. Coast Guard Auxiliary's Boating Safety Outreach Directorate. We work with numerous partner organizations to promote safe boating across the nation.
Check here for the latest boating safety news. Follow the links above for valuable safety information, or visit the Coast Guard Office of Boating Safety for more resources.
If your organization wishes to collaborate with the Coast Guard Auxiliary and promote boating safety, visit our partnerships wiki, and see what we can do together.
---




Boating Safety News

New issue of "RBS Job One," Auxiliary's Boating Safety Newsletter, released – The latest issue includes "Hypothermia: A Clear and Present Danger," the first in a series on hypothermia awareness while on patrol, and "Update on Fire Extinguisher Recall"… Read more.
---

Coast Guard reminds paddlesport enthusiasts of cold water exposure danger – "Paddlers are more exposed to the elements than boaters on power and sail craft and should wear the personal protective clothing appropriate for the water temperature…" Read more.
---

Coast Guard releases 2017 Recreational Boating Statistics Report – "The U.S. Coast Guard released its 2017 Recreational Boating Statistics Tuesday, revealing that boating fatalities nationwide that year totaled 658, a 6.1 percent decrease from 2016…" Read more.
Featured Resource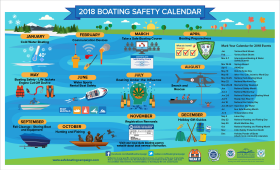 2018 Boating Safety Calendar – Mark your calendar for 2018 events!
The 2018 Boating Safety Calendar gives yearlong tips on safe boating behaviors, and a reminder for upcoming safe boating events.
The calendar is available online from the Safe Boating Campaign.
---
Note:
Links to non-Coast Guard entities are not under the control of the United States Coast Guard or the United States Coast Guard Auxiliary, and are provided for the convenience of our customers. They do not, in any way, constitute an endorsement of the linked pages or any commercial or private issues or products presented there. We cannot make any warranty or representation concerning the content of these sites, or secondary sites from the pages to which they link.