Welcome to the Recreational Boating Safety Outreach Web Site
Thu, 09 Aug 18
---
Welcome to the U.S. Coast Guard Auxiliary's Boating Safety Outreach Directorate. We work with numerous partner organizations to promote safe boating across the nation.
Check here for the latest boating safety news. Follow the links above for valuable safety information, or visit the Coast Guard Office of Boating Safety for more resources.
If your organization wishes to collaborate with the Coast Guard Auxiliary and promote boating safety, visit our partnerships wiki, and see what we can do together.
---




Boating Safety News

Hazards of Parasail & Watersport Passenger Transfers – "Recently, passengers on uninspected parasail vessels were seriously injured during underway transfer from the vessel to an inflatable raft that was being towed alongside…" Read more.
---

A PFD that's Unwearable Makes an Emergency Situation Unbearable! – "During several inspections, Coast Guard personnel discovered a significant number of unwearable PFDs. Owners and operators are reminded that regulations require PFDs onboard vessels to be wearable and in serviceable condition…" Read more.
---

It's just a Slide. What could go wrong? – "This safety alert stems from two separate casualties. At issue [are] water slides onboard vessels. In both events, passengers using the slide contacted the vessel's aft rail and sustained severe bone fractures…" Read more.
Featured Resource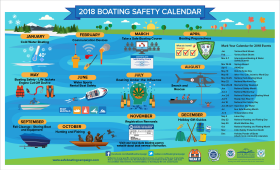 2018 Boating Safety Calendar – Mark your calendar for 2018 events!
The 2018 Boating Safety Calendar gives yearlong tips on safe boating behaviors, and a reminder for upcoming safe boating events.
The calendar is available online from the Safe Boating Campaign.
---
Note:
Links to non-Coast Guard entities are not under the control of the United States Coast Guard or the United States Coast Guard Auxiliary, and are provided for the convenience of our customers. They do not, in any way, constitute an endorsement of the linked pages or any commercial or private issues or products presented there. We cannot make any warranty or representation concerning the content of these sites, or secondary sites from the pages to which they link.