B-Directorate What's New!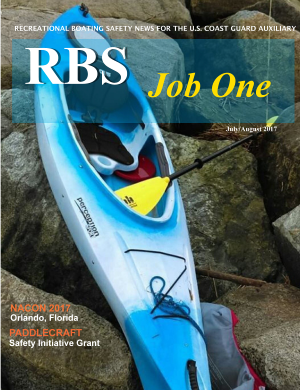 The most recent issue of "RBS Job One," July-August, is out!
This issue announces the 2016 Recreational Boating Statistics published by the Coast Guard, followed by the announcement of the $5.26 million in grant awards to nonprofit organizations to conduct 37 projects for boating safety, including one to the Coast Guard Auxiliary Association for a "Paddlecraft Safety Initiative," which will be conducted by the Auxiliary, and another grant to JSI Research & Training Institute for the Coast Guard's ongoing Life Jacket Wear Observation Study and how the Auxiliary will staff 80 of the 124 observation sites.
It tells the personal account of a kayaker who nearly drowned in Cape Cod Bay, plus lessons learned from recent Coast Guard rescues, and an encounter with a young couple of would-be kayakers that might have saved their lives. It tells you the new online address for Coast Guard documents, about an agreement with Canada on approving personal lifesaving appliances, and reasons you should attend NACON 2017 in Orlando, August 23-26.
Coast Guard "Proceedings" Focuses on Boating Safety
Proceedings is a free Coast Guard periodical, and they will send it to anyone who requests a subscription. The most recent issue focuses on boating safety. Each person must request his or her subscription, either online at http://www.uscg.mil/proceedings/ or by filling out the subscription card in each edition. You can access the current issue on-line at this link to decide whether it would be of interest to you.
Video: Surviving Cold Water
The CG Auxiliary Education Department has posted a new video on Surviving Cold Water. Download it in WMV format here.
New Issue of RBS Job #1
The newest issue of the Coast Guard Auxiliary's recreational boating safety newsletter, "RBS Job #1," is now online and can be downloaded as a PDF here. In this issue, you'll read about the latest recreational boating safety partnerships, summertime activities, the Sea Scouts, a gubernatorial proclamation, and much more. Check it out now!
New ACA Video: Stories of Survival
The American Canoe Association has just released a powerful 3-minute video on the importance of paddlecraft safety training. Check out "Stories of Survival" on Youtube: