Our Value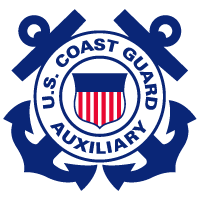 The United States Coast Guard Auxiliary
By Maxine Cavanaugh, U.S. Coast Guard Auxiliary
The Auxiliary's primary mission has always been and remains to assist the Coast Guard in its non-military and non-law enforcement missions. The Coast Guard Authorization Act of 1996 passed by Congress allows the Auxiliary to assist the Coast Guard, as authorized by the Commandant, in the performance of any Coast Guard function, duty, role, mission or operation authorized by law.

More Americans than ever are buying boats and spending time on the water. With the increase of boats on the water the chances of incidents even for safe boaters increases.

In keeping with the Auxiliary s primary mission of "boating safely" vessel examiners (VEs) perform free vessel safety checks, (VSCs) for recreational boats covering all the federal requirements and educating boaters on a number of other safety areas along with any additional local and state requirements. Vessel Examiners are specially trained members authorized to conduct VSCs with the consent of the owner/operator of a recreational vessel.

Through a Memorandum of Understanding with the Power Squadrons the Auxiliary has trained Vessel Examiners for both organizations. expanding the number of VEs available to do VSCs thus increasing the number of boats getting safety checks and making the waters safer. The 6,805 Auxiliary VEs performed 113,948 VSCs in 2001.

Another part of the Auxiliary Vessel Department involves the Marine Dealer Visitors (MDVs). These specially trained Auxiliarists visit cooperating marine dealers in their areas providing boating safety materials and establishing a point of contact for potential boat owners to learn about boating safety.

Boaters are encouraged to take boating safety courses taught by Auxiliary instructors.
Everyday somewhere in the waters of the United States, a recreational boater facing certain death has been saved by a Coast Guard Auxiliarist.

On an average day America's Volunteer Lifesavers will assist in at least 10 Search and Rescue (SAR) operations, assist 28 boaters in distress, save more than $340,000 worth of property and participate in 100 operational support missions.

Every day these more than 34,000 volunteers give freely of their time using their own boats and airplanes to provide surface and air safety patrols (62) and regatta patrols (6). They provide administrative support missions (49), teach nearly 400 people about recreational boating safety, marine environmental protection and perform free vessel safety checks on nearly 300 recreational boats. They support Coast Guard recruiting missions (13) and work with the media performing Public Affairs missions (70) by writing articles, setting up TV and radio interviews or speaking to organizations about the Coast Guard Auxiliary.

Who are these Volunteer Lifesavers? In 1939 with the threat of WWII looming on the horizon, a group of boat owners got together and asked, "How can we help?" Authorized by Congress to assist the Coast Guard in promoting boating safety, they started out by patrolling the waters along the coasts of the United States. Originally known as the Coast Guard Reserve, this non-military volunteer component of the Coast Guard became known as the Auxiliary when Congress authorized the paid reserve in February 1941.

The Auxiliary has members in all 50 states, Puerto Rico, the Virgin Islands, American Samoa and Guam. Membership is open to men and women age 17 or older who are U.S. citizens. Ownership of a boat, plane or radio station is desirable but not mandatory.

The Auxiliary boasts 8,547 instructors In 2000, Auxiliary instructors taught more than 4,000 adult and 2,000 youth classes logging nearly 75,000 hours in public education and another 50,000 hours in Auxiliary member training.

The Auxiliary offers a variety of boating courses tailored to specific needs including boat handling, legal responsibilities, aids to navigation, rules of the road, piloting, and others. A recent addition to boating safely courses is the "America's Boating Course". The product of a joint venture with the U.S. Power Squadrons the course is available through the Auxiliary Center. This modern, robust basic boating course can be taught in Auxiliary classrooms, sold directly to boaters for home study and delivered on the Internet. It includes a full colored textbook with an interactive CD-ROM.
An Auxiliary instructor must proctor the final examination. Boating Safely, an eight-hour course covering basics in boating and related areas is still available as well as the 26-hour Boating Skills and Seamanship.

Seven specialty courses for Auxiliarists are available in seamanship, communications, patrols, navigation, search and rescue, weather, and Auxiliary administration. Auxiliarists who complete these seven courses earn a special device to be worn on their uniform. A course on Global Positioning Systems is also available. Eligible Auxiliarists may also attend a number of Coast Guard schools.

The Auxiliary assists the Coast Guard in search and rescue/assistance missions, environmental protection, marine safety, and patrolling regatta and marine events. Members also perform safety patrols often in conjunction with Coast Guard units and provide verification of private aids to navigation.

Auxiliary designated operational facilities include nearly 5,000 operational vessels, 2,873 personal watercraft (PWC), 226 aircraft and 2,641 communications stations. Combined Auxiliary operational facilities logged in 2000 included nearly 270,000 hours in support of Coast Guard missions. Safety and air patrol hours accounted for another 154,000 hours.

Patrols performed by qualified Auxiliarists include: 7,098 boat crew; 5,240 coxswains; 294 air observers; 263 pilots; 30 PWC operators; and, 2,829 navigation aids verifiers. To maintain their qualifications each individual must complete specific qualifying criteria annually. The Auxiliary is more than just operations, public education and vessel examinations.

Auxiliarists logged more than 17,500 hours in administrative support to the active duty and reserves in 2000 in such activities as phone watches, assisting with license processing, standing OOD watches and other tasks.

The Academy Introduction Mission (Project AIM) is open to all students completing their junior year of high school. Annually this program offers 220 high school juniors nationwide the opportunity to gain insight into cadet life by visiting the Academy for a week during the summer before their senior year. Applications from interested juniors are channeled through each level with the final 220 selected attending AIM Week. In 2000 Auxiliarists logged nearly 5,000 hours in the recruitment for future Academy cadets as well as qualified men and women for the active duty and reserve Coast Guard.

Speak Russian? Japanese? Spanish? Multilingual Auxiliarists provide a interpreter service to the active duty Coast Guard whether it is an injured seaman on a ship from another country or other situations that need someone to bridge the language barrier. Some have served for as long as 30 days and traveled to foreign countries at the request of the Coast Guard.

Auxiliarists are there to answer the call. September 11 was no exception. Within hours of the terrorist strike on the World Trade Center and the Pentagon, Auxiliarists across the nation were responding to calls for support from the Coast Guard. They took over jobs that reservists had been doing, freeing them for activation. They helped set up communications operations supporting emergency response to the disaster.

By Dec. 21, more than 14 weeks after 9-11, the Auxiliary had logged more than 144,405 volunteer hours for Operation Noble Eagle. That is 36,595 hours more than the overall total for the whole year 2000 for similar areas or categories of effort. For the week ending December 21 more than 1,500 Auxiliarists logged nearly 15,000 hours in patrols, patrol standby, Commcen/Opcen and other watch standing and administrative and logistics support for an individual average of 10 hours each.
"Auxiliarists are not paid with money but satisfaction; satisfaction in knowing that what we do makes a difference," said National Commodore Viggo C. Bertelsen, Jr.

As with many in the active duty or reserve Coast Guard, Auxiliarists get involved because of the opportunity to proudly serve as a part of Team Coast Guard. No task is too small for America's Volunteer Lifesavers.

COMMANDANT QUOTE FROM COMDTNOTE 16790:
"This past year the Auxiliary and its 34,000 members has again superbly supported Coast Guard Missions. Auxiliary leadership has charted a course that has increased the value the Auxiliary brings to America."