AUX-12 C School for Public Affairs Training
Course Description
The AUX-12 course is basic training in how to convey the Coast Guard and Auxiliary story. Students learn essentials of news writing, editing, marketing, branding and digital photography, along with how to handle interviews and meet the press. Various disaster scenarios put students in key roles as part of a Joint Information Center.
AUX-12 is an introduction to unit public affairs programs and policy, social media, mass communications, media relations and community relations. This Auxiliary class is equivalent to the Coast Guard Public Affairs Officers Course (CGPAC) at the Defense Information School, Ft. George Meade, MD so active duty and reserve personnel may apply. Course Code is 501562.
---
Class schedule for 2017
Enhance your communication and public affairs skills by enrolling in one of the AUX-12 sessions listed below. Just complete a Form 7059, the Short Term Training Request (STTR) on this page and submit to your DIRAUX through your Flotilla Commander. Page 2 of the form gives complete instructions.
---
Eligibility
Auxiliary: DSO, SO and FSO-PA and PB, any elected leadership, members of the Auxiliary Interpreter Corps, and members of the AUXPA National Staff. Every Auxiliary public affairs officer is expected to enroll. Students are sent on Reimbursable Orders for this three-day Public Affairs "boot camp." Or any future designated PA officer.

You should have solid computer skills and a strong command of the written word. Good photo ability is preferred but not required. Make sure your e-mail address is current in the Auxiliary eDirectory

https://auxofficer.cgaux.org/auxoff/index.php

.


Active Duty/Reserve: Collateral duty Public Affairs Officers.
Notice: Members holding the qualification of Public Affairs Specialist 3 [Entry Level] or higher are ineligible to apply for the AUX PA "C" School.
---
How to Enroll
Auxiliary:
Download and fill out an STTR form (ANSC-7059) at http://forms.cgaux.org/ . Click on "PDF Forms" at left, scroll down list to Short Term Resident Training Request.


Print form and give to Flotilla Commander for signature. Your FC should forward to your District DIRAUX. Selections for C-Schools are made by CGHQ, with input from course POC. The Chief Director's staff (G-OCX) reviews applications, makes selections and requests orders from the Training Quota Management Center (TQC).


Selected students will receive signed orders (via regular mail) from their DIRAUX. When orders arrive: (a) Enroll in AUX-20 and get started on the pre-class projects outlined below; (b) Make hotel reservations and contact SATO to book your flight (see orders for specific details).

Active Duty/Reserve:
Apply through Electronic Training Request via Direct Access and through unit Chain of Command. Funding is by local unit.
---
Requirements
Auxiliary: Complete online course, Introduction to Auxiliary Public Affairs (AUX-20) prior to class start date.
We strongly recommend active duty personnel enroll in AUX-20 to gain a foundation in CG public affairs by studying the sections on print and broadcast media, photo, video, static displays, ethics, and release of information policies.
Everyone: Write a brief biography of your professional background along with your Coast Guard or Auxiliary experience. You'll be given instructions on how to upload to class wiki site.

---
Items to Bring
Printouts sent to you prior to class along with materials from the "Course Documents" section of class wiki site.
The Associated Press Stylebook, available at local or college bookstores, www.amazon.com or direct from the AP at www.apstylebook.com
Laptop computer and digital camera (if available).
Uniform for class is either ODU or Tropical Blue according to the Uniform of the Day policy at each base. You will be advised of the proper uniform well in advance of class start date.
---
Tentative Course Outline

Here's a look at what we cover in three days: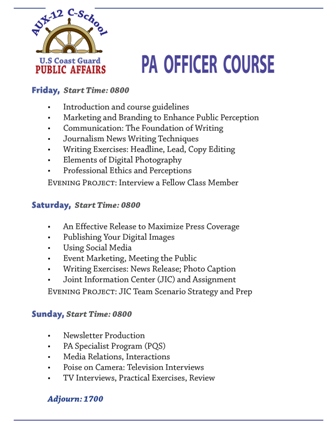 As you can see, you'll be assigned exercises Friday and Saturday evening after class. We'll also give you several homework projects. To get course credit, you must complete all homework and send to the AUX-12 Coordinator. Details provided in class.

IMPORTANT NOTE: Coast Guard budget cuts have impacted all C-Schools. Auxiliary applicants are encouraged to request an AUX-12 session nearest their home area to enhance the possibility of selection. Headquarters will likely not fund cross-country travel (west coast applicant to east coast, etc.).

---
Look Into Advanced Training
We hope you'll continue to develop your public affairs skills after you complete AUX-12, and we encourage you to pursue the Auxiliary Public Affairs Specialist designation. PA Specialist candidates take public affairs and ICS courses on line, then complete a series of tasks using the Performance Qualification System (PQS).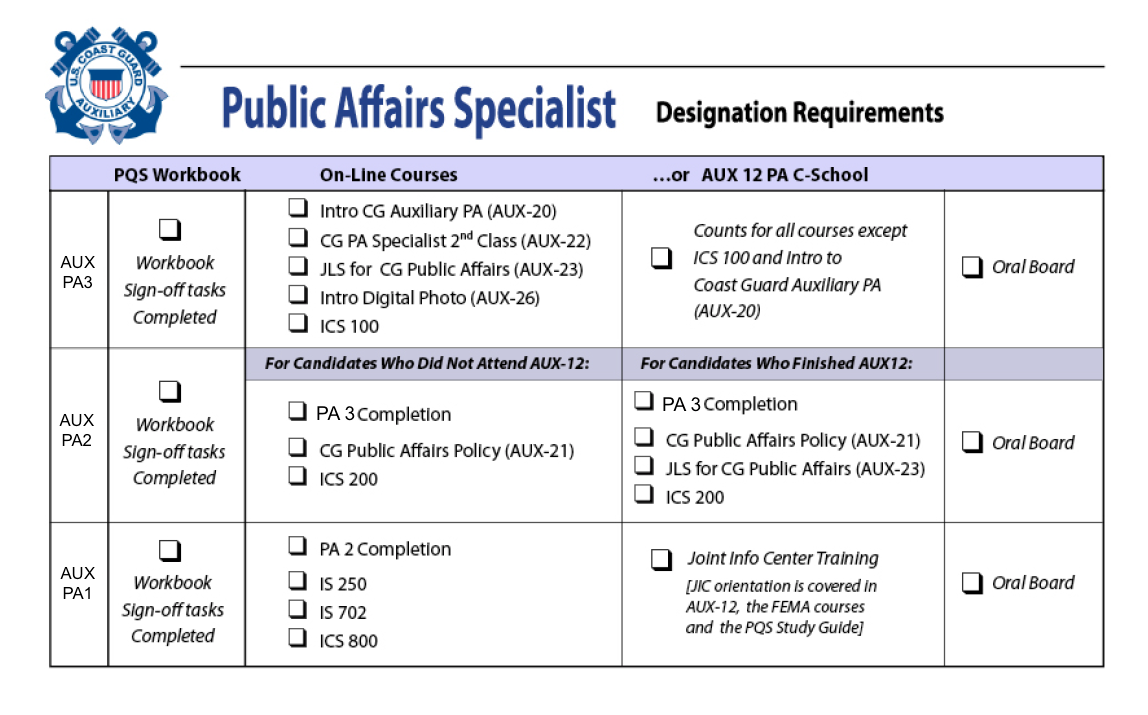 Completion of AUX-12 counts for all PA 3 [Entry Level] requirements except ICS 100 and AUX-20. You can find detailed information and the PQS notebooks for all three Specialist levels on this website under "Divisions of the A-Dept.", "Training", PA Specialist".
Download the PA 3 Study Guide and PQS notebook.