Looking Back: Atlanta Olympics 1996
A LOOK BACK: PROVIDING COAST GUARD SECURITY SUPPORT AT THE SAVANNAH SAILING VENUES, 1996 SUMMER OLYMPICS, ATLANTA, GEORGIA
by Robert D. Wilson, Past Vice Captain and Flotilla Commander of USCG Auxiliary Div. 12-2 Dist.7 Georgetown, SC and currently a member of Tellico Lake Flotilla Div. 12-2 Dist. 8 East (November 2009)
PROLOGUE
In my past experience as a member of the U. S. Coast Guard Auxiliary whenever there had been an opportunity to participate in some special operational activity, I was generally quick to respond. The start of the BOC Challenge Around the World Alone Sailboat Race in Charleston, SC September of 1994 is a case in point. It was with great enthusiasm that I wrote an article covering that event that the local Georgetown Times was kind enough to publish. So when made the offer, my fellow Flotilla 8 member, Dan Cowley, and I thought the chance to provide support (an Asset) for the Coast Guard's Security Operations at the (1995) Atlanta/Savannah Olympic Sailing Venues was the opportunity of a lifetime and for me a likely last hurrah, as I was about to celebrate my 72nd birthday.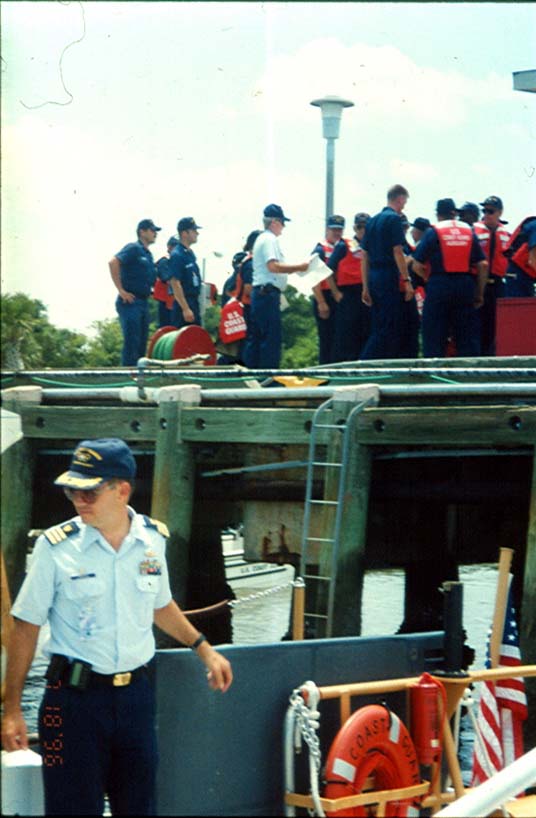 This midsummer adventure was shared by several other Division 12 members including from 12-8 our venerable CPT Tom Clayton and John Rogers aboard John's "Jolly Good", Ellen & Robert Kreiling on "Midnight Tango", Dave Beaudrot, Cal Purvis and Joe Lavelle on "Gail Winds" and from 12-2, FC Bobbye Paxton who provided staff support for the chief honcho for our security activities.
Five members of CG Station Georgetown also participated in providing security at the Olympics in Savannah. BM3 Huckemeyer and FN Lanning were billeted at Travis Georgia Air National Guard Base where we were also billeted, while the other three, BM3 Creaig, MK3 Kieslich and SN Murphy were billeted at CG Station Tybee.
Over a period of three weeks that included training and transit to the Olympic sailing trials staging area, Dan and I endured the hot, steamy weather with predictable afternoon or evening squalls. Unfortunately several duty days were missed because our Auxiliary facility "Jellybean" was "Charlie", a term used to list your vessel as non-operational on the duty roster at Palmer Johnson Marina. But all in all, it was another experience as a member of the Coast Guard Auxiliary that reminded us of the fabulous opportunities this organization offers members and reinforced our regard for all the dedicated members of the U. S. Coast Guard. The shared comradeship we felt with the Coasties during our stint at the Olympics was worth everything, twice over.
UNDERWAY
Our trip down to Savannah from South Carolina was made in good time. We got a 0830 start, took on fuel at Belle Isle and cruised at about 20 knots. The weather was great during the morning and all went well until a momentary disruption when I hit a submerged piling just north of Charleston (while Dan was eating his lunch). I restarted the motor and it seemed to be OK, so we drove on. In the mid-afternoon we encountered heavy squalls with lightning which slowed our progress somewhat, but we still secured for the night in Beaufort at about 1615, mooring at the Downtown Marina. We refueled and then raised the outdrive to check the prop for damage. It was damaged, but we were losing only a few hundred rpms at the high end, so decided to leave it on until we reached Savannah.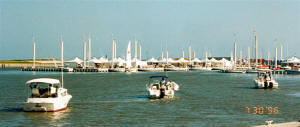 That night was the beginning of Beaufort's Annual Marine Festival and we enjoyed the benefit of a free Rock and Roll Concert after a pleasant dinner out at one of the local bistros. Twice things quieted down and we contemplated finally getting to sleep, but it was only the band taking a break! It was a restless night for both of us with only fitful snatches of sleep.
We were in no rush to get under way the next morning having a leisurely breakfast at Harry's, the only hash house open at 0800. After a pump-out we got underway at 0915. The weather was threatening and we hit several squalls before arriving at our destination. As we were passing Hilton Head we picked up "My Way II" with Anthony Corrollo and Milton Richman aboard just getting underway for Savannah and since they were familiar with the route we followed them into Palmer Johnson Marina.
ARRIVAL & ACCOMMODATIONS
We arrived shortly after noon but it was 1245 before we were logged in and assigned a berth. There was also a long wait for transportation to Travis and it was 1600 before we arrived for check-in and billet assignment.
Dan and I were billeted in Officer's Quarters which were a group of two person rooms in a building where married couples were also assigned. The accommodations were quite adequate. Toilet and shower facilities were shared by all hands. A flip chart was improvised to identify male or female occupancy at any one time. There were no "incidents" and I must say the women staying there made themselves quite at home and with little embarrassment in the joint usage of facilities.
The first nights dinner at the cafeteria cleared up any concerns we may have had about the food. All the meals were excellent with several choices of entrees. The food was perhaps a little high in fat content, but there was lots of fresh fruit and vegetables―all you could eat! Restraint was the watchword if you didn't want to put on weight. On duty days you signed up the night before for a lunch picked up at breakfast. The lunches also were generous with a variety of Sub sandwiches, fruits, candy, and snacks.
Pre duty briefings at PJs always emphasized the need for high levels of liquid consumption, primarily water with limited amounts of "electrolytes" such as Gatorade. Drinking liquids with caffeine was discouraged. The possibility of heat stroke was very real while operating on the water for extended periods of time in the hot and humid weather of Savannah. Dan had evidently been instructed to make sure that I was drinking enough liquids, since he was constantly reminding me even though I was always with water in hand, either the furnished bottled water or a cup full drawn from Dan's 10 gallon ice water cooler.
While the accommodations and food got good marks, transportation and recreation didn't score well at all. Without your own transportation you were very isolated. Buses took you to and from PJs non-stop and often, for security reasons, the longest way possible. The only other bus service was a 3 hour circular route requiring you to stay for about 4 hours before catching the next bus around. Needless to say it wasn't used and after the first week was abandoned in favor of allowing groups of three or more to check out one of two vehicles for a period not to exceed 4 hours. Dan and I checked a van out one day and managed to do the tourist shopping routine. This outing was like getting a 10-day pass after two years duty at sea! There was little time for recreation as we were catching up on sleep (the dorms were noisy at night when late shifts returned or left for duty) or at Palmer Johnson working on the boat. A couple of times I did take advantage of the Motel swimming pool located just outside of our security gate at Travis. After a hot day on the water it was mighty refreshing.
DUTY
Yes we did pull duty at the Olympics. The first day after arrival was an all morning briefing starting at 0730. The briefing covered such things as our primary mission; thinking safety; risks of dehydration, heat exhaustion and sun burn; need for rest, being alert and on time; venue sites, radio reporting through the sector commanders; SAR procedures; rules of engagement; protection and avoidance of endangered species (Manatee, Dolphin, Right Whale and Logger Head Turtles) and in detail how to respond while on patrol to Security Zone Intrusions, Persons-Boating-While-Intoxicated, Demonstrations and Disturbances, Requests for Political Asylum, Claims of Diplomatic Immunity, Bomb Threats, Hostage Situations, and Hostile Attacks.
VENUE FAMILIARIZATION
After lunch, while all crew members were free for the afternoon, boat Coxswains were driven to CG Station Tybee to take an Area Familiarization Run of the Sailing Venues and Security Zones aboard one of the station's 41 footers. We left Tybee, headed down the Savannah River, out through the succession of channel buoys to the open sea and then traced the newly marked perimeter security zone
for Areas B, C and D of the off shore Sailing Venues. They formed a large triangular site with the shore one side, the ocean a second and the third being defined by the ocean channel entrance to Wassaw Sound and the Wilmington River. The deeper areas of Wassaw Sound would serve as the site for races scheduled for Venue Area A. While making the two seaward legs the white sails of practicing Olympians stood out against the background of the green shoreline. And on one occasion an Olympian practicing on her windsurfer for the women's Mistral event slipped silently across our bow.
While two of the 41 footers moved on up the Wilmington River, ours back tracked to the channel on the northwest edge of Wassaw Sound that leads into the Bull River to check out the Day Marina. The Day Marina was built just for the Olympics off the end of the sand spit that marks the north land entrance to the sound. Its location made it readily accessible to the four Race Venue Sites and served as day anchorage and marshaling area for competing boats and crew as well as race and International Olympics Committee officials. As we approached different groups of class sailboats flitted about the Day Marina like moths around a light; some embarking, others returning from practice runs in what were then three foot seas.
I watched as a Coast Guard RIB (Rubber Inflatable Boat) took power and sped out to greet us. As they approached, to my surprise and delight, I saw that it was BM3 Creaig, MK3 Kieslich and SN Murphy of Station Georgetown aboard. It made me feel very much at home and I experienced a great sense of comradeship when they spotted me among the other coxswains and shouted their greetings. They pulled along side and seeing me taking pictures, asked that I capture them for the record. I enthusiastically obliged.

The RIB soon pulled away and we retraced our route to the entrance of the Wilmington River moving up river past the Priest Landing fueling station. This is where the smaller outboards with limited tank capacities could refuel during their duty period, saving time and fuel by not having to return to Palmer Johnson.
Up river some seven miles from the Colregs Demarcation Line that marks the entrance from the Ocean, we passed close on to the Sheridan Hotel Complex. The Sheridan has been in bankruptcy, but was now serving as an intermediate daily staging area for the Olympians and the site for launching their sailing vessels. Some ten miles up river we passed the Palmer Johnson Marina in Thunderbolt, Georgia at no wake speed. This is where most of the boats providing safety and security patrol for the Olympics were berthed, fueled and serviced. It is a major boat building, outfitting and repair facility. It was an awesome sight seeing several 200-foot-plus vessels in dry dock at the same time including the new yacht "Highlander", commissioned for publisher Forbes Sr. before his death, and the sailing motorship the "America".
We continued up the Wilmington River (part of the Inland Waterway in this area) across the South Channel and into the Savannah River. The Coxswain then turned to starboard instead of port, bypassing a trip up river to the Olympic Village security site in favor of returning to CG Station Tybee. It was nearly 2000 when we returned to Travis, but thankfully dinner was served until 2100 to accommodate those whose watch started in the afternoon. It was a long day and I didn't need prodding from Dan to hit the sack..
SECURITY
The Olympic athletes and race officials were transported overland from Olympic Village to the Sheridan. (Olympic Village was located in the Marriott Hotel, which forms the down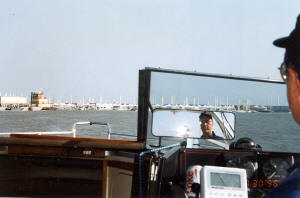 river anchor for the redeveloped Savannah riverfront; the Hilton served as the upriver anchor.) Athletes and race officials were then shuttled by large 40-passenger pontoon boats from the Sheridan Complex down the Wilmington, through Tybee Cut, down Half-moon River into the Bull River Channel and thence to the Day Marina which gave ready access to the Racing Venues. Security boats both led and followed the Pontoon Shuttles. Other security boats were positioned at key points to intercept any traffic that might interfere with the transport of personnel or violated secured areas around the Olympic Village, The Sheridan or the Day Marina. Navy Seals and aircraft made night and morning sweeps to assure security. Cordons of boats were also positioned around the perimeter of the off shore and Wassaw Sound Venue sites in two shifts from before the commencement of races until after termination of the days activity. Only preapproved and specially marked boats with passengers having special identification were permitted access to secured areas. Usually these boats were carrying IOC staff, reporters, photographers etc. There were only six or seven large prechecked spectator boats that were permitted inside the secured perimeter to watch the unfolding of the racing events.
PATROLS
"Jellybean" and its crew participated in four different types of patrol activities during the two weeks of the Olympics. They included the Opening Ceremonies, Off Shore at Station NX, Safety Patrol on Bull River and Intercept Stations at juncture of Wassaw Sound & Bull River. Except for the first two all of our duty was related to Bull River. The Safety Patrols on the Bull River turned out to be completely without incident, largely because of the lack of any meaningful boat traffic and keeping a breeze blowing through the boat was our biggest concern.
On one of our intercept duty days, however, we did have the misfortune of running aground while passing through Tybee Cut on our way to our designated position. We met a Dept. of Natural Resources boat coming the other way at a critical shallow area at low tide. We took the starboard buoy close to port, thinking we would have adequate depth. Such was not the case! We had slowed considerably so the grounding was minimal and a raised outdrive combined with a tug on the tow line from the DNR boat quickly freed us from the shoal. When on-station we replaced the damaged propeller with one given us in exchange for the propeller damaged coming down. It turned out to be the wrong pitch and the boat couldn't be brought up to plane when returning to PJs that evening. It made an hour trip out of what normally would have been twenty minutes and further delay in getting a ride back to Travis. But we didn't miss dinner!
The two days of duty we did for the Opening Ceremonies and off Shore duty were much more memorable. On Saturday, July 20, we drew late afternoon and evening duty at Olympic Village and for the Opening Ceremonies that were to be held in a mini-stadium adjacent to the Marriott. Savannah River traffic was kept to the North side of the river for a short stretch to either side of the Marriott. After getting underway from PJs it became apparent the engine problems CG regulars had worked on the day before weren't solved adequately to let us get the boat on plane. Given the nature of the mission, Dan, L[aw]E[nforcement]P[etty]O[fficer] Oscar Diaz, and I were not ready to scrub the mission. Limited to 10 knots, we nevertheless arrived on-station in a timely manner at the downriver side, with the responsibility of assuring boats moving upriver did not intrude into this security zone.
OPENING CEREMONIES
When the Opening Ceremonies started in early evening it was frustrating to be able to hear but not see the activities. I was particularly disappointed not to see Walter Cronkite, host for the event and the pageantry of the Parade of Nations as their anthems were played. We could however watch the national groups of athletes as they were assembling on the dock at water's edge preparatory to marching into the amphitheater. A portion of the crowd in the amphitheater was visible even though the boat was some twenty feet below the street level and the enthusiasm of the crowd was quite evident,. Pitcher and Viele of The Savannah News Press described it as "An Olympic love-in, Savannah style."

A squall with heavy rains and high winds interrupted activities midway through the scheduled ceremony. There was a break down in Security as spectators scurried for cover and many of the athletes mingled with the remaining Savannahians during the twenty minutes or so of pouring rain. Getting drenched in 80 degree temperatures is not all that bad and it certainly didn't dampen the spirits of the crowd. The storm affected our mission as well, as we secured across river at the Corps of Engineers dock to ride the worst of it out. The thunderstorm canceled some of the ceremony, but a spectacular fireworks display proceeded after a 45-minute delay. We were back on-station by that time and enjoying "the best seats in the house"! The storm did cause cancellation of the scheduled Trisha Yearwood Concert because of predictions of an even heavier storm expected in another half hour. It was after 2330 when we stood down from our duty station to return to Palmer Johnson. We had hoped to follow one of the DNR boats with radar back to base. They quickly took off and we were left in their wake to manage on our own.
BACK TO BASE
I was concerned about the weather but the predicted second storm never arrived. While giving chase to keep up with the DNR boats and before we were completely organized on our navigating regime, we did come very close to a line of piling jutting out from shore about a half mile below the Marriott. The others were busy in setting up our navigation routine and weren't aware of the near miss. I didn't share this bit of information, preferring to focus on the first illumination of one of the Aids to Navigation. With Oscar carefully reading the charts and identifying the next AtoN, another using the hand-held, high-powered spotlight to visually locate them, we managed to maintain 10 knots most of the way home. We were safely moored by 0030 and fortunately, it was not too long a wait for a ride back to Travis. This was only about the fifth or sixth time we had been out on the water at night in pitch dark and the experience contributed greatly to my confidence in dealing with it.
OFF-SHORE DUTY
The other memorable duty day occurred on July 25, when we were assigned position NX, the northern screen point after leaving the Savannah River Channel Inlet and before reaching the north gate entrance on the off shore Venue Areas perimeter. We had already had one day of the "Jellybean" running at peak condition and looked forward to this mission. It was 0950 when LEPO Jim Riley, a last minute replacement for Lanning, Dan and I got underway. The shortest, but still lengthy, run from PJs to our onsite position was up the Wilmington, across the South Channel, into the Savannah then downriver past CG Station Tybee and thence out to sea. Our duty period was from 1100 to 1800. It took a little longer than anticipated to get onsite, arriving about 20 minutes late, partly due to a rising sea from a brisk wind out of the southeast. We took turns at the helm as the others ate lunch.
On arrival seas were about 4 feet, requiring constant attention at the helm. We patrolled a course back and forth, parallel and just to the north of CG temporary buoys "A", "AA" and "B," defining the northern edge of the Venue periphery. As the afternoon wore on the seas continued to build with the wave direction becoming less and less predictable. "Jellybean" was handling quite well despite the weather and seas. We could see squalls advancing from the south and with confirming weather updates of deteriorating conditions prudent judgment was to secure to safer waters.
HEAVY SEAS
Seas were reaching 8 feet and breaking with some rogue waves even higher. Jim Riley was at the helm when conditions started deteriorating more and I was content to leave this experienced CG Coxswain at the helm as we headed north to the buoyed entrance to the Savannah River.
Our sea situation was the classical one identified in the CG Auxiliary Safe Boating Course: a following sea that could either cause broaching or pitch poling. Jim gave thrusts of power to stay on the back side of waves and as the next one caught up, backed off on the power and made direction changes to avoid driving the bow into the base of the wave as the next wave caught up with us, letting it roll on under "Jellybean" and then giving another surge of power to ride again on the back of that wave, always maneuvering the boat to keep it from yawing from the force of the disorganized wave patterns. It was a good lesson in handling small boats in rough seas. We skirted the approaching seaward squall, but still got soaked by another squall line after entering the Savannah River. By 1415 we were moored at Palmer Johnson Marina and again I felt a gained confidence in facing the rigors of boat handling in unfavorable conditions. Canceled races would have to be made up another day.
TOUGH LUCK AND KUDOOS
I noted above that the "Jellybean" was "Charlie" a couple of times because of propeller and engine problems. But cases of running aground in the shallow waters of Tybee Cut, Wassaw Sound, and Wilmington River were numerous and being on "Charlie" was a common occurrence, even for the Coast Guard Units. Consequently the couple of missed days of on-the-water duty was of little embarrassment to either myself or Dan. These instances did, however, give us great empathy for the plight of Ellen and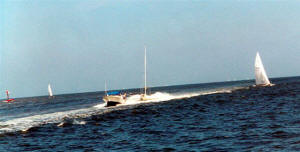 Bob Kreiling who ran aground on an uncharted shoal just a couple of miles above their arrival destination at the Palmer Johnson Marina. This unfortunate episode bent the shaft of one of their drives and "Midnight Tango" spent the two weeks of the Olympics in PJ's yard being worked on or at dockside. The Kreilings went home with their boat operating on only one engine with little to show in operational time, but thankful nevertheless to have been a part of it.
I would be remiss not to comment on the unstinting help we got from John Rogers in working on "Jellybean" to get it off "Charlie". One of the days he and John spent touring Dan and me around in his van looking for distributor parts and on another occasion after we interrupted work on his own boat to get a little guidance, he spent the next hour getting us running again. Thanks John! I might note that John Rogers and crew member, Tom Clayton, in a smaller boat than mine, at their own request, had off shore duty in heavy seas the whole time they were at the Olympics. I don't think their LEPOs enjoyed it as much as they did. This is a good time to give Dan Cowley the kudos he deserves. With all the trouble I had getting "Jellybean" ready for the Olympics and others raising questions as to whether I should even be participating, I was about ready to call it quits. Van Stolk, CG Auxiliary Coordinator for the Olympics, was already alerted about my boat problems and about to remove me from the roster of participants. Dan would have none of that and his enthusiasm quickly dispelled any doubts I had. He soon had "Jellybean" running smoothly again, both at idle and full throttle and we set about loading her for our departure. Van Stolk was faxed we would be in Savannah as scheduled. It was again with great enthusiasm that we got underway the next day, cheered on by the presence of Mike Rogers of the Georgetown Times. (Bill Brisse, Flotilla Public Affairs Officer alerted Mike of our departure, covered in the July 18 issue of the Georgetown Times). Dan, you're a great shipmate, and my apologies for making you spend so much time in the hot bilge to get and keep "Jellybean" running!
Thanks also to the LEPOs who served aboard "Jellybean", including Paul Knoblich who was with us a couple of times, J. D. Shriver, Darin Legrave, Lonnie Thompson and especially Oscar Diaz, and Jim Riley for the lessons in navigation and seamanship they gave us. And finally to Machinist Mate Johnson who also spent a number of hours in that hot bilge trying to get "Jellybean" off "Charlie".
THE RETURN HOME
After more than two weeks both Dan and I were anxious to be on our way home. Dan had neglected his nursing home patients and I my part time University Facilities consultant activities. Our assignment on the afternoon of August 2, the last day of the races, was Shuttle Security at Bull River. Our plan was to leave as soon as permission was given to secure from operations. We had already packed most of our gear and put it aboard "Jellybean" while off duty the day before. Our remaining gear was thrown into a couple of bags and we finalized close out at Travis right after breakfast, then waited for the 1000 bus to take us to Palmer Johnson. After stopping for a pump out at the Marina on Turner Creek near the Sheridan we arrived on-station at 1330. By that time most of the races had been completed. By 1700 the remaining races were completed and we requested permission to secure for the day, as we wished to leave for home as soon as possible. We were released shortly after and followed the last Olympic Pontoon Shuttle out Tybee Cut, heading full throttle for the base. It was homeward bound at 1815, after we had refueled and dropped off the LEPO.
It was 2030 and nightfall when we pulled into the Beaufort Downtown Marina at 2030. We called Tybee to advise we were securing for the night and reported that the flashing red AtoN "240" light was out. We had another good dinner, this time at the "Bank" and then early to bed. We made ourselves more comfortable this time and got a good night's sleep. Breakfast again was at Harry's Restaurant Saturday morning and then we were back on our way. Despite heavy boat traffic we made good time, snacking on left-overs from previously uneaten Travis lunches. We stopped a couple of times to check for PFDs on several overloaded boats and to give directions to a boater without charts or knowledge of the waterway. The only other stops were at Wild Dunes and Belle Isle Marinas to refuel. Dan called his wife, Elizabeth, in midafternoon to alert her and my wife, Lynne, of our estimated time of arrival at Hazard's Marina, as being no later than 1800. It was about 1745 when we pulled into the dock at Georgetown and it was great to have our wives waiting there to welcome us home. Unloading and bringing the boat back to my place on the Black River could await another day!
EPILOGUE
There can be no doubt that Dan and I, as well as the 60 or more CG Auxiliarists serving on 30 other participating boats, enjoyed the experience. We all came home with a special Olympic Certificate of Service expressing the Coast Guard's appreciation for a job well done. And besides the outrageously priced T-shirt souvenirs, we have the Coast Guard Savannah Olympics Security Ball Cap which was part of our official uniform for the event. Even "Jellybean" has a souvenir, a Coast Guard Pennant given to fly in lieu of the CG Auxiliary Patrol Flag when Coast Guard duty personnel are aboard. Most important, we brought home a sense of pride at having served as part of the team that provided security to Olympic athletes and officials and an undeniable confirmation that the auxiliary is truly a member of the Coast Guard Family.
WHAT ABOUT THE NEXT ONE
Knowing what I know now, would I have been so eager to participate in the Savannah Olympics? You bet I would, notwithstanding the lack of network coverage or a public boater presence.
Would I ever do it again? Hmm, maybe this wasn't my last hurrah. After all my daughter is now an Australian with joint citizenship. I loved Sydney Harbor when we visited and perhaps the Australian Coast Guard may want some help for their Olympic Security. Of course I'd have to relearn the rule for buoy identification it would be "Red, Right Leaving" rather than "Red, Right Returning."
What the heck, four years should pass quickly, I'd only be 76, and "Jellybean" just a youngster of ten and hopefully better mannered. It would be the year 2000 and I could work the trip in with my Class of 1950 homecoming at the University of Oregon. Lynne and I (and "Jellybean") could catch a freighter destined for Sydney out of Portland. Just think of all the experience I will have gained by then! Hmm, wonder if I should ask Dan if he would like to come? I could use a good crew member. .No, I'd better get an Aussie who knows the local waters. Besides, Dan would probably expect me to air condition the bilge for him.
As it turned out I didn't make it!
END
NOTE: Although in the prologue to this article I profess great enthusiasm for our participation in the Savannah Sailing Venues of the 1995 Atlanta Olympics, the sole marring factor was the lack of national news media attention and public spectator boater presence. This lack of attention represented a major disservice, not only to the Olympic sailors, who like all other Olympians had trained all their lives for these events, but also to the U. S. Coast Guard and Auxiliary and Georgia State Police units that provided the athletes, race officials, and International Olympic Committee members security. In this, the sailing events proceeded without incident or accident.
Robert D. Wilson
rdwil@bellsouth.net
Website: http://a0821202.uscgaux.info/

Note: The following Photos are available related to the specifics noted in the article including:
• CG Station Tybee 41 Footer Taking Auxiliarists On A Familiarization Tour Of The Venue Sites
• Station Georgetown Contingent On RIB
• USCG Regular Johnson Working On The "Jellybean" Inboard Engine
• Day Marina
• Olympic Village - "Marriott Hotel"
• Early Arrivals For Opening Ceremonies
• Squall Coming Through - Interrupting Opening Ceremonies
• LEPO Aboard "Jellybean" Preparing To Go Out On Patrol Duty
• Crew Member Dan Cowley And LEPO Paul Knoblach On Patrol Savannah Waterfront with Forbes "Highlander" In Background
• Olympic Shuttles Entering & Leaving Tybee Cut With Security Escorts
• Coxswain Wilson At Helm Of Jellybean Homeward Bound Charleston Harbor