Hilo Aviation-Pilots and Planes
Our Planes and Pilots


Missions

Coast Guard Auxiliary air assets participates in many Coast Guard missions including:
Search and Rescue,
Ports, Waterways and Coastal Security,
Marine Safety,
Pollution Response,
Aids to Navigation.
As with surface operators, air facility operators are issued patrol orders. Orders are issued based on schedules created by crew and facility availability and the needs of the Coast Guard. Coast Guard Air Stations are the Order Issuing Authority for AUXAIR. This alignment of Auxiliary aviation assets in a district with an Air Station is known as the "squadron concept", because aviation orders and direction flow directly between the Air Station and the district aviation staff.
Auxiliarists involved in AUXAIR take Auxiliary aviation training, completing the syllabus for their level of qualification. After having their knowledge and skills approved by an Auxiliary Flight Examiner, they may be certified by the District Director of Auxiliary (DIRAUX) as Pilots, Observers or Air Crew in the AUXAIR Program.
George Burkley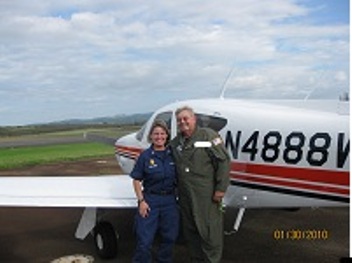 George Burkley is a retired Marine Corps Fighter Pilot with thousands of flight hours and has flown many different military and civilian aircraft including: ( T-34B,T-2J,F-9F8T, F-9F8B, F-11F, T-1, T-33,A-4A,A-4B,A-4C,A-4M,F-4B,F-4J,F-4C,F-4N,F-4M,RF-4B,AD-5,F4D,F-8B,F-8(2N E),RF-8,B-26,C-47,C-117,C-54,T-39A,T-39B,T-39G,T-28B,T-28C,OV-1,OV-10,S-2F,C -130). He retired from the Marine Corps as a Lieutenant Colonel and currently flies a Commander 114 for the Coast Guard Auxiliary.
Mike Singer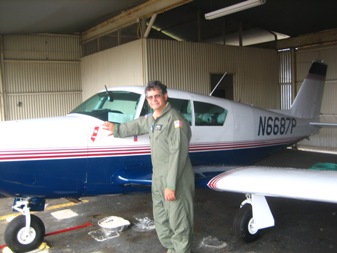 Mike Singer has been with the Coast Guard Auxiliary for over 10 years and has many flight hours in civilian aircraft.

Want to know how to get involved with the aviation side of the Coast Guard Auxiliary?
Pilot Qualifications
There are three qualification levels for pilots, similar to active duty Coast Guard
Aircraft Commander,
First Pilot,
Co-Pilot.

Minimum requirements for the different levels for pilots are measured by Pilot in Command time and are:

1000 hours with an Instrument Flight Rules (IFR) rating for Aircraft Commander,
500 hours as First Pilot
200 hours for Co-Pilots.

These levels of pilot qualification are also linked to the types of missions they are authorized to fly. All pilots must pass recurrent flight checks and undergo annual safety training.

AUXAIR does not offer flight training for pilots. Rather, it builds on what certificated pilots already have learned. Pilot applicants learn about search and rescue (SAR) techniques and patterns, Coast Guard communications, and Coast Guard flight safety rules and procedures.

Pilot candidates must successfully pass a written open book test, take water survival training and pass a check flight. Auxiliary aviators are held to high standards of training and safety. Auxiliary pilots are Pilots-in-Command of each mission.

Non-Pilot Crew Positions
Non-pilot crew positions include Observer and Air Crew. Observers must pass air operations training and egress/water survival training. Air Crew are observers with additional training and qualifications. Observers generally handle communications between aircraft and Coast Guard units, assist the pilot with navigation, keep records in the air, and focus their attention outside while searching. Observers are the payload for search missions. AUXAIR can not perform most missions without the Observer.

Observer training includes:

aviation orientation,
observation techniques,

communications,

search techniques and patterns, and

safety and survival skills.
Observer candidates must successfully pass a written open book test, take water survival training, and gain experience in the air on missions, then demonstrate their skills to a First Pilot or Aircraft Commander.

Experienced Observers may be eligible to earn the Air Crew rating.The training for the Air Crew rating rounds out the Observer's knowledge with more instruction on:

aviation and aircraft operations,

crew resource management,

aviation communications, and

navigation procedures.
Candidates for Air Crew pass a physical exam, learn the contents of the Air Crew Training Syllabus, are trained and examined on that material by Instructor Pilots and Flight Examiners and, if successful, are certified by the Director of Auxiliary. All flight crew members (including all Observers, Air Crew, and all pilots) must have annual emergency egress training and water survival training. This includes a 75-yard swim, life raft and emergency gear familiarization, and may include optional training in the SWET – Shallow Water Egress Trainer.

AUXAIR training is ongoing, with aviation training workshops held at least annually. Recurrent training is conducted in Crew Resource Management (CRM), aviation decision-making, risk management, aero-medical topics, Federal Aviation Regulations (FARs), and general aviation safety topics. AUXAIR patrol and administrative topics are included as well