Safety Alerts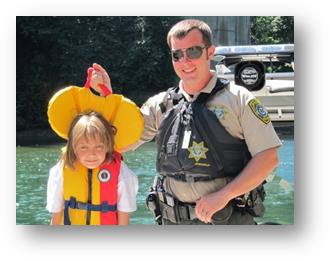 Monday, October 6, 2014
Get "Caught" Wearing Your Life Jacket
It's a symbol of safety and most boaters know that wearing a life jacket can save your life. But did you know that most recreational boating fatalities involve adults who have years of boating experience but succumb to drowning from falling overboard or capsizing?
The Oregon State Marine Board, Lincoln County and Tillamook County Sheriff's Offices and the U.S. Coast Guard Auxiliary are teaming up to evaluate life jacket wear and to reward adults who are "caught" wearing their life jackets as part of a nationwide "Wear It" campaign to educate boaters about the importance of wearing a properly fitting life jacket to reduce recreational boating fatalities in Oregon.
During a targeted weekend in October, marine deputies will be rewarding boaters who are "caught" wearing their life jackets with a free, cell phone Dry Pak©. Coast Guard Auxiliarists will also be observing boaters and documenting the type of boats, weather conditions, and if boaters were wearing life jackets.
"This project is a great way to raise awareness, and hopefully impact behavior so boaters look at life jacket wear the same way car drivers look at seat belts," says Randy Henry, Boating Safety Program Manager for the Marine Board. "This is a positive way to encourage use. Let's reward people who are being safe."
October is traditionally a peak month for Dungeness crabbing, among other fisheries along the Oregon coast. With the change to fall, there comes a change in weather, which can happen suddenly in coastal environments. "The coast is a perfect place to test out this "Caught" campaign, and hopefully, we'll be able to document higher wear rates and fewer accidents this fall and winter," Henry adds.
The Marine Board received a grant from the National Safe Boating Council for the Dry Pak© giveaways to promote life jacket wear. For more information about the nationwide "Wear It" campaign, visit http://www.safeboatingcampaign.com/.
Ashley A. Massey
Public Information Officer
Oregon State Marine Board
503-378-2623
Ashley.massey@state.or.us
---
10/6/2014: The Coast Guard promulgates Navigation Rules and Regulations Handbook
Posted on COAST GUARD Maritime Commons by Lt. Jodie Knox, Monday, October 6, 2014

The Coast Guard published Alcoast 411/14 announcing the promulgation of the Navigation Rules and Regulations Handbook, Commandant Instruction 16672.2.

As a result of several changes to the International Regulations for Prevention of Collisions at Sea, otherwise known as COLREGS, 1972, and the Inland Navigation Rules, an update to the publication "Navigation Rules" was required.

The updated handbook refers to laws and regulations that are legally binding and all users of the waterways must follow the laws and regulations that have been reprinted in the handbook and compiled for easy reference.

No paper distribution will be made of these publications.

You can find the handbook on the Coast Guard Navigation Center's Navrules website.

The handbook is also available on the Coast Guard's directives website.

The Coast Guard confirmed that the Government Printing Office will make the handbook available on a print on demand basis.

The operator of each self-propelled vessel 12 meters or more in length shall carry on board, and maintain for ready reference, a copy of these Rules.

The impediment to allowing an electronic copy of the Navigation Rules is the requirement for access and ready reference. The rule of thumb for ready reference means that vessel operators must be able to open up the book in two minutes or less. Such access is challenging for many electronic devices, especially if they are on a computer or laptop.
---
9/22/2014: Personal flotation devices labeling and standards
Posted in Maritime Commons by Lt. Jodie Knox, Monday,September 22, 2014
The Coast Guard published a final rule to remove references to type codes in its regulations on the carriage and labeling of Coast Guard-approved personal flotation devices, or PFDs. The purpose of this final rule is to facilitate future adoption of new industry consensus standards for PFD labeling that more effectively convey safety information, and to help harmonize our regulations with PFD requirements in Canada and in other countries.
This final rule will enable the complete development of a standard for wearable PFDs without including unnecessary references to type codes.
Under these amendments, the number and kind of PFDs required to be carried on a vessel will not change, but the terminology used to refer to approved PFDs will.
This final rule is effective October 22, 2014. View the final rule for full details.
---
News Release August 05, 2014


U.S. Coast Guard 13th District External Affairs
Contact: Petty Officer 3rd Class Jordan Akiyama
Email: jordan.h.akiyama@uscg.mil
Office: (206) 220-7237
COAST GUARD ADVISES STRONG CAUTION TO BEACHGOERS IN THE PACIFIC NORTHWEST

WARRENTON, Ore. — Due to the recent number of fatalities the Coast Guard strongly cautions beachgoers to be aware of possible dangers to stay safe while enjoying the Oregon and Washington coasts.

During the past two months, the Coast Guard has responded to numerous reports of beachgoers swept out into the ocean along the Pacific Northwest coast. Since July 3, four of these cases have resulted in fatalities. These include a 10-year-old girl in Long Beach, Washington, July 3, a 53-year-old man in Seaside, Oregon, July 22, an 18-year-old man in Ocean Shores, Washington, July 26 and a 19-year-old man in Garibaldi, Oregon, Monday.

"In each instance, the people who got caught in the currents were visiting from out-of-town," said Cmdr. Bill Gibbons, chief of response, Coast Guard Sector Columbia River. "Visitors are more likely to enter the water unaware of the unpredictable and extreme dangers posed by beach surf along the Pacific Northwest coast. In one instance, a victim was only in water up to his knees when he was knocked down by a wave and pulled out into the ocean."

Beachgoers are reminded to always be aware of their surroundings. Water depths can change rapidly along the coastline and waves and rip currents can be very strong and unpredictable.
"The only way to avoid the risk is to avoid going in the water," said Gibbons. "At a minimum, people should never enter the water alone, children should never be allowed near the water unattended, and people who are near the edge of the surf line must be prepared for what many refer to as "sneaker waves" – disproportionately large and powerful coastal waves that can appear without warning."

Additionally, since ocean temperatures in the Pacific Northwest remain around 55 degrees Fahrenheit during the summer months, wet or dry suits are advisable during prolonged water exposure.

"Tragic experiences such as the ones over the last couple of months highlight the need for beachgoers to be fully aware of the dangers while enjoying their time along the coast," said Capt. Daniel Travers, commander, Coast Guard Sector Columbia River. "Incidents like the aforementioned can be reduced by planning ahead, being aware of your surroundings and observing beach safety guidelines."

For more information on general beach safety along the Pacific Northwest coast visit http://visittheoregoncoast.com/beach-safety/ and http://www.ripcurrents.noaa.gov.


---
For Immediate Release – Joint release with the U. S. Coast Guard, Group Astoria

Date: Wednesday, July 30, 2014
Operation Make Way Targets Boats Anchored in Columbia River Shipping Channels

WARRENTON, Ore. — Salmon fishermen and other recreational boaters who anchor in the shipping channel of the Columbia River starting August 1 may face boating citations up to $5,000. A state-and-federally led campaign called, "Operation Make Way" is aimed at changing behavior that, if not corrected, can result in boating fatalities and catastrophic environmental disasters.

"Each fall thousands of anglers come after salmon migrating up the Columbia River," said Randy Henry, Boating Safety Program Manager with the Oregon State Marine Board. "Some anglers choose to anchor in the channel, which is already illegal under state law, then expect large commercial freighters to navigate around them. This is like parking your car on a railroad track and expecting the train to go around you."

Large ships can travel 1.5 miles in six minutes, but because they are so large, their speed appears much slower. Waiting until the ship is visible as it comes around a bend leaves no time to weigh anchor. When fully loaded, these ships may have only inches to spare from the bottom of the river and must stay in the dredged channel. "Ship pilots are literally faced with the choice of running the vessel aground, or hoping the small boat – which is now hidden by the bow of the big ship – moves at the last minute," said Henry. During "Operation Make Way," vessels anchored in the channel and not weighing anchor when approached will face a citation. He noted that if you are cited under state law, it's a $260 fine, but if the U.S. Coast Guard cites you, it can be as much as $5,000.

The Oregon State Marine Board, U.S. Coast Guard and multiple county sheriff's marine patrols will team up for the enforcement effort on key days in August and September. Participating agencies will also enforce all federal and state boating laws, including boating under the influence, life jackets and other equipment requirements, and fishing regulations. The primary goal, though, is to change boater behavior to not anchor in the channel.
"If you see this from the ship pilot perspective, you understand how hazardous it is for a small boat to anchor in the channel," said Henry. "Whether you're trolling at Buoy 10 or fishing up near St. Helens, the bottom line is – don't anchor in the channel. It's not worth the risk and it's not worth the citation."

Boaters should be carrying the required equipment for their boat size and all passengers must have a properly fitting life jacket readily accessible. Any child under the age of 13 must be wearing a life jacket while on the open decks of a vessel that is underway.
If you observe boat operation or would like to report a boater who is not in compliance with the above requirements, contact the Coast Guard command center at 503-861-6211 or on Marine VHF radio channel 16.

Participating agencies in "Operation Make Way" include Washington Department of Fish and Wildlife, Clatsop, Multnomah, Columbia, Tillamook, Washington, and Clackamas County Sheriff's Offices and Clark, WA and Cowlitz, WA County Sheriff's Offices.
For more information about required equipment, boating safety, and Operation Make Way, visit www.boatoregon.com.
P.O. David Mosley
U. S. Coast Guard, Group Astoria
503-861-6237

Ashley A. Massey
Public Information Officer
Oregon State Marine Board
503-378-2623

Ashley.massey@state.or.us

---