Program Partners
Recreational Boating Safety Visitation Program


MARINE DEALERS AND MERCHANTS:
WE WANT YOU!
Help us Support the Boating Public
The Coast Guard Auxiliary has a community outreach program called the
Recreational Boating Safety Visitation Program (RBSVP) and it involves you. As a supporter of recreational boating safety, you can help make our waterways safer by becoming a Recreational Boating Safety Partner.
If you are a marine dealer or a merchant with enthusiasm for community service and safety on the water, your support of boating safety is needed.
What is a Program Partner?
Our goal is to educate recreational boaters about boating safety. We achieve this in two ways: through
public education classes
and through the distribution of State and Federal boating safety literature.
As the civilian volunteer arm of the Coast Guard, our mission is to promote and encourage recreational boating safety by the public
.
The way you can help is by allowing us to display boating safety literature at your venue. Many of our partners are marine dealerships, restaurants, service stations, sporting goods stores and more. Any business with an interest in safety on the water can be a partner.
By becoming a Program Partner, you help establish a public boating safety center for the public and we provide you a resource to help educate the public.
The "Program Visitor"
It does not matter if you run a sporting goods shop, doctor's office, library or marina; whatever your business is, our Program Visitors can help you become a partner in helping the Coast Guard's mission.
Literature includes the latest Federal and State boating safety brochures and pamphlets which are displayed in a literature box to hold it neatly. Information includes boating safety regulations, educational opportunities and other important materials for water enthusiasts.
How Do I Get Involved?
Program Partners do not need to sign anything or stock anything. Contact us and a Program Visitor will do the rest. If you are interested in becoming a Program Partner in the
Recreational Boating Safety Visitation Program
, contact Flotilla 78
.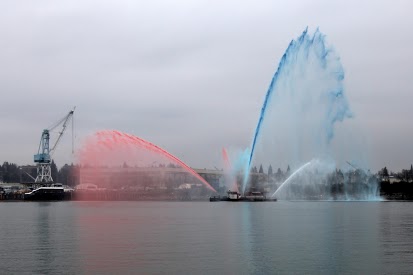 YOUR SUPPORT OF RECREATIONAL BOATING SAFETY IS GREATLY APPRECIATED BY THE COAST GUARD FAMILY AND YOUR COMMUNITY!