Local Boating Course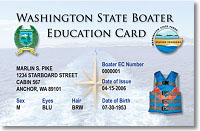 UNITED STATES COAST GUARD AUXILIARY
Flotilla 48-North Kitsap presents ...
ABOUT BOATING SAFELY
This is an eight-hour introductory course for the new boater, those thinking of buying a boat and for those boaters that need the Boater's Education Card. A wide range of topics are covered to help all boaters, experienced or inexperienced, to become safer and more knowledgeable. This course meets the mandatory boater education requirements of the State of Washington for the Boater Education Card.
TOPICS INCLUDE:
Boat types/characteristics/sail/power Aids to Navigation & Chart reading

Safety equipment Anchoring/Docking

Trailering Your Boat Boating worries & concerns

Boat Engines Mooring your boat

Navigating Puget Sound Favorite Mariner's Knots

Situational Awareness Risk Management

AND MUCH MORE !!!!!!!! PLUS IT IS FUN
This course is sanctioned by the United States Coast Guard and the State of Washington. Instructors are members of the United States Coast Guard Auxiliary. Successful completion of this course will, in most cases, result in reduced boat insurance rates and allows you to become eligible for the State of Washington Mandatory Boater Education Card.
Location (depending on dates):
Eagle Harbor Community Church, 105 Winslow Way, Bainbridge Island
Strawberry Hill Park, 7666 High School Road, NE, Bainbridge Island
Waterfront Park Community Center, 370 Brien Dr., Bainbridge Island
Time: Arrive 7:45am
Class: 8am to 5pm

One hour for lunch

½ hour test
Cost: $35 per person
Includes the Course Book,

Test and Certificate of Completion
2018 Course Dates:
April 14 Eagle Harbor Community Church

June 2 Strawberry Hill Park

Aug 4 Eagle Harbor Community Church

Oct 6 Eagle Harbor Community Church

Dec 3 Strawberry Hill Park



For information please call:
Grant Winther: gawsail@sounddsl.com , 206-842-5862 or
Loretta Rindal: 360-779-1657
---