Events throughout Division 2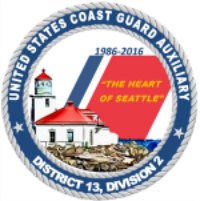 Check this page often to find out what is on the schedule over the next 3 months - If you have something you'd like to have posted please contact the SO-CS with the information.
Because of Privacy Act requirements contact information for most events is limited to an officer's title. Please use the Auxiliary Directory to look up names, phone numbers or Email
---
Upcoming Classes and Events
Tuesday Night Resource Nights
Resource Night for Member Support and Training Tuesday evenings 1830 to 2100 Bellevue City Hall, Room announced at Lobby Kiosk. Time to meet with SO-HR for items related to membership and training support and SO-MT for help with training (including CORE and FEMA). Informal opportunity for study groups around Boat Crew Academy, AUXOPS and other organized activities.

September 27 - October 16
AUXCOM 4 week class. Sign up here. All classes start at 1830. Uniform is Trops. Contact SO-MT for more information.
Thurs Sep 27 - Coho Room at Pier 36 1830 - 2100
Tues Oct 2 - Bellevue City Hall see kisok for room assignment
Thurs Oct 11 - Coho Room at Pier 36
Thurs Oct 18 - Coho Room at Pier 36
USCG AUX Food Services Classes - 2 Opportunities!!
Session 1: Oct 11-14 (4 day course)
Session 2: Oct 13-14 & Nov 17-18 (must attend both weekends)
MSU Portland in the galley 0500-1500 Thurs-Sat sessions, 0800-1500 Sun sessions
Contact DSO-FS or your FC for further details regarding what to bring, prereqs and scheduling.

Opportunity with Division 1 for Advanced Coastal Navigation
Beginning on October 3rd and running 7pm on Wednesday nights through December (final exams on Dec 18-19) at the Everett Yacht Club in the Water View Room. Contact SO-MT or FSO-MT of 130-01-08 for additional information including course schedule and required navigation materials which can be purchased at West Marine. Uniform is ODU.

October 25 - November 15
AUXPAT (Patrol) Will start Oct 25th and run for 4 weeks Thursday nights at the Coho Room at Pier 36 1830-2100. Sign up here. Contact SO-MT for further information. You may take only the proctored exam at the end of the session.