Events throughout Division 2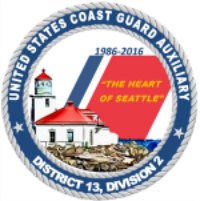 Check this page often to find out what is on the schedule over the next 3 months - If you have something you'd like to have posted please contact the SO-CS with the information.
Because of Privacy Act requirements contact information for most events is limited to an officer's title. Please use the Auxiliary Directory to look up names, phone numbers or Email
---
Upcoming Classes and Events
Apr 12 - Jun 28 2018 the 12 Week Boating Skills and Seamanship course runs Thursday evenings.This is an excellent course for both novice and experienced boaters. Topics include boat selection, handling, safety, legal requirements, navigation rules and aids, weather, trailering, radio, locks and dams, engine maintenance knot tying and more!
May 27 - Sep 2 2018 Alki Point Lighthouse Season Watchstanding (Sundays 12 - 4:30 pm) Sign up here!
Jun 9 2018 National Marina Day
Jun 16 2018 Division HR Workshop - Details to come!
Jul 4 2018 Lake Union Boater Safety Events
Jul 14 2018 Fat Salmon Swim
Jul 28 2018 Torchlight Parade
Aug 3-5 2018 Seafair Weekend Activities
Aug 7 2018 National Night Out Against Crime - Division 2 will be hosting a PA booth at Shilshole Bay Marina.
Aug 24 2018 Swim for Life