Events throughout Division 2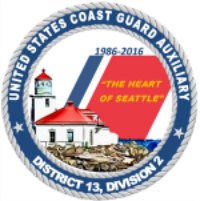 Check this page often to find out what is on the schedule over the next 3 months - If you have something you'd like to have posted please contact the SO-CS with the information.
Because of Privacy Act requirements contact information for most events is limited to an officer's title. Please use the Auxiliary Directory to look up names, phone numbers or Email
---
Upcoming Classes and Events
Tuesday Night Resource Nights
Resource Night for Member Support and Training Tuesday evenings 1830 to 2100 Bellevue City Hall, Room announced at Lobby Kiosk. Time to meet with SO-HR for items related to membership and training support and SO-MT for help with training (including CORE and FEMA). Informal opportunity for study groups around Boat Crew Academy, AUXOPS and other organized activities.

September 25 - October 16
AUXCOM 4 week class (Tuesdays) 1830 - 2100 Bellevue City Hall, Room announced at Lobby Kiosk. Sign up here.
October 6
Aids Verifier Course at Bellevue fire station 9, all day. People will need to get the first two Segments PQSs out of the way before start of class, so we will either do a special session somewhere, or folks can come into the Resource Night for sign offs. Sign up here. Additional information for PQS can be found here.
November
AUXPAT (Patrol) Will start in November on Tuesday nights (Resource Night). Details and Sign ups to follow, contact SO-MT for further information.