National Maritime Week
2013 National Maritime Week - Auxiliary on Patrol
Coast Guard enforces the Special Local Regulation for the annual National Maritime Week Tugboat Races in Elliott Bay, WA from 12 p.m. until 4:30 p.m. on May 11, 2013.
May 11, 2013: Tammy King, Coxswain and owner, guides her Auxiliary Facility through so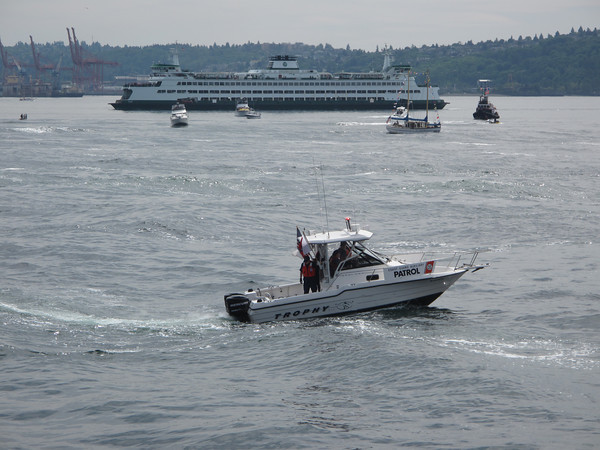 me heavy wakes at the close of the unlimited class Tug Boat Races on 11 May 2013 in Elliott Bay. Two Auxiliary Facilities along with a Coast Guard 25' Defender Class boat provided security zone protection. Shoreside, Division 2 staffed a very successful public affairs booth along side of the Coast Guard's damage control trainer trailer, a Trailerable Aids to Navigation Boat (TANB) and a Defender Class Boat on a trailer.
Earlier in the week, the Division 130-02 Auxiliarists staffed a booth along side of Coast Guard Recruiting during the annual Maritime Career Day.
Below are a series of pictures from the 2013 Maritime Festival. Top right and left: racing tug boats; middle left and center: Tammy King's Auxiliary Facility; middle right: Coast Guard Damage Control Trailer; Auxiliarist Brough in the PA booth; bottom left Auxiliarists M. Brough and D. Gunter in the PA booth; bottom right active duty Coast Guard and the TANB and Defender Class boats.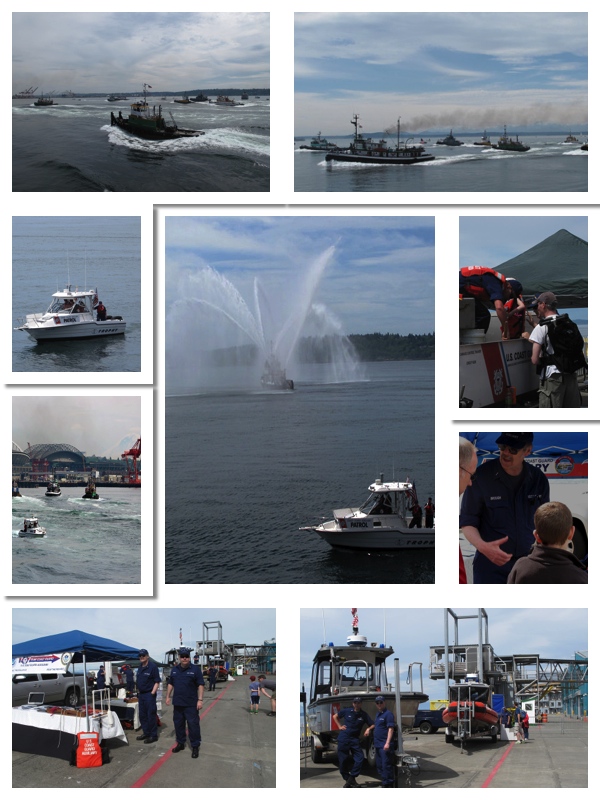 Photos by Auxiliarist L. Gunter.